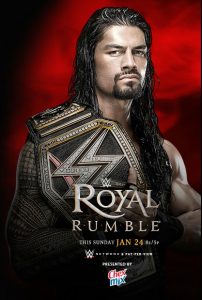 January 24, 2016
(aired live)
City: Orlando, FL
Venue: Amway Center
Commentary: Michael Cole, JBL, Byron Saxton
Spanish Commentary: Marcello Rodriguez, Carlos Cabrera
French Commentary: Philippe Chereau, Christophe Aguis
Ring Announcer: Lilian Garcia, Eden Stiles
Backstage
A limo pulls up and out steps Vince and Stephanie. Jojo asks about Vince's history with Reigns. Vince says he's giving Reigns the chance to make history. He and Stephanie are very happy. Also, Vince loves Vince.
Video
The intro video to the show highlights the fall of the Roman Empire (i.e. Roman versus everyone).
Match 1
Last Man Standing IC Title Match
Dean Ambrose (IC Champ) vs Kevin Owens
(referee: Charles Robinson; ring announcer: Lilian Garcia)
Show/Hide Results
Result: Dean Ambrose wins and retains the title after Owens can't answer the 10 count after being pushed off the top rope to the floor through two tables.
Time: 20:22
Match Thoughts
Great match and a really good way to start the show. They started off going right after each other and never really let up through the entire match. It was fairly violent with lots of weapons being used. It even seemed to push what's acceptable in the PG era with moves like Ambrose throwing a chair at Owens' head and Owens practically stabbing Ambrose with a broken kendo stick.
There were a lot of great moments in the match. Early in the match Ambrose threw Owens into and over the announce table, sending Owens crashing into Michael Cole. Owens struggled to get up by clawing at Cole's face and body. It was great. It got a lot more serious after that.
There were some good table spots that led to some fairly tense moments depending on who you were pulling for in the match. Both guys had some very nice moments where they just beat the 10 count. I liked the flow of the match too. Both men had segments where they dominated, and the momentum switches were handled well. The rest of the matches already have a lot to live up to.
Ring Area
Kofi and Big E come out and say that New Day has been in mourning after the loss of Francesca the Trombone. They ask for a moment of silence. In the silence Xavier comes out playing a new trombone, Francesca 2. They head to the ring together and say that 2016 will be all gold everything. Woods makes a slighty modified reference to The Outsiders with, "stay golden, Ponyboy."
Match 2
Tag Team Title Match
New Day (Kofi Kingston & Big E w/ Xavier Woods) (Tag Champs) vs The Usos
(referee: Mike Chioda; ring announcer: Eden Stiles)
Show/Hide Results
Result: Big E pins Jey after a Big Ending to retain the titles
Time: 10:55
Match Thoughts
Very good match. The the pace built up to the last segment of the match where it got fairly crazy. The finish was very impressive and the celebration dance was obnoxiously awesome.
There were a few moments where the execution could have been a little cleaner, but that's really just nitpicking a very good match. Both teams looked very good. I felt a little bad for the Usos because the crowd really didn't want them to win. The crowd feels a lot like an NXT crowd (they're in Orlando after all) and that isn't really a good thing. They booed the Usos and have already been chanting for stuff that isn't necessarily part of the match happening in the ring (like Francesca).
Still, the crowd didn't really distract from a very good title match. I'm looking forward to hopefully a new direction for the tag division before Wrestlemania.
Backstage
The Wyatt Family are the four horsemen of the apocalypse and talk about slaughtering everyone. The whole world will be in Bray's hands.
Match 3
US Title Match
Alberto Del Rio (US Champ) vs Kalisto
(referee: Rod Zapata; ring announcer: Lilian Garcia)
Show/Hide Results
Result: Kalisto wins via pinfall after Salida Del Sol to become a 2 time US Champ
Time: 11:31
Match Thoughts
Pretty good match. They work well together and tell a very good underdog story, but there were a handful of spots that didn't seem to go as planned. Some other spots were a little obvious. Unfortunately the ending was one of those obvious spots that you can see coming three or four moves before it happens.
I'd like to see the feud continue so they can get that one really great match that I know they can have together, but I'd also be okay if they just moved on and let Kalisto face someone else. The way they portray him in this feud I could see him having a good lucky streak of wins, but I can't see it realistically lasting a really long time. Maybe we can have a nice multi-man match at Wrestlemania where Kalisto drop sit. I think right now Kalisto might be better in a match like that.
All that said, I enjoyed the match. I just feel bad that it didn't go exactly according to plan.
Pre-Show Panel
Renee Young, Corey Graves, Booker T and Jerry Lawler talk about the show so far and look forward to the Rumble.
Backstage
Stephanie laughs at her phone. Paul Heyman grosses Stephanie out by talking about all of her pores. Heyman tells her he is prepared to renegotiate Lesnar's contract after he wins tonight. Stephanie will be happy to negotiate if he wins.
Video
An extended preview of "The Edge and Christian Show That Totally Reeks of Awesomeness."
Match 4
Divas Title Match
Becky Lynch vs Charlotte (Divas Champ) w/ Ric Flair
(referee: John Cone; ring announcer: Eden Stiles)
Show/Hide Results
Result: Charlotte wins via pinfall after a spear to retain the title
Time: 11:41
Match Thoughts
Pretty good match. It felt like they started flailing a bit in the later portions of the match, but that kind of fit with Becky's desperation which means that wasn't a bad thing necessarily. What was bad was when Flair forced a kiss on Becky. That was pretty reprehensible. There are other ways to distract her. What might be worse is that the commentators kind of glossed over it by saying Flair is a kiss stealer. I just thought it was gross and unnecessary, especially since Becky didn't really get any kind of retribution for it. Not good.
The rest of the match was good, but the ending was kind of a letdown. It was kind of a jumble of things that happened. It wasn't bad, but it could have been better. I think with the story they've built up with Becky she deserved a better outcome, even if she didn't win.
Ring Area
After the match Charlotte continues to beat on Becky. She stands up with the title as Sasha Banks' music starts and she heads to the ring. Sasha kicks Becky out of the ring. She then goes over and seems to congratulate Charlotte. As Charlotte goes to leave Sasha attacks her from behind and puts her in the Bank Statement.
** I wasn't terribly happy with the outcome of the match, but I'm very happy with Sasha finally making her move. I've been waiting for this for a while. **
Video
Wrestlemania is headed to Texas.
Video
Big Show surprises a bunch of fans by giving them unlimited access to the WWE Performance Center.
Video
Royal Rumble by the numbers.
Match 5
Royal Rumble World Heavyweight Title Match
(outside referees: Jason Ayers, Darrick Moore, Rod Zapata, Mike Chioda; ring announcer: Lilian Garcia)
Show/Hide Results
| Entry # | Entrant | Eliminations | Eliminated By | Elimination Order | Time In |
| --- | --- | --- | --- | --- | --- |
| 1 | Roman Reigns (WWE World Heavyweight Champ) | 5 | Triple H | 28 | 59:47 |
| 2 | Rusev w/ Lana | 0 | Roman Reigns | 1 | 01:29 |
| 3 | AJ Styles | 2 | Kevin Owens | 11 | 27:49 |
| 4 | Tyler Breeze | 0 | AJ Styles, Roman Reigns | 2 | 00:58 |
| 5 | Curtis Axel w/ Bo Dallas, Heath Slater, Adam Rose | 0 | AJ Styles | 3 | 01:07 |
| 6 | Chris Jericho | 1 | Dean Ambrose | 26 | 50:48 |
| 7 | Kane | 1 | Braun Strowman | 9 | 18:43 |
| 8 | Goldust | 0 | Titus O'Neil | 4 | 05:57 |
| 9 | Ryback | 0 | Big Show | 8 | 12:19 |
| 10 | Kofi Kingston (WWE Tag Champ) w/ Xavier Woods, Big E | 0 | Chris Jericho | 6 | 08:15 |
| 11 | Titus O'Neil | 1 | Big Show | 7 | 08:56 |
| 12 | R-Truth | 0 | Kane | 5 | 00:38 |
| 13 | Luke Harper | 3 | Brock Lesnar | 19 | 23:34 |
| 14 | Stardust | 0 | Luke Harper | 14 | 13:58 |
| 15 | Big Show | 2 | Braun Strowman | 10 | 04:22 |
| 16 | Neville | 0 | Luke Harper | 13 | 10:01 |
| 17 | Braun Strowman | 4 | Brock Lesnar | 20 | 17:44 |
| 18 | Kevin Owens | 1 | Sami Zayn | 12 | 04:26 |
| 19 | Dean Ambrose (WWE IC Champ) | 1 | Triple H | 29 | 29:35 |
| 20 | Sami Zayn | 1 | Braun Strowman | 16 | 04:33 |
| 21 | Erik Rowan | 1 | Brock Lesnar | 17 | 04:14 |
| 22 | Mark Henry | 0 | Luke Harper, Erik Rowan, Braun Strowman | 15 | 00:28 |
| 23 | Brock Lesnar w/ Paul Heyman | 4 | Luke Harper, Erik Rowan, Braun Strowman (after being eliminated) | 21 | 09:12 |
| 24 | Jack Swagger | 0 | Brock Lesnar | 18 | 00:15 |
| 25 | The Miz | 0 | Roman Reigns | 22 | 01:39 |
| 26 | Alberto Del Rio | 0 | Roman Reigns | 23 | 06:47 |
| 27 | Bray Wyatt | 0 | Triple H, Sheamus | 25 | 10:44 |
| 28 | Dolph Ziggler | 0 | Triple H | 24 | 07:00 |
| 29 | Sheamus | 1 | Roman Reigns | 27 | 04:19 |
| 30 | Triple H | 4 | - | - | 07:50 |
Result: Triple H eliminates Dean Ambrose to become the new World Heavyweight Champ
Time: 1:01:43
Match Thoughts
This match was kind of mixed. There were a few nice surprises (very few actually) and some pretty fun moments, but there was a lot of obvious stuff that made a lot of the match kind of pointless. Reigns getting attacked by the League was fine, but the fact that they didn't think to roll him into the ring was dumb. Everyone knew Reigns would come back later and that knowledge distracted from the rest of the match in the interim. Cole even reminded everyone a few times that Reigns wasn't eliminated which further made it obvious and expected.
I liked the Wyatt Family stuff and their domination for a while. I don't see why they didn't just stay out there the whole time though. They could have been forced to leave at some point. I liked that they got the big surprise entrant out of the way pretty much right away. I don't think anyone expected him to win, but it allowed him to have the spotlight for a while and make a good showing in the match.
The end of the match was tense, but that mostly came from the fact that three out of the last four I really, really didn't want to win. The eventual winner makes sense and they've obviously been planting seeds for a long time at this point, but I think it's the wrong move. Unless something big happens to change my mind (really big) I think it's a mistake. Those guys have enough heat that they could just have a grudge match at Wrestlemania. I really hoped they were finally going to use this opportunity to take a chance on someone that the fans are more behind, but that obviously isn't the case.
I think after these storylines all play out and I look back on this match I'll think it's pretty okay just as a Rumble match, but but right now it's leaving me with a very unsatisfied feeling.
Show Impressions
The show started off very strong and kind of dropped from there. It's worth watching, but I think the hopes of a lot of fans were overlooked for another year. But, if the past two years are any indication, this is just a setup for a fan-pleasing result at Wrestlemania. Remember, Seth Rollins came out the winner last year and Daniel Bryan won the year before that despite how the Royal Rumble turned out.
Match of the Night
Ambrose vs Owens – Last Man Standing IC Title Match
This was easily the best match. It was very entertaining and felt like a satisfying payoff to the story. None of the other matches really met both of those criteria.