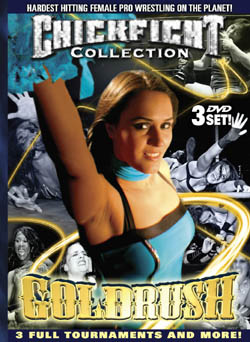 As listeners of Wrestling House Show know, we're big supporters of female professional wrestling.  There are women out there wrestling right now that can put on matches that would rival or even surpass those put on by their male counterparts.  Though all- female pro wrestling still seems like a niche market to the average fan, it has been gaining some serious ground in the mainstream over the past few years.  Part of this upswing in credibility can be attributed to promotions that treat women wrestlers as they should be treated, as athletes who are meant to be taken seriously.  ChickFight takes women seriously.
ChickFight originated in 2004 as an eight woman single elimination tournament put on by All Pro Wrestling in California.  I'd heard about the ChickFight tournaments but with a thirty dollar price tag on many of the dvds I found it to be a bit cost prohibitive to give any of them a shot.  Luckily Big Vision Entertainment has put out a collection of three tournaments at a price that's less than any of the single editions by themselves.
ChickFight: Goldrush is a three disc collection of Chickfights IV, V and VI.  Each disc contains all of the tournament matches in their entirety plus some bonus matches that sometimes do and sometimes don't have anything to do with the tournament itself.  The matches are of varying quality ranging from pretty good to excellent and each disc seems to be just a little better than the previous one.
The first disc contains ChickFight IV which took place on April 15, 2006.  The first round of the tournament consists of Mercedez Martinez vs. Carla Jade, Cheerleader Melissa vs. Rain, MsChif vs. Candice LeRae and Lacey vs. Hailey Hatred.  A couple of the first round matches are fairly short and heavily one-sided but for the most part it's a very solid start to the show.  The final match is very good as well, but the best matches actually take place in the second round which is a trend that will carry over into ChickFight V.
ChickFight 4 main menu

Lacey stretches Hailey Hatred
The show has one commentator by the name of Nick Aragon who does a decent job of calling the action.  He doesn't add anything spectacular to the proceedings but his comments don't really get in the way of the action either.  I would have liked to have heard a little bit more about the history of the wrestlers involved, maybe putting over their past achievements or  even talking about some of their favorite maneuvers or finishing moves.  I think it would have added a bit more depth to the matches and let those who aren't as familiar with these women gain a little more insight into what they are watching.
The production is about what you'd expect from an indie wrestling release, not the greatest video quality but the camera work itself was good and never missed any action.  The building that the event takes place in appears to be a basketball arena and unfortunately most of the seats are empty.  This doesn't detract from the in ring action though as the women perform in front of tens of people just as well as if they were performing in front of hundreds or thousands of people.  The action does spill outside the ring on more than one occasion, something I've never been a big fan of, but these ladies managed to keep me interested.
There is one bonus match, a triple threat that takes place on a different night that was actually set up by actions that took place during the tournament.  It's a good match and a welcome bonus that adds a bit of story and intrigue that the tournament itself, while good, seemed to be missing.
The second disc is ChickFight V.  The show as a whole seems to be more balanced than the previous one.  The first round doesn't have any throw away matches, they are all solid bouts that contain some really good wrestling and even a bit of comedy.  The first round consists of  Cheerleader Melissa vs. Tanny Mouse, Allison Danger vs. Yoshiko Tamura, Jazz vs. Simply Luscious and MsChif vs. Sumie Sakai.  Not to take anything away from the very entertaining final match but just like in CF4, the best matches of the night are in the second round.
ChickFight V main menu

Jazz overpowers Simply Luscious
The action this time is called by the team of Shane Stoli and Jason Deadrich who provide about the same level of commentary as the commentator on 4.  The camera work is also just as good as on 4 while the production did seem to improve.  The video quality is a little better, the DVD menus are laid out better (and don't spoil the competitors in the final round if you go to match select like 4 did), and even the entrance to the arena looks better.  There are more bonuses as well including a photo gallery of ringside pictures set to music that lasts for over twenty minutes and two extra matches.  The matches don't have anything to do with the tournament this time but are still quite entertaining.  They are Tanny Mouse & Sumie Sakai vs. Allison Danger & Simply Luscious and MsChif vs. Yoshiko Tamura.
Disc 3, ChickFight VI, is by far the best of them all and worth the price of the entire set by itself.  It's the most balanced of all the shows with great matches from top to bottom.  Nick Aragon is back to call this show along with Jason Deadrich from CF5 and again they do a decent job.  The production is about the same from the previous show which is to say it is very good for an indie release.  What really makes this show stand out are the matches.  As good as the previous shows were this one is even better.
The first round this time is Hailey Hatred vs. MsChif, KAORU vs. Tiana Ringer, Allison Danger vs. Frankie and a match that is by far the best of any in this set and one that has become one of my favorite matches period, Cheerleader Melissa vs. Daizee Haze.  While all the matches are good, Melissa vs. Haze contains everything that makes pro wrestling great.  These women can chain wrestle with the best of them, brawl in or out of the ring while taking giving shots that would make any man cringe, and display a ring psychology that's as compelling as anything you'd see in the main event in any other promotion… male or female.
ChickFight VI main menu

Daizee in Melissa's grasp
That match in particular sets up a great second round and an equally great final.  The show as a whole is a level above the previous ones as it seems more cohesive with a story running throughout the event.  It's an excellent show that isn't just worth a watch, it's a must see!  There are some nice bonuses on this disc as well.  There are three matches, two of which have ChickFight implications.  One is a four way match to determine the first entrant in ChickFight VII and the other is a tag team match that occurs as a result of actions that took place on CF6.  Unfortunately the tag match and the third bonus match feature male vs. female matchups which I am not a fan of.  Even so, the tag match is still good.  The other male vs. female match is not so much, probably the only bad match on the disc.
ChickFight: Goldrush is a fantastic set and at $19.99, it is more than worth the price.  If you're interested in an affordable entry point into ChickFight or just female wrestling in general then I can't recommend this set enough.  Even if you're just a pro wrestling fan in general and don't really have an interest in an all-female show I would still urge you to pick this up.  I defy anyone to watch Cheerleader Melissa vs. Daizee Haze on CF6 and not come away with a new found respect for these women who leave so much of themselves in the ring.  I already have the utmost respect for them and I still came away saying "wow".  I don't think I'm overselling this, watch the match and tell me I'm wrong.  While you're at it watch the rest of the matches too.  I guarantee you won't be disappointed.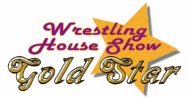 Whenever we review something for Wrestling House Show and we see something extraordinary that we think deserves our seal of approval we will give it a gold star. Basically this means it is a must buy for any wrestling fan. With very few exceptions, the matches on ChickFight: Goldrush are fantastic and the price can't be beat. You must buy this.
Buy it at highspots.com: ChickFight: Goldrush
Or buy it at Amazon.com: ChickFight: Goldrush
Also visit ChickFight.tv and Female Fight League, a site created by Jason Deadrich, the creator of ChickFight.