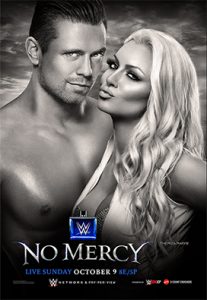 October 9, 2016
(aired live)
#WWENoMercy
City: Sacramento, CA
Venue: Golden 1 Center
Commentary: Mauro Ranallo, JBL, David Otunga
Ring Announcer: Greg Hamilton
Video
Buildup for the World Title match.
Match 1
Triple Threat WWE World Title Match
John Cena vs Dean Ambrose vs AJ Styles (WWE WOrld Champ)
(referee: Charles Robinson)
Show/Hide Results
Result: AJ Styles pins John Cena after Styles hit Cena twice with a chair and retains the WWE World Title
Time: 21:39
Match Thoughts
Very good match, though there were a few parts that didn't make a whole lot of sense. For one, there was a moment when Cena had Styles in the STF. Ambrose grabs Styles' right hand and the commentators acted like it was a brilliant move to keep Styles from tapping. Two problems with that. First, Styles has two hands. Second, Styles can also give up verbally. Another moment was when Ambrose had Styles in a calf crusher. Cena walks up, and rather than breaking the hold, he applies an STF to Styles as well. Styles taps, of course, and the match continues, of course. Why would Cena think that would end the match? It makes no sense.
Other than that, the match was very good. Styles and Cena looked better than Ambrose, but using some pretty great moves. One of my favorite moments was when Styles countered the AA into a calf crusher on Cena. All three guys had some good chains and worked well as a trio. The match only devolved to a one-on-one match here and there. The ending was good, but it continues the story of Styles taking a shortcut. I'm not sure if that's a good thing, but it seems kind of inevitable, especially since this was a triple threat.
Video
Buildup for Wyatt versus Orton.
Match 2
Nikki Bella vs Carmella
(referee: Jason Ayers)
Show/Hide Results
Result: Nikki Bella wins via pinfall after a Rack Attack 2.0
Time: 8:06
Match Thoughts
Good match. This was a solid match. Carmella used the ring extensively to gain an advantage early on, and kept the pressure on Nikki as the match progressed. I think the last few minutes of the match were the best. That's when Carmella started putting Nikki in the Code of Silence submission, forcing Nikki to persevere and power out.
Backstage
The Miz (with Maryse) tells Daniel Bryan that he is partly responsible for ending Dolph Ziggler's career tonight. He then tells Shane McMahon that he wants to renegotiate his contract after he frees up some money from Ziggler's salary.
Match 3
SmackDown Tag Team Title Match
The Usos vs Heath Slater & Rhyno (SD Tag Champs)
(referee: Dan Engler)
Show/Hide Results
Result: Rhyno pins Jey Uso after a gore to retain the titles
Time: 10:19
Match Thoughts
Good match. It built well, and the last portion of the match was the best. There were some big moves at the end including a powerslam from the ropes from Slater to Jimmy, and then a huge superkick from Jimmy to Slater soon after that.
Backstage
Bray Wyatt rocks and speaks in tongues (or something).
Match 4
Jack Swagger vs Baron Corbin
(referee: Ryan Tran)
Show/Hide Results
Result: Baron Corbin wins via pinfall after End of Days
Time: 7:29
Match Thoughts
Good match, though it probably could have been a good regular SmackDown match as well. I like Corbin better when he's angry. He managed to shut down a lot of Swagger's power in this match which made it pretty interesting.
Video
Buildup for the Miz/Ziggler match.
Match 5
Career vs Title WWE Intercontinental Title Match (if Ziggler loses then he retires)
The Miz (IC Champ) w/ Maryse vs Dolph Ziggler
(referee: Jason Ayers)
Show/Hide Results
Result: Dolph Ziggler wins via pinfall after a superkick to become the new IC Champ
Time: 19:43
Match Thoughts
Very good match. Both men seemed desperate which gave the match good energy. At times Miz seemed preoccupied with taunting Daniel Bryan, but that also played into the match well. After a certain point, Ziggler seemed beat up to the point where any move could finish him, but in his fashion, Ziggler kept surviving. That was important for this match, and it worked well. The shenanigans that Miz and Maryse tried to pull worked well too and helped get the crowd even more into the match.
Backstage
Randy Orton paces in a bathroom, and his faces twists in the mirror.
** Dumb. Using special effects in a "live" show like that is dumb. I don't like it. **
Kickoff Panel
Renee Young, Booker T, Lita, and Jerry Lawler talk about the show so far and show a clips of Curt Hawkins and the eight-man tag match from the kickoff show.
Ring Area
Alexa Bliss makes her way to the ring and complains about Becky Lynch not competing tonight. She says Becky is afraid of her, and that's why she isn't there. She says no woman in the locker room is on her level, and that's when Naomi makes her entrance.
Match 6
Alexa Bliss vs Naomi
(referee: Mike Chioda)
Show/Hide Results
Result: Naomi wins via pinfall with a counter to a cross-armbreaker
Time: 5:24
Match Thoughts
This was an okay match, made a little better by a surprising ending. Not all the moves looked fantastic, but it would have made a decent regular SmackDown match. I do think this was misplaced on the show though. Since Becky wasn't there, this should have been where the Carmella/Nikki match was.
Video
Buildup for the Orton/Wyatt match.
Match 7
Bray Wyatt vs Randy Orton
(referee: Dan Engler)
Show/Hide Results
Result: Bray Wyatt wins via pinfall after Sister Abigail
Time: 15:40
Match Thoughts
A good match, though it makes me wonder why they picked to put this as the main event rather than the World Title match or the IC Title match. I liked the bit of violence in this one, but I guess since this was the final match I expected something much bigger to happen. That's not to say that Luke Harper returning isn't big, but that could have happened regardless of where this match was on the show.
Show Impressions
I liked the show, but if they wanted to put the World Title match at the beginning, then I would have put the IC match at the end. I also would have switched the women's matches. There were a couple of matches that could have been on regular TV, but otherwise the show was pretty good. The good matches made up for the average ones.
Match of the Night
The Miz vs Dolph Ziggler
This was tough, but I think this match was a little more exciting than the World Title match. There was more emotion which translated into more intense action.