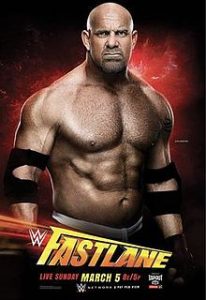 March 5, 2017
(aired live)
#WWEFastlane
City: Milwaukee, WI
Venue: Bradley Center
Commentary: Michael Cole, Corey Graves, Byron Saxton
Spanish Commentary: Carlos Cabrera, Marcelo Rodriguez
German Commentary: Tim Haber, Calvin Knie
Portuguese Commentary: Marco Alfaro, Roberto Figueroa
Russian Commentary: Moti Margolin, Zhan Pomerantsev
Mandarin Commentary: Meng Ai, Sean Deng
Japanese Commentary: Shun Yamaguchi, Funaki
Ring Announcer: Jojo
Brand: RAW
Theme Song: "Watch This" by Will Roush
(View the recap and review of the Fastlane 2017 Kickoff show)
Match 1
Sami Zayn vs Samoa Joe
(referee: Rod Zapata)
Show/Hide Results
Result: Samoa Joe wins via submission with a Coquina Clutch
Time: 9:45
Match Thoughts
Good match. It was very, very one-sided though. This was basically a nearly ten minute exhibition and demonstration of why Joe is so dangerous. It was very good for his character. The match was entertaining and Joe looked extremely impressive, but I don't know if I'll rewatch this very often. Joe will definitely have better, more competitive matches.
Backstage
Charly Caruso welcomes Bayley. Bayley knows the odds are stacked against her tonight, but she's ready. She also challenges Charlotte to leave Dana Brooke in the locker room. Nia Jax walks up and tells Bayley that she's going to destroy Sasha tonight, and that she's going to take the title from Bayley if Charlotte doesn't.
Match 2
RAW Tag Title Match
Enzo Amore & Big Cass vs Luke Gallows & Karl Anderson (RAW Tag Champs)
(referee: John Cone)
Show/Hide Results
Result: Karl Anderson pins Enzo Amore after a running knee to the head (Gallows knocks Enzo's foot from the rope during the pin)
Time: 8:43
Match Thoughts
A pretty good match, but it definitely felt like the middle of a feud rather than an end. Nothing was settled, and really, this match just created more issues between the two teams.
Backstage
Mick Foley talks to Stephanie over the phone because her plane has been delayed. Steph tells Foley that she is going to stay on the phone with him for the remainder of the show to make sure things go well. Foley takes Steph off speaker-phone, but when he does the cord comes loose from the phone.
Video
Buildup for Sasha Banks versus Nia Jax.
Match 3
Nia Jax vs Sasha Banks
(referee: Chad Patton)
Show/Hide Results
Result: Sasha Banks wins via pinfall with a bridging pin after an O'Connor roll
Time: 8:19
Match Thoughts
An okay match. It wasn't quite as one-sided as the Joe/Zayn match, but it was awfully close. Niz Jax was a little more mobile than she usually is which helped. The best part was towards the middle of the match. Nia had Sasha in a rack submission, then Sasha climbed all over Nia and put on a couple of guillotine chokes and a sleeper hold. It was like watching someone play Shadow of the Colossus. Other than that though, it's not something I'll watch again. The ending was okay, but it was a little awkward.
Ring Area
Jinder Mahal heads to the ring, followed by Rusev and Lana. They argue about who is going to wrestle the next match and start to brawl. Jinder ends up hitting a running knee on Rusev out on the floor. Jinder gets back in the ring, ready for a match. As he's waiting, Cesaro and Sheamus come out to the stage. Cesaro heads to the ring while Sheamus heads towards the back.
Match 4
Jinder Mahal vs Cesaro
(referee: Rod Zapata)
Show/Hide Results
Result: Cesaro wins via pinfall after a push-up European uppercut
Time: 8:12
Match Thoughts
A pretty good match, probably better than it should have been. Mahal looked pretty good, in no small part to Cesaro being in the ring with him. Cesaro sold a lower-back injury early in the match, and Mahal repeatedly attacked Cesaro's back. The injury built interest in the match which was very much needed in this last-minute addition to the show. If this match had been on RAW, it would have been quite good, but on a PPV it was just pretty good. It felt like a time filler. A fairly entertaining time filler.
Ring Area
After the match, Rusev attacks Jinder Mahal. He has his way with Mahal, but after kicking him in the head, Big Show comes out and heads to the ring.
Match 5
Rusev w/ Lana vs Big Show
(referee: Rod Zapata)
Show/Hide Results
Result: Big Show wins via pinfall after three chokeslams and a knockout punch
Time: 8:41
Match Thoughts
Like the Mahal/Cesaro match, this was pretty good and better than it should have been. Rusev put up a good fight and the match was entertaining enough. Maybe better for RAW than a PPV, but it wasn't bad. Towards the end of the match Big Show completely dominated and destroyed Rusev. I think that was needed considering Show will probably have a spot on Wrestlemania, but it made the match feel less interesting than it could have been, and it kind of diminished the gains Rusev made in the match by standing up against Show.
Backstage
Charly Caruso welcomes Kevin Owens. Owens asks why people keep saying tonight is his biggest match ever. He wonders who, besides Lesnar, Goldberg has beaten in the last few years. No one. He beat one guy, once. Owens has beaten everyone.
Video
Austin Aries' "beautiful package."
Match 6
Cruiserweight Title Match
Gentleman Jack Gallagher vs Neville (Cruiserweight Champ)
(referee: Darrick Moore; guest commentary: Austin Aries (replacing Byron Saxton))
Show/Hide Results
Result: Neville wins via pinfall after a Red Arrow
Time: 12:08
Match Thoughts
Very good match. Easily the best of the night so far. The pace of the match was kept pretty high, and both guys pulled of some great and powerful moves. Neville looked especially brutal, repeatedly throwing Gallagher who landed very roughly. Some highlight moves from Neville were a snap release German suplex and a Phoenix Splash from the second rope. Gallagher also pulled off some moves he doesn't often do, like a dive through the ropes to the floor. Both guys looked like they were making the most of this opportunity.
Video
A commercial for The Jestons and WWE: Robo-Wrestlemania.
Backstage
Charly Caruso welcomes Paul Heyman. Heyman says that whoever wins the Universal Title tonight, Brock Lesnar will be the winner. If Goldberg wins, Lesnar will take the title from him at Wrestlemania. If Owens wins, the weakness in Goldberg exposed by Owens will be used by Lesnar at Wrestlemania.
Ring Area
New Day heads to the ring with a New Day Pops ice cream cart. They stand before the crowd with an ice cream dream and an opportunity for the WWE universe. The fans demanded ice cream, and New Day wants their voices to be hears. They will ride their new ice cream cart all the way to Wrestlemania.
Video
Buildup for the Reigns/Strowman match.
Match 7
Roman Reigns vs Braun Strowman
(referee: John Cone)
Show/Hide Results
Result: Roman Reigns wins via pinfall after a spear
Time: 14:14
Match Thoughts
A pretty good match. It was pretty much exactly what you would expect. Two big guys hitting big, powerful moves. Finishers were kicked out of, neither guy would stay down easy, and one of the announce tables was used. If you like that sort of thing, then you'll probably like this match. The ending was okay, but Strowman brought out a new move that didn't go as planned. I think it's strange to have him go for something new only to have it fail, but I'm okay with the winner of this one.
Backstage
Mick Foley approaches Samoa Joe and tells him that he knows Stephanie would not want Joe to get involved in the Universal Title match tonight. Owens would like that too. So if Joe does get involved, "there will be hell to pay."
Video
Buildup for the Women's Title Match.
Ring Area
Charlotte comes out for the next match with Dana Brooke, but she tells Dana to head to the back. It seems as if Charlotte is taking Bayley up on her challenge from earlier.
Match 8
RAW Women's Title Match
Charlotte vs Bayley (RAW Women's Champ)
(referee: Darrick Moore)
Show/Hide Results
Result: Bayley wins via pinfall after a Bayley-to-Belly
Time: 16:49
Match Thoughts
A good match, but it could have been better. The action was really good, but an extremely weird moment happened fairly late in the match that hurt its momentum. Charlotte was in the corner, and it looked like Bayley wanted to hit a jumping elbow drop, but it took a really long time to set up and it didn't connect when she tried. Also, the ending wasn't great. It actually gave more credence to Charlotte's complaints, so I thought it was a little strange. But, it's only a few weeks away from Wrestlemania, so I didn't expect anything definitive to happen here.
Video
Buildup for the Universal Title match.
Match 9
Universal Title Match
Goldberg vs Kevin Owens (Universal Champ)
(referee: Chad Patton)
Show/Hide Results
Result: Goldberg wins via pinfall after a jackhammer and becomes the new Universal Champ
Time: 0:22
Match Thoughts
This was barley a match. Owens left the ring before the opening bell rang, then proceeded to walk around and wait. He teased getting into the ring a few times, but continued to pace outside the ring. He finally got into the ring and called for the bell… then Chris Jericho came out the stage. While Owens was distracted, the referee called for the bell and Goldberg did what he does. Match over. I kind of figured something like this would happen, but I'm not a fan of it.
Show Impressions
This wasn't a great show. It felt very much like a pre-Wrestlemania show. Not a lot of the matches meant a lot, nobody really took any chances, and pretty much everything was obviously meant to set up Wrestlemania in a pretty predictable way. This show could have been an episode of RAW, and I still wouldn't have thought it was great.
This show felt like a night of mismatches. Most of the matches on the card, even the impromtu matches, had one person who was a heavy favorite for one reason or another. It was strange.
And then there's the ending. I don't think anyone is surprised that Jericho showed up, but this whole thing just doesn't make much sense to me.
First of all, Goldberg versus Lesnar doesn't need the title to be involved. A match between those two is a special event match. The fact that they're fighting is arguably more of a draw than a title match. They already have a heated rivalry, and both guys have already acted like the title is secondary to their issues with each other. That's a problem.
Second, ending Owens' title reign like this doesn't help the lineage of the belt. Goldberg didn't struggle to work his way to the top, he just came in and was handed it. I know that's been kind of his thing since the start of his career, but I've never liked it. All the fighting and manipulating that Owens did over the past few months ended in a horribly unspectacular way. Also, I really dislike the way that Goldberg acts. He pays attention to the crowd too much, and it doesn't feel like he (as a character) appreciates the position he's in. It's annoying, mostly because he's champ and he's barely wrestled at all since he's been back.
Also, the thing with Jericho makes Owens look dumb. He viciously attacked Jericho just prior to a match with Goldberg. What did he think would happen? And what was his plan for tonight? He stalled before the match, but then he got in the ring like he was ready to fight. How would that have helped? I guess it's conceivable that he had more up his sleeve, but it didn't look that way.
I though the show as a whole was kind of average, but the ending hurt it a lot.
Match of the Night
Gentleman Jack Gallagher vs Neville
This was a much-needed bright spot in the show.