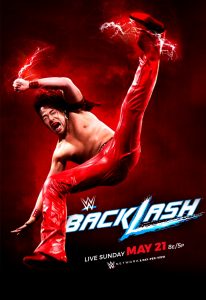 May 21, 2017
(aired live)
#WWEBacklash
City: Rosemont, IL
Venue: Allstate Arena
Commentary: Tom Phillips, JBL, Byron Saxton
German Commentary (ringside): Calvin Knie, Tim Haber
Spanish Commentary (ringside): Carlos Cabrera, Marcelo Rodriguez
Japanese Commentary: Shun Yamaguchi, Funaki
Hindi Commentary: Shez Sardar, Obaid Kadwani
Russian Commentary: Moti Margolin, Zhan Pomerantsev
Mandarin Commentary: Meng Ai, Sean Deng
Portuguese Commentary: Marco Alfaro, Roberto Figueroa
Ring Announcer: Greg Hamilton
Brand: SmackDown Live
Theme Song: "Highway" by Bleeker
<< View the Recap & Review for the Backlash Kickoff show. <<
Intro Video
We choose to show the world one face, but our true face we only show to ourselves.
Match 1
Dolph Ziggler vs Shinsuke Nakamura
(referee: Ryan Tran)
Show/Hide Results
Result: Shinsuke Nakamura wins via pinfall after Kinshasa
Time: 15:50
Match Thoughts
Good match. Ziggler had a lot of offense, maybe a little more than I expected, but the match as a whole went about like you would think. Nakamura was able to show his resiliency and some of his powerful strikes and throws. A good debut for Nakamura.
Video
A replay of Breezango's "Fashion Files" from this past Tuesday's SmackDown.
Match 2
SmackDown Tag Title Match
Breezango vs The Usos (SD Tag Champs)
(referee: Mike Chioda)
Show/Hide Results
Result: Jey Uso pins Fandango after a superkick and The Usos retain the titles
Time: 9:18
Match Thoughts
This was a crazy match. The first part was all about comedy. Tyler Breeze did his master of disguise gimmick for about half the match which led to some genuinely funny moments. The match eventually got serious with Breeze and Fandango taking the fight to The Usos. It was an odd but great combination of tones that made it feel like Breezango could really win the titles. The finish was very fast-paced and included more than a few dives and big moves. I hope this feud continues for a good long while.
Match 3
Sami Zayn vs Baron Corbin
(referee: Danilo Anfibio)
Show/Hide Results
Result: Sami Zayn wins via pinfall after a Helluva Kick
Time: 14:38
Match Thoughts
This was okay. The pace of this match was much slower than what we've seen so far. Corbin dominated the match by methodically working on Zayn's back. This allowed Zayn to fight an underdog battle and work on surviving and making a comeback throughout the entire match. It wasn't a terribly exciting match, but the finish was nice. The match worked and did what it was meant to do which was to build Zayn as someone who has a huge amount of heart and drive.
Video
Xavier Woods, Ember Moon, Zack Ryder, and Brennan Williams play Rocket League.
Backstage
The Singh Brothers roll out a carpet for Jinder Mahal as he arrives at the venue in a limo. Dasha Fuentes welcomes Mahal to Chicago, but Mahal doesn't seem to be happy to be in Chicago or the United States. He goes on to say that people hate him because of how he looks and talks.
** I'm not a fan of the "you hate me because I'm different" gimmick. It's kind of a tired and weak way of attempting to draw heat. It's easy to dismiss. I prefer it when heels actually have a good point based in reality. Mahal just kind of pulled his reasons out of thin air. **
Ring Area
James Ellsworth skips to the ring and calls the crowd a bunch of "sausages." He talks about himself for a little while before introducing his homegirl Carmella.
Match 4
Carmella w/ James Ellsworth & Tamina & Natalya vs Becky Lynch & Charlotte Flair & Naomi (SD Women's Champ)
(referee: Dan Engler)
Show/Hide Results
Result: Natalya forces Becky Lynch to submit to the Sharpshooter
Time: 10:03
Match Thoughts
Another okay match. Natalya, Carmella, and Tamina worked better as a team here. They had some good tags and continuity while Becky, Charlotte, and Naomi felt like the separate people with their own agendas. The action was pretty good and everyone had a chance to be highlighted. I think Tamina looked good as a powerhouse, but no one really stood out as significantly better than anyone else.
I'll be happy when Charlotte goes back to being a major heel though. I also think they really need to establish some solid one on one feuds. One of the issues I've had with SmackDown nearly since the current brand split is that that they throw too many women into their matches. It takes away from the potential drama of feuds between strong characters when you keep having to split attention to so many people. I think the SmackDown women's division will be better in the long run if they take the time to build their characters a few at a time rather than trying to put all of them on TV all the time.
Video
Buildup for Owens versus Styles.
Match 5
US Title Match
AJ Styles vs Kevin Owens (US Champ)
(referee: Jason Ayers)
Show/Hide Results
Result: Kevin Owens wins via countout and retains the title
Time: 21:05
Match Thoughts
Very good match. The ending didn't solve anything, but it was something that I can't remember ever seeing before. It also allows the feud to continue which is a very good thing. The match itself built extremely well from a slower feeling out process to a culmination of a series of big moves. Owens focused on Styles leg throughout the match, continuing the injury he started on SmackDown. Styles' leg was a huge part of the match. It affected his ability to mount any kind of sustained offense and allowed Owens to take advantage at key moments. This was very entertaining.
Match 6
Luke Harper vs Erick Rowan
(referee: Dan Engler)
Show/Hide Results
Result: Luke Harper wins via pinfall after a spinning forearm
Time: 8:57
Match Thoughts
This was okay. Both guys showed impressive power and good agility, but after Owens and Styles is felt a little slow. On it's own though, this was a pretty good big-man match. It could have used some more buildup for it to feel important enough to be on a PPV. I honestly forgot it was part of the show and was slightly confused at first when I heard Harper's music start playing.
Video
Buildup for the WWE Title match.
Match 7
WWE Title Match
Jinder Mahal w/ The Singh Brothers vs Randy Orton (WWE Champ)
(referee: Mike Chioda)
Show/Hide Results
Result: Jinder Mahal wins via pinfall after the Khallas and becomes the new WWE Champ
Time: 15:49
Match Thoughts
A pretty good match. Orton starting off by attacking Mahal prior to the opening bell and taking for a brief tour of ringside. They both got back in the ring and the match officially started with Mahal fighting angry. Mahal would focus on Orton's arm and shoulder throughout the match which was a nice way of adding some continuity throughout the bout. I feel like Mahal got way too much offense in the first half of the match, especially considering that Orton attacked Mahal first and Mahal wasn't getting any help from the Singh Brothers. Eventually the Singh Brothers did get involved, and even though the finish wasn't a complete shock, it was a bit surprising. I think the final segments of the match were the best, and overall this alright.
Show Impressions
This show was okay. It was far from great, but the US Title match and the Tag Title match were quite entertaining. The rest of the show was fine. I felt myself looking at the clock a few times throughout the show which isn't good. I probably won't be rewatching this PPV very often, but I'm not sorry I took the time to watch it at least once.
As far as Jinder Mahal as WWE Champ goes, I'm okay with it. It feels like an awfully quick rise to the top which makes it feel a little forced because of the rumors swirling about Mahal's push coming from WWE's desire to expand business in India. At the same time though, I enjoy stories like this where someone you never thought would be champ makes it. Mahal wasn't necessarily my first pick for that Cinderella story, but it was still a pretty cool thing to see.
I'd also like to take this time to say how much I dislike almost all of the crowd reaction shots WWE likes to cut away to. Most of the people obviously realize they'll be on TV if they give a big reaction, so they oversell their expressions to a dumb degree. It's like those horrible reaction videos on YouTube. Terrible and dumb. People hamming it up just because they want their faces on camera. Anyway…
Match of the Night
AJ Styles vs Kevin Owens
Easily the best match of the night. It had the best action and the most excitement. Despite clearly seeing Styles wrap his own foot in the table's cords at the end of the match, this was very good.