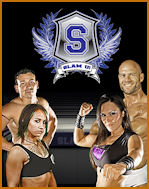 Have you ever been interested in being a professional wrestler?  Or have you ever simply wanted to get a better insight into the inner workings of the action you watch every week on TV?  Well, if you own an iPhone or iPod Touch then the new Slam U app is for you.
Released by the Fordela Corporation, Slam U is described as the first in a series of applications geared towards instructing users on how to be a professional wrestler, but there's a lot more to it than that.  Included in this nice little app are not only instructional videos but also news feeds, information on upcoming wrestling events,  and even some full length matches courtesy of clickwrestle.com.
When you first open the app you are greeted with a disclaimer stating that all instructional videos are for entertainment purposes only and if you want to try any of the maneuvers demonstrated that you should seek proper supervision.  There's no ambiguity about the disclaimer.  When it says "You understand and acknowledge that you may be hurt, get injured or even die if you attempt to apply these Techniques" there's no question that you shouldn't try this at home.  It's a good disclaimer to have and shows that the people that created Slam U are being professional and responsible, people you should probably take advice from.
Once you accept the terms you are taken to the "Main Event" section which is the main bulk of the app.  Here you are provided with high quality videos of some basic professional wrestling maneuvers as demonstrated by Melissa Anderson (Cheerleader Melissa/Alissa Flash/Raisha Saeed), Chritina Von Eerie, Ulysses and head instructor Oliver John.  The videos are broken up into five sections, each containing four or five videos that last anywhere from thirty seconds to almost two minutes.  The videos cover everything from a collar and elbow tie up to reversing a hammer lock to performing an oklahoma roll.
Oliver John is very thourough and informative as he succinctly describes each step in how the move is applied, even going so far as to explain why each action is taken.  As a person who has watched pro wrestling for most of my life and has even stepped into the training ring (though very briefly), I still learned quite a few things watching Oliver's instruction.  He's obviously very knowledgeable and this is what I found most entertaining, learning why a wrestler wipes their feet when they enter the ring and other things like that.  I also enjoyed how Oliver presents pro wrestling as a sport and not merely entertainment.  When he describes moves he's telling you how to beat your opponent, not how to call a match.  Very Cool.
All of the videos can be watched in under half an hour so it  really is just the very basics but that seems to be the point.  The information provided seems to be meant to whet your appetite and inspire you to be responsible in your efforts to be a professional wrestler.  Oliver often talks about safety while instructing, both for yourself and for your opponent, and mentions on more than one occasion that if you're interested in learning to wrestle that you should seek a reputable instructor.   It is made perfectly clear that Slam U is not a substitute for proper training.
| | |
| --- | --- |
| | |
Beyond the "Main Event" there are three other sections in Slam U.  "News" is next on the menu and basically provides the headlines from the blogs of two very good wrestling news sites, Online World of Wrestling and Diva Dirt.  This is a nice addition, unfortunately it ends up being a little lacking.  The Online World of Wrestling posts were incomplete, showing about the first paragraph of a post and indicating that there is more to the article but not providing any way to read it.  On the positive side Diva Dirt articles were complete, the only drawback being that you can't comment on the posts.  That's not really a big deal to me but it would be nice to have the option to comment.  Maybe in future Slam U updates this will be looked at.
Next up is the "Ringside" section.  "Ringside" provides two options, Live Events and Videos On Demand.  Live Events provides information on, you guessed it, upcoming live independent wrestling events.  As of right now this is only really useful if you live in California since the only events listed are for Pro Wrestling Revolution which puts on shows in San Francisco and surrounding areas.  It's done well, match lineups are given and links are provided to buy tickets to the shows directly from your phone, it's just not of much use to people that don't live in the area.
The Videos On Demand section is pretty nice too, providing full length matches that you can watch right on your phone.  You do have to pay for the individual matches as they are provided by Clickwrestle.com but it's nice to have the option to see some great matches containing some of the Slam U instructors.  Oh, and you have to be on WiFi in order to download the matches, it won't work if you're using 3G.
Last up is "Backstage".  This final section of the app provides the credits for Slam U (displayed cleverly to look like a promotional poster for a wrestling show), mini-bios for the four instructors, and something that promises to let you "Show Off Your Ring Skills".  I'm not really sure what this last part does since I provided my Twitter and Facebook information as asked but don't know where to go from there.  I finished watching all of the videos but nothing seemed to happen.  Maybe I missed something?  I'm not sure but it's not a big deal, the best part of "Backstage" is the biographical information and after you read it once you probably won't visit this section again.
If you're anything like me, watching Oliver John and Melissa Anderson guide you through the basics of pro wrestling will remind you of why you fell in love with this sport to begin with, the wrestling.  This, if nothing else, should be reason enough to warrant a purchase and overall I'd say Slam U is a good purchase for any wrestling fan.  It's less than two dollars and even after you've watched the extremely well done instructional videos you'll keep coming back to the application for the news feeds.  Hopefully the slight complaints I found with the news portion will be addressed in updates to turn this very good app into great one.
Buy it here: Slam U on iTunes
Also check out:
Melissa-Anderson.org
Pro Wrestling Revolution