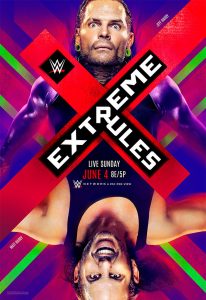 June 4, 2017
(aired live)
#ExtremeRules
City: Baltimore, MD
Venue: Royal Farms Arena
Attendance: 11,769
Commentary: Michael Cole, Corey Graves, Booker T
Spanish Commentary (ringside): Carlos Cabrera, Marcelo Rodriguez
German Commentary (ringside): Carsten Schaefer, Tim Haber, Calvin Knie
Mandarin Commentary: Meng Ai, Sean Deng
Russian Commentary: Moti Margolin, Zhan Pomerantsev
Hindi Commentary: Obaid Kadwani, Shez Sardar
Japanese Commentary: Shun Yamaguchi, Funaki
Portuguese Commentary: Marco Alfaro, Roberto Figueroa
Ring Announcer: Jojo
Brand: RAW
Theme Song: "Hellfire" by Barns Courtney
<< View the Recap & Review for the Extreme Rules 2017 Kickoff show. <<
Intro Video
Tonight, the RAW superstars go to the extreme.
Video
Buildup for the IC Title match.
Match 1
Intercontinental Title Match
The Miz w/ Maryse vs Dean Ambrose (IC Champ)
(referee: John Cone; stipulation: if Dean Ambrose gets disqualified, Miz wins the title)
Show/Hide Results
Result: The Miz wins via pinfall with a Skull Crushing Finale and becomes the new IC Champ
Time: 20:03
Match Thoughts
This was a surprisingly very good match! The need to be extra careful clearly had an effect on how Ambrose wrestled, and it made the match increasingly interesting as it went along. This final segments of the match, when Miz got more and more diabolical and desperate, were a ton of fun. The finish had all sorts of shenanigans, but I enjoyed all of them. What would usually be a bunch of aggravation was turned into a lot of fun because of the stipulation.
Backstage
Charly Caruso welcomes Bayley. Bayley says she's been getting ready by watching Tommy Dreamer, Sandman, and Steve Blackman. She's also been inspired by Wonder Woman and is ready to get her title back.
Match 2
Mixed Tag Match
Alicia Fox & Noam Dar vs Rich Swann & Sasha Banks
(referee: Shawn Bennett)
Show/Hide Results
Result: Rich Swann pins Noam Dar after a Phoenix Splash
Time: 6:18
Match Thoughts
This was pretty good. It was a little short for a PPV, but it was fun. The pace was high, but there wasn't a ton of continuity since each tag forced both competitors to leave the ring. I was hoping for a little more, but it was an alright match.
Ring Area
Elias Samson is in the ring. He has a question: who wants to walk with Elias? Then he sings.
Video
Buildup for the Women's Title match.
Match 3
Kendo Stick on a Pole RAW Women's Title Match
Bayley vs Alexa Bliss (RAW Women's Champ)
(referee: Dan Engler)
Show/Hide Results
Result: Alexa Bliss wins via pinfall after a DDT
Time: 5:11
Match Thoughts
This was underwhelming. The Kendo stick was retrieved in about two minutes, and the person who got it didn't even use it. It all felt kind of pointless, the stipulation, the match, and all the buildup. Hopefully they'll just put all this behind them and move on to something else.
Ring Area
Adam Jones is in the crowd.
Match 4
Steel Cage RAW Tag Team Title Match
Cesaro & Sheamus vs The Hardy Boyz (RAW Tag Champs)
(outside referees: Shawn Bennett, John Cone)
Show/Hide Results
Result: Cesaro & Sheamus win by escaping over the top of the cage and become the new RAW Tag Champs
Time: 14:59
Match Thoughts
Pretty good match. I'll never understand why people try to climb the cage when there's an unlocked door, but besides that, this was pretty fun. I don't think it was super tense, but there were a few big moves which is all I really expected (though maybe not all I hoped for).
Video
Buildup for the Cruiserweight Title match.
Match 5
Cruiserweight Title Submission Match
Austin Aries vs Neville (Cruiserweight Champ)
(referee: Darrick Moore)
Show/Hide Results
Result: Neville wins via submission with the Rings of Saturn
Time: 17:25
Match Thoughts
Good match. I questioned Neville's logic of going for the Rings of Saturn when Aries clearly had a knee injury that he's been dealing with for weeks, but Neville found a way to make it work extremely well. There was a lot of back and forth in this, and I think both guys put on a good match.
Video
The next PPV is called Great Balls of Fire. Because.
Video
Buildup for the Fatal Five Way match.
Match 6
Extreme Rules Fatal Five Way Universal Title Number One Contender Match
Bray Wyatt vs Seth Rollins vs Samoa Joe vs Finn Balor vs Roman Reigns
(referee: Rod Zapata; outside referee: Shawn Bennett)
Show/Hide Results
Result: Samoa Joe makes Finn Balor pass out to the Coquina Clutch
Time: 29:09
Match Thoughts
Very good match. Reigns started by letting everyone else fight, then Joe and Wyatt formed an alliance that lasted quite a while. Working together, Wyatt and Joe dominated the match and put everyone else down. Their alliance was eventually broken up and the match descended into chaos. The good kind of chaos. The match got increasingly violent an faster paced at it went along, building to a very good finish.
Show Impressions
The show was a little uneven. I liked the supreme heel factor of Miz forcing the first match to be the complete opposite of what Extreme Rules is promoted to be, and the match turned out to be quite good, but the match after that took a dip in quality that continued even further with the Women's Title match. The matches got better from there, but it wasn't until the main event (and maybe the submission match) for the show to get really good again. Overall, I would say this show was middle of the road, maybe a little below.
Match of the Night
Fatal Five Way
This was pretty easily the best match of the night. It fit the theme of the show well and delivered without trying to do too much.