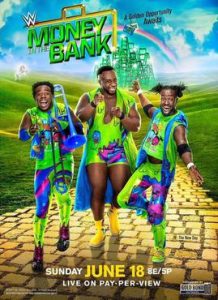 WWE Money in the Bank 2017
Event Date: June 18, 2017
aired live on WWE Network
#MITB
City: St. Louis, MO
Venue: Scottrade Center
Attendance: 15,392
Commentary: Tom Phillips, JBL, Byron Saxton
German Commentary (ringside): Tim Haber, Calvin Knie
Spanish Commentary (ringside): Carlos Cabrera, Marcelo Rodriguez
Portuguese Commentary: Roberto Figueroa, Marco Alfaro
Japanese Commentary: Shun Yamaguchi, Funaki
Mandarin Commentary: Meng Ai, Sean Deng
Hindi Commentary: Shez Sardar, Obaid Kadwani
Russian Commentary: Moti Margolin, Zhan Pomerantsev
Ring Announcer: Greg Hamilton
Brand: SmackDown Live
<< Read the Recap & Review for the Money in the Bank Kickoff show. <<
Video
Tonight is a night of opportunity.
Match 1
Money in the Bank Ladder Match for a SD Women's Title Match Contract
Charlotte Flair vs Becky Lynch vs Tamina vs Carmella w/ James Ellsworth vs Natalya
(outside referees: Danilo Afibio, Dan Engler, Charles Robinson)
Show/Hide Results
Result: Carmella wins after James Ellsworth retrieves the briefcase and gives it to Carmella
Time: 13:18
Match Thoughts
The match itself was pretty good, but the ending was terrible. I understand what they were doing and in most cases it could have been a clever way to end the match. My problem is that they promoted this as the first ever women's MitB match and built up the fact that the women have worked hard and deserve this (which they do). So they decide to end the match by having a man be the one to get the briefcase and hand it to one of the women? That sends a horrible message on so many levels, not the least of which being that it makes us feel cheated out of a proper match.
Beyond that, what does that say about the women's division? That they're still subordinate to the men? That they only get what they are given? It's insulting. They should have restarted this match right away. Even if they somehow get revenge on Ellsworth later, this was a historic moment that is forever tarnished. And not tarnished in a good pro wrestling, heel-move kind of way. Tarnished in a way that says the writers apparently still have a long way to go before they'll treat the women as true equals. I'm sure that's not what they intended, but it's not a stretch to see it that way.
Video
A commercial for Great Balls of Fire.
Backstage
Dasha Fuentes welcomes Lana. Lana says she's glad everyone thinks Naomi is going to win. It will make the surprise of Lana's victory that much sweeter.
Ring Area
New Day heads to the ring and says they are changing The Usos "penitentiary" to New Day's "playpen."
Match 2
SmackDown Tag Team Title Match
New Day (Big E & Kofi Kingston w/ Xavier Woods) vs The Usos (SD Tag Champs)
(referee: Ryan Tran)
Show/Hide Results
Result: New Day wins via countout after Jimmy pulls Jey out of the ring after Jey was hit with Midnight Hour
Time: 12:17
Match Thoughts
This was a very good and exciting match up until the end. I liked the back and forth, and I really liked how it felt more and more tense as it went along. There were some very good near falls and near submissions. It did get a little messy from time to time, but those moments were few and far between and didn't hurt the quality of the match. The ending was a little frustrating, but I understand why they did it. I think it just stings a little more considering the finish to the first match on this show as well. Hopefully this doesn't become a pattern for the night.
Backstage
Bob Orton and Sgt. Slaughter discuss things in the backstage area.
Match 3
SmackDown Women's Title Match
Lana vs Naomi (SD Women's Champ)
(referee: Jason Ayers)
Show/Hide Results
Result: Naomi wins via submission with a headscissors crucifix choke
Time: 7:26
Match Thoughts
This was okay. Lana looked fine, and she had a good game plan. Lana dominated most of the match, going after Naomi's legs. The turning point came when Carmella came out to the ring and teased a cash-in of her briefcase.It didn't happen, but the distraction changed the course of the match in the ring. I think this a decent match for Lana's SmackDown wrestling debut. She looked solid enough even if she did seem a little slow and methodical at times.
Carmella really should have attacked Naomi from behind after the match though. Naomi's knee was hurting, so as she turned to face the crowd on the ramp Carmella should have attacked her and focused on the injury. As much as I didn't like how the ladder match ended, I don't mind Carmella as the holder of the MitB contract. But with the controversy, I think Carmella should have cashed in here to add an additional wrinkle to whatever fallout is going to happen on SmackDown. If Carmella cashes in, then there's no way the contract can be taken away from her.
Video
In an episode of "Fashion Vice," Breezango find a VHS tape telling them to meet some mysterious opponents in the ring. Tonight.
Ring Area
Mike & Maria Kanellis come out to the stage! They are here on SmackDown to educate everyone about the power of love.
Video
Buildup for the WWE Title Match.
Ring Area
Greg Gagne, Larry "The Axe" Hennig, Baron Von Raschke, Sgt. Slaughter, "Cowboy" Bob Orton, and Ric Flair are in the front row.
Match 4
WWE Title Match
Randy Orton vs Jinder Mahal (WWE Champ) w/ The Singh Brothers
(referee: Mike Chioda)
Show/Hide Results
Result: Jinder Mahal wins via pinfall after The Khallas
Time: 20:58
Match Thoughts
This was pretty good. The first part of the match was mostly spent fighting around ringside. They eventually made it back into the ring and Orton slowly took control of the match. Orton was on his way to winning when the Singh Brothers made a scene at ringside with Bob Orton which led to shenanigans. I don't think anything bout this match was surprising. It went down pretty much exactly like you'd expect it would which didn't make for a terribly exciting match.
Video
A commercial for Great Balls of Fire featuring superstars "singing."
Match 5
Breezango vs The Ascension
(referee: Danilo Anfibio)
Show/Hide Results
Result: Fandango pins Viktor with a small package
Time: 3:50
Match Thoughts
This was okay. It was short and felt more like a mid-card SmackDown match rather than a PPV match with a few weeks of buildup, but it was fine. It probably shouldn't have followed the WWE Title match. The WWE PPVs have been paced strangely lately.
Video
Another commercial for Great Balls of Fire featuring Samoa Joe versus Brock Lesnar for the Universal Title.
Video
Buildup for the men's MitB ladder match.
Match 6
Money in the Bank Ladder Match for a WWE Title Match Contract
AJ Styles vs Dolph Ziggler vs Sami Zayn vs Kevin Owens (US Champ) vs Shinsuke Nakamura vs Baron Corbin
(outside referees: Ryan Tran, Mike Chioda, Jason Ayers)
Show/Hide Results
Result: Baron Corbin wins after retrieving the briefcase
Time: 29:51
Match Thoughts
A very good match. Corbin attacked Nakamura on his way to the ring, causing Nakamura to miss the majority of the match. Nakamura would return late and go on a rampage, and that clear story within the match made this exciting to watch. To me, Zayn and Styles both stood out the most. If this was about who provided the most exciting moments in the match, Zayn would have won.
Overall there were a lot of good moments here. I'd definitely watch this match again. That said, I'm not thrilled with the outcome. It makes sense story-wise (the story within the match as well as the ongoing story lines), but the idea of Baron Corbin walking around with the MitB contract just doesn't intrigue me.
Show Impressions
I was kind of disappointed in this show. In some places I was VERY disappointed. I think the tag title match and the men's MitB match had the best action, but the endings to both left me feeling frustrated. The ending of the women's MitB was a disaster in my opinion. Maybe the sting will wear off, but that's my initial reaction. And like I wrote above, it's not the kind of pro wrestling disappointment where I'm looking forward to the wrongs being righted, it's the kind of disappointment where I think an opportunity to make a great moment in history has forever been lost.
Also, I think that the show was paced oddly. That seems to be a repeated complaint of mine though. The first two matches were big deals, then they spent so much time on videos, talking, and matches that didn't match up to the opening matches' excitement that the show seriously bogged down. I don't understand why they do that.
Match of the Night
The Men's Money in the Bank Ladder Match
Despite not being completely on-board with the winner, I think this was easily the best match of the night. It had the best action, the best story, and the most tension.