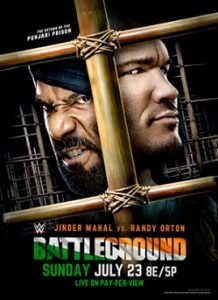 WWE Battleground
#WWEBattleground
Original Air Date: July 23, 2017
Event Date: July 23, 2017
aired live on the WWE Network
City: Philadelphia, PA
Venue: Wells Fargo Center
Commentary (ringside): Tom Phillips, JBL, Byron Saxton
German Commentary (ringside): Tim Haber, Calvin Knie
Spanish Commentary (ringside): Carlos Cabrera, Marcelo Rodriguez
Portuguese Commentary: Marco Alfaro, Roberto Figueroa
Russian Commentary: Moti Margolin, Zhan Pomerantsev
Japanese Commentary: Shun Yamaguchi, Funaki
Mandarin Commentary: Meng Ai, Sean Deng
Hindi Commentary: Shez Sardar, Obaid Kadwani
French Commentary: Ray Rougeau, Jean Brassard
Ring Announcer: Greg Hamilton
Brand: SmackDown Live
Theme Song: "Whatever It Takes" by Imagine Dragons
<< Read the Recap & Review for the Battleground Kickoff show. <<
Match 1
SmackDown Tag Team Title Match
New Day (Kofi Kingston & Xavier Woods w/ Big E) vs The Usos (SD Tag Champs)
(referee: Jason Ayers)
Show/Hide Results
Result: Xavier Woods pins Jimmy Uso after a rope-walk springboard elbow drop
Time: 13:46
Match Thoughts
Great match! I like the choice of having Kingston and Woods represent New Day in this match. It made for an extremely fast paced match with started right from the opening bell. Everyone here looked great, but Woods really stood out in this match. He took a lot of punishment, but he also showed his resiliency, his unique skills, and his brains. His kick-outs midway through the match started turning this from a good match into a great one. His moves like a wheelbarrow into a snap-facebuster kept things interesting and unexpected. And his timely tags led to a great finish.
I imagine we'll see a rematch at Summer Slam, and I'm perfectly fine with that. With matches like this, they can keep this feud going until Wrestlemania as far as I'm concerned.
Match 2
Shinsuke Nakamura vs Baron Corbin
(referee: Mike Chioda)
Show/Hide Results
Result: Shinsuke Nakamura wins via DQ when Baron Corbin hits a blatant low blow
Time: 12:28
Match Thoughts
This was pretty good. Maybe it's because it had to follow such a fast-paced match to open the show, but this felt a little slow at times. A methodical pace makes sense for Corbin, but there were times, especially in the first half of the match, where it felt like there just wasn't much happening. Corbin used multiple bear hugs early in the match to basically stop any momentum that had been built up. Later on I think the slower pace started to work better. The two men were getting tired and beat up from a lot of the strikes (which mostly looked good), so the slower pace made sense.
Overall, this wasn't a bad match, but I think they could both do more. I think it would be better to have this be a match where their anger showed through more. That would lead them to just trying to punch and kick each other into submission (like Nakamura seemed to try to do) rather than using holds to slowly wear down their opponent (like Corbin seemed to focus on). Of course, I realize WWE is trying to protect Corbin since he has the MitB contract.
Ring Area
Corbin is all smiles after the match. He begins to head towards the back, but he decides to return to the ring and hit Nakamura with End of Days before he leaves.
Video
Clips of how the women's number one contender match came to be.
Match 3
SmackDown Women's Title Number One Contender Fatal Five Way Elimination Match
Becky Lynch vs Tamina vs Natalya vs Lana vs Charlotte
(referee: Charles Robinson; guest commentary: Naomi)
Show/Hide Results
Result: Natalya wins and will challenge for the SD Women's Title at Summer Slam
Fall 1: Becky Lynch forces Tamina to submit to the Disarm Her (8:07)
Fall 2: Becky Lynch forces Lana to submit to the Disarm Her (8:27)
Fall 3: Natalya pins Becky Lynch with a schoolboy and a handful of tights (8:38)
Fall 4: Natalya pins Charlotte after hitting Charlotte's head on the bottom turnbuckle (10:56)
Time: 10:56
Match Thoughts
Good match. It felt a little chaotic and frantic at times, but I enjoyed the action in this one. I liked how all five of the women were able to show their characters very well in the match. Lana picked her spots but made mistakes, Tamina seemed focused on helping Lana for whatever reason, Becky Lynch did a lot of the work but got taken advantage of, Charlotte went in headfirst but paid for it, and Natalya used her veteran smarts to get ahead with whatever tactics would work. I liked the finish here too. I'm happy with the new number one contender and actually would have liked to have seen her get the MitB contract before this.
Ring Area
Naomi, the champ, enters the ring after the match and offers to shake the hand of the new number one contender, Natalya. Natalya refuses to shake and simply leaves the ring.
Video
A recap of the road to tonight's US Title match.
Match 4
US Title Match
Kevin Owens vs AJ Styles (US Champ)
(referee: Ryan Tran)
Show/Hide Results
Result: Kevin Owens wins via pinfall with a bridging pin and becomes the new US Champ
Time: 17:47
Match Thoughts
Very good match, but I felt like it had a rather odd ending. The action was great throughout and there were some very nice exchanges, counters, and moves. I really liked how Owens went after Styles' arm after a tough looking fall Styles took on the apron. It started to get strange when, late in the match, Owens threw Styles into the referee.
The ref struggled to get back into the match while Owens and Styles exchanged submission holds. I liked the sequence, but something felt strange about it. Owens realized the ref was down, but he never went for a dirty trick and no one tapped out while the ref wasn't looking. That's fine, it's just not what normally happens in these situations. It makes me wonder why the ref was knocked down at all. I don't see what it added to the match.
The finish felt a little anti-climactic, like there should have been some sort of controversy. But the commentators didn't say anything about a controversy, and watching it back I didn't see anything that Styles could come back with later on. It just felt odd that Styles didn't kick out when it looked like he easily could have.
Like I said, this was a very good, maybe even a great match. Maybe my initial reaction will wear off. Maybe we're just trained to look for something underhanded or controversial in matches like this in WWE and that's why I was looking for something that didn't happen. I expect we'll see this match again at Summer Slam though, and that's a good thing.
Backstage
The Singh Brothers regret that they won't be able to stand beside Jinder Mahal tonight in the Punjabi Prison match. Mahal tells them not to worry, he'll have the entire nation of India with him as he defeats Orton.
Video
Clips of Cena's return to SmackDown and of Rusev's return soon after.
Match 5
Flag Match
Rusev vs John Cena
(referee: Dan Engler)
Show/Hide Results
Result: John Cena wins by placing the USA flag in its stand
Time: 21:03
Match Thoughts
This was a fun match. The nature of the match made most of the action defensive rather than offensive, but they delivered on a big and spectacular offensive move at the end of the match. I feel like Rusev could have played this match a lot smarter. If it was me, one of my first moves would have been to take my opponent's flag and either broken the pole or pitched the whole thing into the crowd (or both). If you can't set up your flag, then you can't win. I would have removed the US stand and kicked over the podium as well. Anything to prevent my opponent from being able to win.
Also, going after your opponent's flag is a huge heel move. It's not just trying to win the match, it's about actively trying to disrespect your opponent's country. If I was the heel in this feud, I would take every opportunity to disrespect the flag. I would stop just short of burning it (though teasing a flag burning during this match would've gotten incredible heat for sure).
As it was though, this match was good. It was over twenty minutes long, but it didn't feel like it. That's a sign of a well paced match.
Backstage
In the latest episode of "The Fashion X Files," The Ascension says they're the ones who have been messing with Breezango. Tyler Breeze says that's kind of a letdown, and Fandango points out that The Ascension wasn't even at the arena when his stick horse was killed. The lights go out and both Breeze and Fandango are attacked. The episode ends with Fandango being dragged away by a mysterious person.
Match 6
Mike Kanellis w/ Maria Kanellis vs Sami Zayn
(referee: Danilo Anfibio)
Show/Hide Results
Result: Sami Zayn wins via pinfall after a Helluva Kick
Time: 7:17
Match Thoughts
Good match. It felt like it could have been a good SmackDown Live match rather than an alright PPV match, but I do think it was a good follow-up to the match these two did actually have on SmackDown. It revisited some of the moments from that match and built upon them. I think they could go either way with this feud, either continue it or have them both move on to something else. I'd be fine either way.
Video
Buildup for the WWE Title match.
Match 7
WWE Title Punjabi Prison Match
Randy Orton vs Jinder Mahal (WWE Champ)
(referee: Mike Chioda)
Show/Hide Results
Result: Jinder Mahal wins by escaping the Punjabi Prison (with help from The Singh Brothers and The Great Khali)
Time: 27:38
Match Thoughts
As much as I think this match type is silly and overly complicated (which it is), I enjoyed this match for what it was. I don't think it was a mat classic or anything, but for sheer spectacle I think it was pretty good. One of the best parts of this feud has been waiting to see what Orton will do to Samir Singh, and they didn't disappoint in that regard here. Also, once they got out of the ring into the floor area of the structure, I think the match picked up the brutality. It wasn't super brutal, but it was entertaining. And the finish, as hard as I rolled my eyes when it happened, was still pretty fun. It was certainly a memorable way to end the match.
Show Impressions
It was a little up and down at times, but overall I think this is a good show. Nothing was outright bad, and some of the good stuff was very good. Really, a lot of the good stuff was very good.
Match of the Night
New Day vs The Usos
I think this was the most exciting match of the night by far. Nothing else really came close to this.