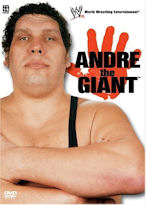 In a massive sea of content in this day and age of pro wrestling on digital disc, I've decided to dive in to my personal vault and cut through the fat. We, the Wrestling House Show, want to give you (our listeners and friends) the best recommendations you can possibly have for when you have to make those tough choices. To kick off this long project/mission, I believe it's only fitting that the first DVD I review for the site is a DVD dedicated to the highlighted works of Andre the Giant. Some of you may know that I came into the world of pro wrestling as a fan in 1988. My first memories of 'The Eighth Wonder of the World' were talks of him at the school playground and then shortly after as Fezzik in the instant classic film 'The Princess Bride'. This lovable giant is the first man to be inducted in the WWE Hall Of Fame at its inception in 1993. He was undefeated for 20 years straight when he lost to El Canek in 1984 (Antonio Inoki was the 2nd in 1986) but his most famous fall occurred in 1987 to Hulk Hogan at Wrestlemania III. Andre also broke down one of the first walls and crossed over into movies and television long before it was cool and somewhat accepted. To this day, I don't even think that anyone has come close to matching his role in The Princess Bride. You kids need more? Ok let's get into it!
The cover is a basic shot of Andre from the chest up with his logo next to him. This DVD is mostly a straight port from the old Coliseum home video tape with the exception of the guest commentary in the last match. The presentation is mostly a compilation of matches with a few interview clips inserted between matches.
We open up with a short clip from Andre teaming with Chief Jay Strongbow vs. Blackjack Lanza (current WWE backstage Producer) & Stan "The Man" Stasiak (former WWWF world champ) but it's almost over as soon as it begins but already I am interested because this is an earlier version of the Giant that I am not as familiar with and he's moving around a lot more than I am used to. I'm thinking perhaps I will see some things I wasn't expecting going into this.
Lord Alfred Hayes is your host and does the voiceovers as well. Alfred tells a tale of picking him up at an airport in the mid 60's, not surprisingly he was instantly impressed by his size and good nature. Quickly we cut to the first match…..
1st match is vs. Moondog Rex (8/1/1981)
Hayes does a voiceover and does not necessarily call the match, in better detail he goes over what sounds like almost an online dating service description page. "He is well known to like children…but dislikes ill-mannered adults…..he loves animals and raises horses…..a bachelor but does have an eye for the ladies……he is a connoisseur of fine wines " Hayes starts calling the match after that and it is a lot of fun. I think due to his awesome British accent, it comes off more like an episode from Animal Planet. This match is all of three minutes if that so there's not much of a chance to build up any psychology but it was nice (not aesthetically but historically) to see one of the all-time tough guys in Moondog Rex for a rare WWE home video appearance.

Lord Alfred Hayes


Chopping Moondog Rex
2nd match an 18 man Battle Royal (no year is given on the box but I would guess 83)- Andre, Sgt. Slaughter, Adrian Adonis, Dick Murdoch, Big John Studd, Superfly Jimmy Snuka, Pat Paterson, Hulk Hogan, Salvatore Balomo, Paul Orndorff, Tiger Chun Lee, The Iron Sheik, Alexis Smirnoff, Mil Mascaras, Les Thornton, the Hangman, Victor Rivera & Tito Santana.
Gorilla Monsoon and Hayes calls the action and they do a very good job but it's hard to rate a battle royal but I am a big fan of them because of their unpredictability and I like to see under and mid-card guys rub shoulders with the top guys. You can probably figure out how this one turns out but it definitely plays as a great snapshot of early 80's pre Rock 'N Wrestling WWF.
3rd Match vs. Black Gordman & The Great Goliath (1/12/1976)
Andre's opponents in this handicap match are wearing matching red & black old school jobber outfits, complete with shoulder straps and tucked in undershirts. Lord introduces this match by pointing out that promoters had to change two big things up because of Andre's awesomeness. One is handicap matches were better suited for competition in his case and number two, they always had to clear out the front rows at ringside. The reason for that is the chairs were really close without barricades and Andre would always toss them out multiple times during the match. The boys fall into chairs what seems like a dozen times before Andre puts them out of their misery. I must say I was entertained by this one the most so far.
4th Match vs. Jack Evans (not the current indy vet), Johnny Rodz (hardcore trainer extraordinaire) & Joe 'Butcher' Nova (great name!)
(no date available)
Vince McMahon on Commentary and there are some repeat comedy bits from the previous match. This is almost a remake of the previous match but with one extra person and I am reminded just how much more I would rather have Vince McMahon in the booth than Michael Cole. Equally entertaining in the handicap match category and made even better by not feeling sympathy for the outnumbered man. I've only seen them do that with The Big Show in my time because at least in both cases it was no name to little known guys for the most part. Note to bookers: If you're going to ever do this again, book them this way instead of having a decently sized big guy destroy a formidable tag team with built-in chemistry. That is one of my biggest pet peeves in the last decade. Sorry for the rant but I had to put something in here instead of just the first sentence.
5th Match vs. Gorilla Monsoon (w/The Grand Wizard of Wrestling) in a boxing match from Puerto Rico.
Here is a double helping of Hall of Famers for you! Now THIS match is unforgettable (although many boxing purists would like to) with the most ridiculous haymakers and the fact that both guys are 400 bills plus each only adds to the craziness of this whole thing. Hayes pulls a great trivia fact from the get-go. Q: Who is the only man ever to have WRESTLED Muhammad Ali and BOXED Andre the Giant? A: Gorilla Monsoon I've never seen so many ax handles in a boxing match! I really can't say much more about this without spoiling it but I will add that the match took place in a stadium just after a huge rain storm and this does factor in. The Wizard was one of the great bad guy managers ever and unfortunately disappeared from the company just prior to the mid-80's boom period. Unfortunately he is not much of a presence for this contest but the last thing this match needed was more shenanigans and comedy. This is one of my favorite boxing/wrestling hybrid match of all time and I hope you get a chance to see this one in your lifetime.

Crushing three men


With Superfly and Vince
6th Match teaming with Superfly vs. the Wild Samoans (managed by Captain Lou Albano)
Gorilla & Vince in the booth
FULL RING OF HALL OF FAMERS ALERT!!! The Samoans do some textbook heel 'cutting the ring in half' tag moves. Both new heel and baby face tag teams could learn something from this match for sure. Not surprisingly Superfly is 'playing Ricky Morton' through the majority of the match. If you think that anything pre '84 is boring then this match will change your mind. Every single person in the match has crazy curly afro hair and I realize this is not relevant to the match quality, it just made me smile. Always great to see Jimmy, he brought the excitement up for sure and at a perfect place midway through the DVD. Thanks for the second wind 'brutha!'
7th match vs. the Masked Superstar (aka Demolition Ax)(2.20.1984)
Gorilla & Pat Paterson calls it (Pat: "You oughta see Andre trying to dial a phone" Gorilla: *lol*)
The masked Bill Eadie actually looks bigger than I remember him and standing next to the Giant that just kind of threw me off. I had to double check online just to make sure it really was him. The 'Masked One' has to bail out a lot but wouldn't you? There is an instant classic move in this match. (Ready?) Andre gets into a side headlock, throws Superstar into the ropes, Andre low bridges to have Superstar bounce off the ropes while running past and over him, and then as Andre struggles to get back on his feet, Masked Superstar runs right into Andre's butt in full bend and then proceeds to land on his own butt to end the set. Fun match and now this DVD has actually picked up in match quality.
8th match teaming with S.D. Jones vs. Big John Studd & Ken Patera (12/15/1984)
I don't like to get into spoilers in my reviews but since it says it right on the back of the box 'This is the legendary haircut match'. However, if you don't know who in fact received said haircut then you can marvel at one of the great heel angles that was a big part in setting up the very first Wrestlemania. Vince and Bruno Sammartino call the action and I always thought Bruno sounded like Bela Lugosi when he was in the booth. Anyway, this is one of the earliest instances of the great Bobby 'The Brain' Heenan's display as one of the all-time heel managers ever. Worth a watch just for the historical value alone. The match just witnessed here actually sets up the next segment so think of the 'Haircut Match' as the first of a classic 4-parter that sends the DVD home.
We take a break from the matches to show a portion from the old Tuesday Night Titans show which for you younger fans is basically the Wrestling Tonight Show starring Vince McMahon as Johnny and Lord Alfred Hayes as Ed. Eric Bischoff would wait nearly thirteen years to rip this one off. After introducing Andre to the show we go to….
9th match vs. Ken Patera (1/21/1985)
The dubbed "Revenge Of The Giant" match
Basically Andre goes after the smaller of the two men who cut his hair in order to make an example out of him and shows the inner rage that Andre had been hiding as those earlier years. Patera gets pummeled and for one of the first times ever, Andre is embroiled in a feud that has personal issues. It has become all about pride now and having to prove that your giant status is something that will remain untarnished. You could say this is like his first sign of turning to the dark side years later……think about it. It is a huge brawl that makes its way to the floor and leaves the fans wanting more. However in the grand scheme of things this was an appetizer of sorts in the bigger picture. We find out why by returning to Tuesday Night Titans

His large hand


In the grip of The Masked Superstar
Now after the match, we are back to the TNT set for the conclusion of the interview. Here is one of the best arguments for having the occasional scripted promo. As Vince tries to build the hype up for the inaugural Wrestlemania, Andre seems to resist what the stipulation would later become. Vince plants the seed of saying that Bobby Heenan and Big John Studd want a match at Wrestlemania and they will put up $15,000 of their money saying that Andre cannot possibly body slam Big John Studd. Now if Andre is unable to slam him during the contest, he would be forced to retire from professional wrestling. Andre is dead set on NOT accepting the challenge because the risk/reward is not to his liking. It turns into a slightly uncomfortable segment because McMahon now has to basically goad Andre into accepting the match on live television by saying if he doesn't then Andre might as well paint a yellow streak on his back. It comes off as if they did not go over this bit in advance and comes off very uncomfortable and weird. Obviously the match and its stipulations are finally agreed on and we of course get……
10th Match vs. Big John Studd (w/Bobby "The Brain" Heenan) at WrestleMania (3/31/1985)
Now if you haven't seen this match than you need to get a new window on your computer and order the Wrestlemania Legacy Box Set from Amazon or WWE.com RIGHT NOW AND CATCH UP! Weirdly enough they have Michael Cole and Tazz do the commentary for this classic encounter. This is probably due to the fact that Jesse Ventura sued Vince years ago for using his commentary in compilation sets. This type of new audio will occur on other reviews I do in the future. At least they recorded new commentary for this rather than have that weird instance where Gorilla is just talking to himself, which they actually have done before and not in the cool Joey Styles kind of way but in the send Gorilla to the nuthouse kind of way.
Classic commentary moment: [after Tazz says he watched Wrestlemania at Joey Numers' pub] Cole: "I was (watching Wrestlemania) at the Landmark Theater in Syracuse, New York" Tazz: "That's great Cole, no one cares what you did THEN or NOW" You probably know the finish here but I'm still not telling.
AND THAT'S THE SHOW!
Final Thoughts
One of the things I took away from this is my surprise at how much more mobile Andre was than in the late 80's-early 90's matches I saw when I was a kid. This might sound bad but I was pleasantly surprised that I didn't think the matches were too boring or plodding. The disc itself and overall presentation leave quite a bit to be desired. Next to nothing of a booklet plus, who out there wouldn't love to have a trading card or mini-poster in their bio disc series? "Collect Them All" is good business after all. My other issue is of course the running time or lack thereof. Even with a single disc, the WWE has never been shy at fitting 3 plus hours on multiple releases before and after. I don't feel that I am alone on this but I would LOVE to see a proper 3-disc Andre The Giant box set put out as soon as possible. Of course featured on this would have to be a feature length 3 hour documentary on the life and career of this amazing man. Hopefully they can obtain the footage from all of the promotions he worked for as well as a montage of sorts from all of his movie, television and commercial appearances. Some additional matches to be considered (besides the ones just reviewed) would have to be ….
Something from Andre's violent feud with Hogan in the AWA circa early 80's
His match in Tokyo against Stan Hansen which is considered by those who saw it, Andre's best match ever
His stretcher match with Killer Khan
A 'Giant Machine' match so I can see him wrestle in a mask
Andre teaming with Iceman King Parsons against Skandor Akbar's Super Destroyers
Any other World Class Championship wrestling footage would be nice as well
Andre vs. Hulk Hogan from the Main Event in 1988 for the world title
Andre vs. Hacksaw Jim Duggan in circa 1988
Andre teaming up with Giant Baba against Demolition in Japan
Any of his New Japan Pro Wrestling stuff from 1983-1986
Any more crazy battle royals because I am a sucker for them (there are some 2 ring ones out there as well!)
Are you excited now? WWE PLEASE make this happen! I truly feel that it would be a great thing to show the proper respect to this true all-time legend and to introduce him to an all new 'universe' of fans.
Buy it at Amazon: Andre The Giant
As of press time, the highest price on this DVD is $9.95 and you can find them for as low as $2 new which as long as you don't spend probably more than $5 on this then you won't be disappointed.