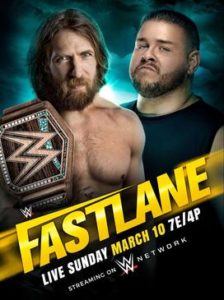 WWE Fastlane
#WWEFastlane
Original Air Date: March 10, 2019
Event Date: March 10, 2019
aired live on the WWE Network
City: Cleveland, OH
Venue: Quicken Loans Arena
Commentary: Tom Phillips (1 – 3, 5, 7), Byron Saxton (1 – 3, 5, 7), Corey Graves (1 – 9), Michael Cole (4, 6, 8, 9), Renee Young (4, 6, 8, 9), Beth Phoenix (6)
Spanish Commentary (ringside): Carlos Cabrera, Marcelo Rodriguez
German Commentary (ringside): Calvin Knie, Carsten Schaefer, Tim Haber
Portuguese Commentary: Marco Alfaro, Roberto Figueroa
Russian Commentary: Moti Margolin, Zhan Pomerantsev
Japanese Commentary: Shun Yamaguchi, Funaki
Hindi Commentary: Obaid Kadwani, Akshay Kapoor
French Commentary: Ray Rougeau, Jean Brassard
Mandarin Commentary: Meng Ai, Sean Deng
Ring Announcer: Greg Hamilton (1 – 3, 5, 7), Mike Rome (4, 6, 8, 9)
Brand: Co-Branded
Theme Songs: "Teach Me To Fight" by Yonaka
<< Read the Recap & Review for the Fastlane Kickoff show. <<
Video
What are you willing to do to get to Wrestlemania?
Match 1
SmackDown Tag Title Match
Shane McMahon & The Miz vs The Usos (SD Tag Champs)
(referee: Jason Ayers; in the front row: George Mizanin)
Show/Hide Results
Result: Jimmy Uso pins The Miz after Jimmy counters a frog splash from The Miz
Time: 14:10
Match Thoughts
Good match. The tension for me was being afraid that Miz and McMahon were somehow going to win the titles back. That made a lot of the pinfalls late in the match fairly tense. Other than that, I don't think this match really added anything new, but it was still an entertaining match. Mostly because of The Usos.
Ring Area
After the match, Miz and Shane leave the ring together. Miz hugs his dad at ringside. As Miz walks away, Shane attacks Miz from behind. Shane rips of Miz's shirt, wraps it around Miz's head, and punches The Miz in the face. With Miz down, Shane grabs George Mizanin by the face and yells at him. Shane then puts Miz in a triangle hold right in front of Miz's dad. Shane walks away, and George checks on his son.
Backstage
Drew McIntyre, Babby Lashley, and Baron Corbin do a Shield-style promo. They tonight's match won't be a happy farewell tour for The Shield, it will be a crushing defeat.
Ring Area
In the ring, Elias sings a song about the road to Wrestlemania, Miz getting attacked by Shane, and how much he hates Cleveland.
Match 2
SmackDown Women's Title Match
Mandy Rose w/ Sonya Deville vs Asuka (SD Women's Champ)
(referee: Danilo Anfibio)
Show/Hide Results
Result: Asuka wins via pinfall after a spin kick
Time: 6:42
Match Thoughts
This was odd. Asuka looked good as usual, and Mandy mostly looked fine (though she had a lot of trouble lifting Asuka at times). The strangeness came from a few things. First, SOnya Deville started looking under the ring twice during the match, the first time seeming to be completely pointless (like she anticipated her cue too early). Then, the finish was super underwhelming. At least the match, and seemingly this feud, is over. Now Asuka can move on to something better. Hopefully.
Backstage
Kofi Kingston tells Big E and Xavier Woods that he has been waiting to talk to Vince McMahon for over an hour. Woods and Big E take Kofi into Vince's office. They tell Vince that Kofi has been waiting for eleven years for his chance. Big E wants Vince to make tonight's WWE Title match a triple threat. Vince agrees, though he says that Big E and Woods are barred from ringside.
Match 3
Handicap Match
Kofi Kingston vs The Bar
(referee: Mike Chioda)
Show/Hide Results
Result: Sheamus and Cesaro both pin Kofi after an assisted White Noise
Time: 5:12
Match Thoughts
The crowd had the right chant, "this is boring." This was just a beatdown of Kofi. Woods and Big E ran down to the ring after a while, but they were stopped by Rusev and Shinsuke Nakamura. This was all about Kofi's story. They're adding more and more adversity so when he wins at Wrestlemania, it will be all the more satisfying. Hopefully that's what's going on.
Backstage
Charly Caruso welcomes Sasha Banks and Bayley. Bayley and Sasha welcome the competition of Nia Jax and Tamina. They want to be the greatest tag champs of all time, and that journey starts tonight.
Ring Area
In the ring, Elias sings a song about putting all the talk about Kofi to rest. He also sings about football.
Backstage
Kayla Braxton asks Shane McMahon about his attack on Miz. Shane refuses to say anything.
Match 4
RAW Tag Title Triple Threat Match
Ricochet & Aleister Black vs Chad Gable & Bobby Roode vs The Revival (RAW Tag Champs)
(referee: Rod Zapata)
Show/Hide Results
Result: Scott Dawson pins Chad Gable after the Shatter Machine
Time: 10:51
Match Thoughts
Very good match. This match actually started as an actual triple threat with people tagging in and out, but after a while it, of course, became a free for all. The action was fast and plentiful, and it it was fun to watch. Nothing really ever gets settled in these types of matches, but regardless, I liked it.
Ring Area
After the match, the fighting continues. Black hits people with the Black Mass, and Ricochet crushes Wilder with the 630.
Backstage
Charlotte puts on her robe.
Backstage
Becky Lynch limps with a crutch.
Match 5
Fatal Four Four Way US Title Match
R-Truth w/ Carmella vs Andrade w/ Zelina Vega vs Rey Mysterio vs Samoa Joe (US Champ)
(referee: Charles Robinson)
Show/Hide Results
Result: Samoa Joe knocks Rey Mysterio out with the Coquina Clutch
Time: 10:50
Match Thoughts
Very good match. Much like the RAW tag title match, this multi-person match was a bit chaotic yet fun to watch. No one really stood out as being any more daminant than anyone else, and everyone had some good moments.
Match 6
WWE Women's Tag Title Match
Tamina & Nia Jax vs Sasha Banks & Bayley (Women's Tag Champs)
(referee: John Cone)
Show/Hide Results
Result: Bayley pins Nia Jax with a hurricanrana
Time: 7:05
Match Thoughts
This was okay. Jax and Tamina had trouble with their power moves multiple times. Banks and Bayley looked good, but Jax and Tamina often looked like they were struggling to keep up. This was a mismatch.
Ring Area
After the match, Jax and Tamina attack Bayley and Banks. Bayley is taken down, and Sasha is thrown over the announce table. Afrerwards, Tamina gets in Beth Phoenix's face. After a few seconds, Beth hits Tamina. Jax immediately attacks Phoenix from behind.
Jax and Tamina roll Phoenix into the ring where Jax hits Phoenix with a running leg drop. Tamina sets up to hit a Samoan splash, but Natalya runs down to help Beth. Jax and Tamina take down Natalya, then they leave the ring.
Video
A look at how Kofi lost his WWE Title match, how Owens replaced him, and how Daniel Bryan thinks that neither man is a worthy challenger.
Match 7
WWE Title Triple Threat Match
Kevin Owens vs Mustafa Ali vs Daniel Bryan (WWE Champ) w/ Rowan
(referee: Mike Chioda)
Show/Hide Results
Result: Daniel Bryan pins Mustafa Ali after a running knee strike
Time: 18:45
Match Thoughts
Very good match. All three of these men were put in a difficult position. The crowd did not give a good reaction to any of them to start the match. Instead, everyone wanted Kofi. The Kofi chants didn't completely go away, but the match that Bryan, Owens, and Ali put on got people to care about tonight's outcome. Ali took numerous high risks, and they paid off in spectacular fashion (though not always in his favor). Owens fought everyone and it really felt like he wanted to win. And Daniel Bryan fought a very smart match. Despite wanting Kofi like everyone else, I really enjoyed this match.
Video
A look at how tonight's main event between Becky and Charlotte came to be.
Match 8
Charlotte Flair vs Becky Lynch
(referee: Charles Robinson; stipulation: if Becky Lynch wins, she is added to the RAW Women's Title match at Wrestlemania)
Show/Hide Results
Result: Becky Lynch wins via DQ when Ronda Rousey attacks her
Time: 8:45
Match Thoughts
This wasn't much of a match. Becky's injured knee kept her from doing much. This was mostly Charlotte punishing Becky until Ronda Rousey came down and ended the match.
Ring Area
In the ring, Elias sings about not being a fan of Becky Lynch. He also sings about The Shield and football (again).
Lacey Evans walks down to the ring, then she leaves.
In the ring, Randy Orton hits Elias with an RKO. Then AJ Styles hits Orton with the Phenomenal Forearm.
Match 9
Baron Corbin & Bobby Lashley & Drew McIntyre vs The Shield
(referee: Chad Patton)
Show/Hide Results
Result: Roman Reigns pins Baron Corbin after a triple powerbomb
Time: 24:50
Match Thoughts
Very good match. If this indeed was the last time we see The Shield together in a match, then it was a good one to go out on. It was a chaotic brawl for much of the match, but Rollins, Reigns, and Ambrose were always on the same page. As the match neared its finish, I got a little emotional about the real possibility that this is the last time we'll see this.
Show Impressions
This was a weird show. There were some fun matches, but there were also some completely forgettable segments. Overall, I left the show happy, but that was mainly due to just a few matches which did include the main event.
Match of the Night
The Shield vs Corbin & Lashley & McIntyre
The SmackDown Title match is up there at the top of my list as well, but the nostalgia and emotion of the main event got me.