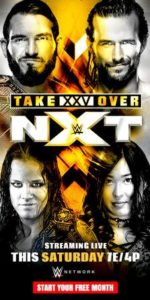 NXT TakeOver: XXV
#NXTTakeOver
Original Air Date: June 1, 2019
Event Date: June 1, 2019 (aired live)
City: Bridgeport, CT
Venue: Webster Bank Arena
Commentary: Mauro Ranallo, Nigel McGuinness, Beth Phoenix
Ring Announcer: Alicia Taylor
Theme Song: "On My Teeth" by Underoath
Video
After a brief history of Takeover, tonight's matches are highlighted.
Match 1
Roderick Strong vs Matt Riddle
(referee: Eddie Orengo)
Show/Hide Results
Result: Matt Riddle wins via pinfall after a Gotch style powerslam
Time: 14:42
Match Thoughts
Wow. Both men were absolutely relentless in this match. They both kept moving and never stopped. Strong worked on Riddle's back early and often, and that affected how Riddle wrestled the longer the match went. Both men absorbed absurd amounts of punishment in the form of strike after strike and suplex after suplex. It was difficult to really catch a breath and process everything they were doing because they just never stopped. This was a ton of fun and a great way to get the crowd pumped at the start of the show.
Backstage
Johnny Gargano prepares for his match.
Ring Area
Shawn Michaels and the Road Dogg are in the front row.
Video
Buildup for the tag title match.
Match 2
Four Way NXT Tag Title Ladder Match
Street Profits vs Steve Cutler & Wesley Blake vs Danny Burch & Oney Lorcan vs Kyle O'Reilly & Bobby Fish
(outside referees: Darryl Sharma, Eddie Orengo, Drake Wuertz)
Show/Hide Results
Result: The Street Profits win
Time: 21:30
Match Thoughts
Great match! The violence in this match started early and happened often. A lot like the first match tonight, the pace to this match was extremely high and never really slowed down. Every team had their moments, and every team delivered and took a ridiculous amount of damage. Jaxson Ryker came out partway through the match and tried to be a spoiler, abd though he did do a lot of damage, the sheer amount of people against him finally put Ryker down. After that, the match resumed as normal and built to a very fun finish.
Backstage
Candice LeRae pumps up Io Shirai as she prepares for her match.
Video
Buildup for the North American Title Match.
Match 3
North American Title Match
Tyler Breeze vs Velveteen Dream (NA Champ)
(referee: Darryl Sharma)
Show/Hide Results
Result: Velveteen Dream wins via pinfall after the Purple Rainmaker
Time: 16:49
Match Thoughts
Great match. Tyler Breeze looked like he was reinvigorated in this match. Breeze looked great early in bout, and he had an answer for pretty much everything Dream tried to throw at him. Dream, for his part, was arrogant as usual, and he didn't seem to take Breeze too seriously. Breeze would change Dream's mind though, and as the match went on Dream began to get frustrated that he couldn't put Breeze away. Dream also had to resort to some slightly underhanded tactics in order to try to get an advantage as the match neared its end. I hope this isn't the end for Breeze in NXT. He's do good, and we never get to see him like this on the main roster.
Video
A promo for the debut of Damien Priest (aka Punishment Martinez).
Video
Buildup for the NXT Women's Title match.
Match 4
NXT Women's Title Match
Io Shirai vs Shayna Baszler (NXT Women's Champ)
(referee: Eddie Orengo)
Show/Hide Results
Result: Shayna Baszler wins via submission with the Kirifuda Clutch
Time: 12:13
Match Thoughts
Great match. Baszler took Io Shirai fairly lightly at first, but she quickly changed her mind after taking some of the strikes that Shirai was throwing. Baszler was dominant for large portions of the match, but Shirai always seemed to come back and put Shayna in danger. Shirai brought some strong style to the match which Baszler hasn't really had to face much in NXT. Shirai flew a bit, but she was probably strongest when she was facing Baszler in close quarters. Baszler's attack on Shirai's arm affected Shirai's attacks though, and that left an opening for the submission magician. This was a lot of fun to watch, and it became quite tense towards the end. There were almost some shenanigans when Duke and Shafir came out, but LeRae intercepted them and kept the shenanigans down to a mild distraction.
Ring Area
After the match, Io Shirai attacks Shayna Baszler with a kendo stick. With Baszler down in the ring, Shirai hits her with a pair of moonsaults, the second using a chair. Candice LeRae helps Shirai as she leaves the ring.
Ring Area
Stephanie McMahon is in the front row.
Video
Buildup for the NXT Title match.
Match 5
NXT Title Match
Adam Cole w/ Josiah Williams vs Johnny Gargano (NXT Champ)
(referee: Drake Wuertz)
Show/Hide Results
Result: Adam Cole wins via pinfall after the Last Shot
Time: 31:51
Match Thoughts
Wow. What a match. This was everything I could have hoped for. So much drama, so much great wrestling, some minor shenanigans, and some great psychology. Both men poured their hearts out and gave so much in this title match. I loved it.
Show Impressions
The 25th Takeover definitely did not disappoint. Top to bottom it was a great show. Every match is absolutely re-watchable, and they were all so exciting in the moment. Great show.
Match of the Night
Adam Cole vs Johnny Gargano
This was going to be a heartbreaker either way the decision went. It was so much fun to watch though.