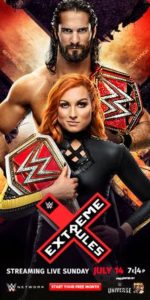 WWE Extreme Rules
#ExtremeRules
Original Air Date: July 14, 2019
Event Date: July 14, 2019
aired live on the WWE Network
City: Philadelphia, PA
Venue: Wells Fargo Center
Commentary: Michael Cole (1, 2, 5, 7, 10, 11), Renee Young (1, 2, 5, 7, 10, 11), Corey Graves (1 – 11), Tom Phillips (3, 4, 6, 8, 9), Byron Saxton (3, 4, 6, 8, 9)
Spanish Commentary (ringside): Carlos Cabrera, Marcelo Rodriguez
German Commentary (ringside): Calvin Knie, Carsten Schaefer, Tim Haber
Portuguese Commentary: Marco Alfaro, Roberto Figueroa
Russian Commentary: Moti Margolin, Zhan Pomerantsev
French Commentary: Ray Rougeau, Jean Brassard
Hindi Commentary: Obaid Kadwani, Shez Sardar
Japanese Commentary: Shun Yamaguchi, Funaki
Mandarin Commentary: Meng Ai, Sean Deng
Ring Announcer: Mike Rome (1, 2, 5, 7, 10, 11), Greg Hamilton (3, 4, 6, 8, 9)
Brand: Co-Branded
Theme Song: "When I'm Gone" by Dirty Honey

<< Read the Recap & Review for the Extreme Rules Kickoff show. <<
Intro Video
Mandy Rose says, "shhh, the rules have been altered." Then we look at some of tonights bigger matchups. "Can you feel it now?"
Backstage
Drew McIntyre and Shane McMahon walk.
Video
A look at the feud involving Shane McMahon, Drew McIntyre, Roman Reigns, and The Undertaker.
Match 1
No Holds Barred Tag Team Match
Shane McMahon & Drew McIntyre vs Roman Reigns & The Undertaker
(referee: Mike Chioda)
Show/Hide Results
Result: The Undertaker pins Shane McMahon after the Tombstone Piledriver
Time: 16:59
Match Thoughts
Good match. I wasn't really looking forward to this, but it was fun enough for what it was. Reigns started the match, but The Undertaker got into the match pretty quickly. Elias showed up to help Shane and Drew, and they isolated The Undertaker for a while. Shane did his usual shtick of jumping and falling, but by then Reigns got back into the fight and helped Undertaker fight back. I think WWE should make their match stipulations make more sense (this was No Holds Barred, but they might as well have called it any other type of match because it made no difference), but I think this was a fine opener.
Backstage
Sarah Schreiber welcomes Becky Lynch and Seth Rollins. Lynch and Rollins talk about visiting various spots in Philadelphia, and they say losing is not an option tonight.
Match 2
RAW Tag Team Title Match
The Revival (RAW Tag Champs) vs The Usos
(referee: John Cone)
Show/Hide Results
Result: Scott Dawson pins Jimmy Uso after Shatter Machine
Time: 12:35
Match Thoughts
Very good match. This was a straightforward, well done tag match between two really good teams. Jey Uso got isolated a lot during the match, and The Revival was doing what they do best by causing distractions and misdirections the entire time so they could keep an advantage throughout much of this match. The Revival had the Usos and the referee off balance a lot, and that led to some fun sequences and a nice finish.
Video
A look at Aleister Black and the weeks of him asking for someone to pick a fight.
Match 3
Cesaro vs Aleister Black
(referee: Danilo Anfibio)
Show/Hide Results
Result: Aleister Black wins via pinfall after Black Mass
Time: 9:48
Match Thoughts
Very good match. This was very competitive as both men were looking for a victory with strikes and some very nice technical exchanges. The pace was high right from the start, and it felt like either man really just needed one or two good moves to finish the match. Black went after Cesaro's legs with a series of kicks early in tha match, and the cumulative damage paid off later when the pain snuck up on Cesaro and prevented him from following up in some key moments of the match. I enjoyed this match very much and really like the direction WWE is taking with both men.
Backstage
R-Truth and Carmella post wanted posters for Drake Maverick and the 24/7 Title. They encounter Alexa Bliss and Nikki Cross, and Truth wants to know if Alexa has seen "Hornswaggle." Alexa lies, saying he's in the women's locker room, but Carmella drags R-Truth away before he can look.
Alexa then hands Nikki Cross a present. It's a cut-up Alexa Bliss shirt. Nikki hugs Alexa, and that's when the Street Profits walk by. The Street Profits want to know where the party is after Alexa wins the title tonight. Alexa corrects them, saying she and Nikki will be co-champs. The Street Profits laugh, clearly not believing that Alexa is telling the truth. Nikki gets upset and tells off the Street Profits, and that makes Angelo Dawkins want to party with Nikki.
Match 4
SmackDown Women's Title Handicap Match
Nikki Cross & Alexa Bliss vs Bayley (SD Women's Champ)
(referee: Drake Wuertz)
Show/Hide Results
Result: Bayley pins Nikki Cross after a diving elbow drop
Time: 10:22
Match Thoughts
Pretty good match. It went about like I expected, but the action was good and the story elements all worked, so I liked it. Bayley got beat up for a while, then she started to mount a comeback while Alexa tried to pick her spots. I think everything came together to make as good of a handicap title match as possible given my relative disinterest in that kind of a match in general.
Video
A look at the feud between Braun Strowman and Bobby Lashley.
Match 5
Last Man Standing Match
Bobby Lashley vs Braun Strowman
(referee: John Cone)
Show/Hide Results
Result: Braun Strowman wins after powerslamming Lashley through a breakaway box built beside the second level of seats
Time: 17:29
Match Thoughts
This was kind of boring for me. They took an extended tour of the crowd and the area behind the seats. Then they journeyed over the international commentators' tables. Then the match ended in a big box constructed simply so the two men could fall through it and break out of it.
Backstage
Charly Caruso welcomes AJ Styles who is accompanied by Karl Anderson and Luke Gallows. Styles says Ricochet is talented, but he's going to lose his US Title tonight.
Match 6
Triple Threat SmackDown Tag Team Title Match
Xavier Woods & Big E vs Heavy Machinery vs Rowan & Daniel Bryan (SD Tag Champs)
(referee: Charles Robinson)
Show/Hide Results
Result: Xavier Woods pins Daniel Bryan after the Midnight Hour and become the new SmackDown Tag Champs
Time: 14:01
Match Thoughts
Great match! This was super fun. With so many men in the match, this started fast and only got faster as the minutes went by. Tags happened often, and after a few rounds of tagging in and out, this became a free for all where everybody was doing everything. Even with all the chaos, there were still some fun highlight segments. Heavy Machinery and New Day stood out very well at different times, and Bryan and Rowan were great foils to the good guys. This was great all around, and I was very happy with the finish and the build up to it.
Backstage
Kofi Kingston celebrates with Xavier Woods and Big E. Kayla Braxton tries to get a word with them, but Paul Heyman takes her microphone as he walks past and heads out to the ring area.
Ring Area
From the stage, Paul Heyman says he is Philadelphia. He also says he is the entire concept of extreme. He'll be damned if he leaves tonight's show without being part of history. So here's a spoiler: Brock Lesnar will cash in the Money in the Bank contract tonight. But is he telling the truth? Or is he Paul Heyman?
Match 7
United States Title Match
AJ Syles w/ Karl Anderson, Luke Gallows vs Ricochet (US Champ)
(referee: Darrick Moore)
Show/Hide Results
Result: AJ Styles wins via pinfall after a Styles Clash from the second rope and becomes the new US Champ
Time: 16:31
Match Thoughts
Very good match. I was happy to see that Anderson and Gallows kept their interference to a bare minimum. That allowed Styles and Ricochet to have a very entertaining match nearly completely one on one. This match went back and forth, and neither man really had a clear, sustained advantage until the end of the match. I liked the finish, and though it does kind of leaves things open for a rematch, it was mostly definitive.
Match 8
Kevin Owens vs Dolph Ziggler
(referee: Mike Chioda)
Show/Hide Results
Result: Kevin Owens wins via pinfall after a stunner
Time: 0:17
Match Thoughts
Slap, stunner, over. That's all. This was interesting. I wonder if Ziggler is going to take another break.
Ring Area
After the match, Owens gets on the mic and says Shane McMahon can kiss his ass and go straight to hell.
Video
A look at the feud between Kofi Kingston and Samoa Joe.
Backstage
Charly Caruso asks Samoa Joe if he has any final words before his match. Joe says he's here to end the unexceptional reign of Kofi Kingston.
Match 9
WWE Title Match
Samoa Joe vs Kofi Kingston (WWE Champ)
(referee: Charles Robinson)
Show/Hide Results
Result: Kofi Kingston wins via pinfall after Trouble in Paradise
Time: 9:47
Match Thoughts
Good match. Kofi started strong, but Joe starting punishing Kofi early. Joe hit some moves that seemed to hurt Kofi early, and Joe went after Kofi's fingers and hand in a brutal way. Kofi's reign has been defined by beating the odds though, and he did that throughout this match. I like for champs to face lots of different people in their reigns, but I kind of hope this feud isn't over.
Video
A look at the feud involving Becky Lynch and Seth Rollins versus Lacey Evans and Baron Corbin.
Match 10
Winners Take All Extreme Rules Mixed Tag RAW Women's and Universal Title Match
Lacey Evans & Baron Corbin vs Becky Lynch (RAW Women's Champ) & Seth Rollins (Universal Champ)
(referee: Dan Engler)
Show/Hide Results
Result: Seth Rollins pins Baron Corbin after three curb stomps
Time: 19:59
Match Thoughts
This was fine for what it was. The multiple stipulations made the match make little sense right from the start. It's not as insanely stupid as an elimination mixed tag match, but how are you supposed to enforce tag rules, let alone mixed tag rules, in an extreme rules match? You can't, and that was exploited at various points throughout the match. There was some table and chair violence here, but the main narrative was that Lacey tried and mostly failed to play head games with Becky, and Corbin incurred the wrath of Rollins after he attacked Becky.
Ring Area
Immediately after the match, Brock Lesnar and Paul Heyman head to the ring with a referee.
Match 11
Universal Title Match
Brock Lesnar w/ Paul Heyman vs Seth Rollins (Universal Champ)
(referee: John Cone)
Show/Hide Results
Result: Brock Lesnar wins via pinfall after the F5 and becomes the new Universal Champ
Time: 0:17
Match Thoughts
The actual match consisted of one move, though there were two German suplexes before the bell. I can't say I'm super happy about this.
Show Impressions
This show was kind of up and down. The good stuff was really good, the bad stuff was pretty bad, and then there were just some fine matches. I definitely think the matches with fewer stipulations were better tonight, though that seems bad for a show called Extreme Rules.
Match of the Night
Triple Threat SmackDown Tag Title Match
I think this was the most fun match of the night. The Black versus Cesaro match was probably my favorite one on one match.