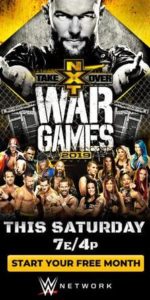 NXT TakeOver: WarGames
NXT Episode 536
#NXTTakeOver
Original Air Date: November 23, 2019
Event Date: November 23, 2019
(aired live on the WWE Network)
City: Rosemont, IL (announced as Chicago)
Venue: Allstate Arena
Attendance:
Pre-Show Panel: Charly Caruso, Sam Roberts, Pat McAfee
Commentary: Mauro Ranallo, Nigel McGuinness, Beth Phoenix
Commentary (Spanish): Carlos Cabrera, Marcelo Rodriguez
Ring Announcer: Alicia Taylor
Theme Song: "I Disagree" by Poppy
Pre-Show
Ring Area
Charly Caruso welcomes us the the TakeOver WarGames pre-show and introduces Sma Roberts and Pat McAfee. Charly also informs us that Mia Yim has been attacked backstage.
Backstage
Mia Yim is attended to as her WarGames teammates look on. Dakota Kai is also there.
Ring Area
The pre-show panel specualtes about who attacked Mia Yim and who might take her place in WarGames.
Match P-1
Isaiah "Swerve" Scott vs Angel Garza
(referee: DA Brewer)
Show/Hide Results
Result: Angel Garza wins via pinfall after the Wing Clipper
Time: 7:36
Match Thoughts
Good match. I'm very glad they added a match to the TakeOver pre-show, and I'm happy it was this match. Both men are on the rise in NXT and WWE, so this could have gone either way. Both men looked good, and both men had some very good offense. The match came down to one big move, and I liked it.
Video
A look at the buildup for the Blaor versus Riddle match.
Ring Area
The pre-show panel discusses Balor and Riddle. Roberts thinks Riddle is going to get beat, but McAfee thinks Riddle is a monster.
Backstage
Mia Yim is helped into an ambulance. William Regal asks Rhea Ripley what she wants to do about the WarGames match. Rhea grabs Dakota Kai and tells her she's on the team. Kai is hesitant, but Ripley convinces her that she's ready.
Ring Area
Sam Roberts thinks Kai is a terrible pick. She wasn't even picked by Tegan Nox for a tag match on SmackDown.
Video
A look at the dominance of Undisputed Era as they head into WarGames again. Also, a look at Tommaso Ciampa returning home to NXT and his team for WarGames.
Panel
Charly and Sam ponder who might join Ciampa's WarGames team. Pat McAfee interrupts and talks about his day while getting a bunch of cheap pops from the crowd.
Main Show
Video
Triple H narrates as he talks about the inevitability of war.
Match 1
WarGames Match
Rhea Ripley & Candice LeRae & Tegan Nox & Dakota Kai vs Bianca Belair & Kay Lee Ray (NXT UK Women's Champ) & Io Shirai & Shayna Baszler (NXT Women's Champ)
(referees: Jessika Carr, DA Brewer; outside referees: Darryl Sharma, Drake Wuertz, ?)
Show/Hide Results
Result: Rhea Ripley pins Shayna Baszler after Riptide through two chairs
Time: 27:26
Entry Order
1. Io Shirai
2. Candice LeRae
3. Bianca Belair
4. Rhea Ripley
5. Kay Lee Ray
6. Dakota Kai (attacks Tegan Nox and doesn't enter the match)
7. Shayna Baszler
8. none (Tegan Nox was injured and unable to compete)
Match Thoughts
Fantastic match! I was super excited for this, and it absolutely delivered. There were surprises, drama, violence, some scary moments, and a great story told from the beginning of the match to the end. I got chills a number of times as the match went on, and I thought the finish was built up to in a great way. I loved everything about this. Even the backstage attack we found out about in the pre-show helped make this match even more dramatic and exciting. This was a super-great start to the night.
Backstage
Matt Riddle warms up.
Backstage
Finn Balor applies his wrist tape.
Video
A look at the buildup for Dain vs Dunne vs Priest.
Ring Area
Imperium (minus Alexander Wolfe) are in the crowd.
Match 2
NXT Title Number One Contender Triple Threat Match
Damian Priest vs Killian Dain vs Pete Dunne
(referee: Darryl Sharma; stipulation: the winner will face Adam Cole for the NXT Title at Survivor Series)
Show/Hide Results
Result: Pete Dunne pins Damian Priest after a senton from Dain to Priest
Time: 19:57
Match Thoughts
Great match! I haven't been a big fan of Priest since he's been in NXT, but he was a very good part of this match. Granted, Dunne and Dain were both great, but Priest was able to keep up and helped deliver some exciting moments. This match went on maybe a little longer than I expected it to, but I'm not complaining at all. These men were able to almost constantly have all three of them involved in nearly every part of the match. The back and forth between all three men and the sequences they put together were highly entertaining. It went on so long that I truly had no idea who was going to win. The finish was brilliant, and it was a completely satisfying end to a great match.
Backstage
Tommaso Ciampa, Keith Lee, and Dominik Dijakovic get ready for WarGames.
Video
A look at the feud between Finn Balor and Matt Riddle.
Match 3
Matt Riddle vs Finn Balor
(referee: Drake Wuertz)
Show/Hide Results
Result: Finn Balor wins via pinfall after the 1916 DDT
Time: 14:26
Match Thoughts
Great match. I really enjoyed how Balor and Riddle's styles meshed in this match. The battle went back and forth, and it felt like it was as much a battle of wits and intelligence as it was about the moves and strikes. I think Riddle was at a bit of a disadvantage just because this is Balor's return to TakeOver after three years. Even with that being the case, both men looked great in the match.
Video
A look at the buildup for the men's WarGames match.
Match 4
WarGames Match
Bobby Fish & Kyle O'Reilly (NXT Tag Champs) & Roderick Strong (NA Champ) & Adam Cole (NXT Champ) vs Keith Lee & Dominik Dijakovic & Tommaso Ciampa & ?
(referees: Drake Wuertz, Darryl Sharma; outside referees: DA Brewer, Jessika Carr, ?)
Show/Hide Results
Result: Tommaso Ciampa pins Adam Cole after an air raid crash from the top of the cage through two tables
Time: 38:33
Entry Order
1. Tommaso Ciampa
2. Roderick Strong
3. Kyle O'Reilly
4. Dominik Dijakovic
5. Bobby Fish
6. Keith Lee
7. Adam Cole
8. Kevin Owens
Match Thoughts
Fantastic match. They mystery partner for Ciampa's team led to a very fun reveal about halfway through the match. As for the action, the violence started early and intensified as the match went on. UE did a fabulous job of working together as team throughout most of the match, but the power of Lee and Dajakovic with the fearless leadership of Ciampa allowed Ciampa's team to stay strong in the face of every male champ in NXT. Cole had some sort of plan involving tables, but those plans proved difficult to follow through with for UE. If I had one nitpick, it's that the table violence felt a bit too set up for the finale without much logic beforehand. However, the finish of the match was pretty spectacular, so I'm not complaining.
Show Impressions
This was a fabulous show. With only four matches, they were all long and entertaining. I look forward to WarGames every year now, and this show certainly didn't disappoint me.
Match of the Night
Women's WarGames Match
Maybe it was the excitement I had leading up to it that is swaying me, but I had the most fun with the women's WarGames match. I loved every second of it.