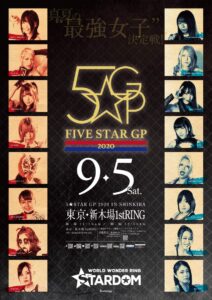 STARDOM 5★STAR GP 2020
Event Date: September 5, 2020 (12:30 JST)
matches published on Stardom World
City: Koto, Tokyo, Japan
Venue: Shinkiba 1st Ring
Attendance: 140
Series: 5★STAR GP 2020
Commentary: none
Ring Announcer: Yoritaka Ando
Match 1
Rina vs Saki Kashima vs Maika (Artist & Future Champ)
(referee: Barb Sasaki)
Show/Hide Results
Result: Maika pins Rina after Sazanka (cross-arm back heel trip slam)
Time: 3:47
Match Thoughts
This was a fun opener. Rina was a bit out of her league in this match, but she tried to be at the center of the action the entire time. Kashima got attacked by both Maika and Rina right from the opening bell, but she tried to pick her spots after Maika and Rina started fighting each other. And Maki was just slamming anyone that came close to her. This was a chaotic match where everyone looked like they were trying to end the match instantly, whether with a quick pin, a fast submission, or a big slam. I liked it.
Match 2
Hina & Utami Hayashishita (Goddess Champ) w/ AZM vs Hanan & Saya Iida
(referee: Barb Sasaki)
Show/Hide Results
Result: Utami Hayashishita pins Hanan after an air raid crash
Time: 6:03
Match Thoughts
Good match. This was Hanan's first match back after a lengthy time away with an injury, but Hina and Hayashishita didn't give her a very warm welcome. It was a good back and forth match for a while, but once Hayashishita entered the ring and faced Hanan, it was clear the end was near. Even though Hanan's return didn't go as she probably hoped, it was fun to watch (and it was good for Hina who has been on a pretty bad losing streak).
Match 3
5★STAR GP Red Stars Match
DEATH Yama-san (0 pts) vs Tam Nakano (2 pts)
(referee: Daichi Murayama)
Show/Hide Results
Result: Tam Nakano wins via pinfall with a bridging tiger suplex
Time: 4:12
Match Thoughts
Good match. Yama-san surprised Nakano a few times and caused her to have to kick out of some very solid pin attempts, but overall Nakano didn't have too much trouble tonight. So no, this wasn't very surprising, but it was fast and fun.
Match 4
5★STAR GP Red Stars Match
Himeka (4 pts) w/ Maika vs Starlight Kid (2 pts) w/ Hanan, Saya Iida
(referee: Daichi Murayama)
Show/Hide Results
Result: Himeka wins via submission with a torture rack
Time: 8:32
Match Thoughts
Very good match. Starlight Kid had a tough battle with her much bigger opponent, but she came into the match with a good strategy. Kid used her speed to run around the ring and attack Himeka with fast, agile moves with the hopes of wearing Himeka down. Himeka was more methodical, and when she got a hold of Kid, she either slammed Kid to the mat or put her in a submission. I like both Himeka and Starlight Kid, but I think the way they fought each other had me pulling for Kid. This was a lot of fun.
Match 5
5★STAR GP Blue Stars Match
Jungle Kyona (0 pts) w/ Rina vs AZM (2 pts) (High Speed Champ)
(referee: Daichi Murayama)
Show/Hide Results
Result: Jungle Kyona wins via pinfall after a diving splash
Time: 9:41
Match Thoughts
Very good match. Kyona needed a win badly tonight, and she came into the match with a plan to slow down and overpower AZM. Kyona also came into the match with a tape-up shoulder though, and AZM targeted Kyona's shoulder throughout most of the fight. As expected, Kyona was most successful when using her power, and AZM was most successful when she was moving quickly. Kyona was able to shut down some of AZM's speed though, and that proved to be a huge factor in the match. This was a back-and-forth battle though. Every time it seemed like Kyona was taking over, AZM would attack her shoulder and reset the match. This was a great performance from both women, and it's a shame either of them had to lose.
Match 6
5★STAR GP Red Stars Match
Saya Kamitani (0 pts) (Goddess Champ) w/ Utami Hayashishita vs Giulia (2 pts) (Artist & Wonder Champ) w/ Maika, Himeka
(referee: Barb Sasaki)
Show/Hide Results
Result: Giulia wins via pinfall after the Glorious Driver
Time: 11:25
Match Thoughts
Very good match. Giulia didn't seem to treat Kamitani too seriously at first. Giulia dared Kamitani to attack her, and she applauded mockingly whenever Kamitani showed some spirit. Kamitani started to get in some good strikes and holds, but it never really felt like Giulia wasn't in control. Giulia would be put in a nice holds from Kamitani, then Giulia would easily break the holds and put Kamitani in a submission of her own. Giulia absorbed all the attacks Kamitani sent her way, and she attacked Kamitani with some vicious strikes and slams. Giulia seemed genuinely impressed after the match because it was a good fight, but it felt like Giulia was still looking down a bit at Kamitani.
Match 7
5★STAR GP Blue Stars Match
Natsuko Tora (0 pts) w/ Saki Kashima vs Momo Watanabe (2 pts)
(referee: Barb Sasaki)
Show/Hide Results
Result: Natsuko Tora wins via pinfall after hanging Watanabe over the top rope with a chain around her neck
Time: 9:09
Match Thoughts
Very good match. As expected, Natsuko Tora cheated a lot. She started by attacking Watanabe as soon as she saw Watanabe on the entrance ramp, and Tora continued to cheat throughout the match with the help of Saki Kashima. Watanabe fought back well, but it was basically two on one. Tora brought out her chain late in the match, and even though Watanabe was the fist to use the chain, Tora was way more effective with it. The final couple of minutes of the match were pretty brutal, and this match most certainly had a memorable ending. I'd love to see some sort of chain death match come out of this.
Match 8
5★STAR GP RedStars Match
Konami (2 pts) w/ Rina, Jungle Kyona vs Mayu Iwatani (2 pts) (World Champ) w/ Starlight Kid, Tam Nakano
(referee: Daichi Murayama)
Show/Hide Results
Result: Konami wins via submission with a triangle arm lock
Time: 13:39
Match Thoughts
Great match. Konami was hyper-aggressive tonight, and she started trying to submit Iwatani right from the start. Iwatani was on the defensive most of the match, and as things got more and more desperate for her, she started looking for a big move to shift the momentum into her favor. Konami always seemed to shut Iwatani down though, and the match became a test of Iwatani's will and threshold for pain.
Ring Area
After the match, Konami says she wants to close the show with the rest of Tokyo Cyber Squad. Jungle Kyona gets into the ring and suggests to Konami that they should make a match with Oedo Tai. Konami says if that's what Kyona wants, then they should do it.
Natsuko Tora and Saki Kashima come out to the ring. Tora says they've already decided to fight Tokyo Cyber Squad at the Korakuen Hall show on September 28, and when they beat them, TCS will have to disband. Having said what they need to, Oedo Tai leave.
Kyona says they won't lose, and they won't disband. Konami agrees, and she leads TCS and the crowd in closing the show with a "yes, sir."
Show Impressions
This was a very good show. The 5 Star GP continues to have some interesting developments and some really good matches. It was good to see everyone back after about a month long hiatus. It's unfortunate that they had to stop shows for a while, but that time allowed Giulia and Saki Kashima to recover from injuries and get back into action. It is a little sad that Itsuki Hoshino missed what was supposed to be her retirement at the show in Yokohama that got canceled. I hope they can reschedule a match for her at the next big show.
Match of the Night
Konami vs Mayu Iwatani
Prior to the main event, I was going to have a tough time picking my favorite match of the night because they were mostly all about equally good. But then Konami fought Mayu Iwatani, and the choice became easy. This was a dominant performance from Konami, and I was happy to see it. Iwatani has been struggling lately when she's not in a title match, and it feels like her days as the World of Stardom champion might be coming to an end. She's already building up some believable challengers, and the 5 Star GP isn't even close to being over.
Standings After Day 3
Red Stars

Show/Hide Standings
| Wrestler | Points | Wins | Losses | Draws |
| --- | --- | --- | --- | --- |
| Himeka | 6 | 3 | 0 | 0 |
| Giulia (Wonder & Artist Champ) | 4 | 2 | 1 | 0 |
| Tam Nakano | 4 | 2 | 1 | 0 |
| Konami | 4 | 2 | 1 | 0 |
| Mayu Iwatani (World Champ) | 2 | 1 | 2 | 0 |
| Starlight Kid | 2 | 1 | 2 | 0 |
| DEATH Yama-san | 0 | 0 | 2 | 0 |
| Saya Kamitani (Goddess Champ) | 0 | 0 | 2 | 0 |
Blue Stars

Show/Hide Standings
| Wrestler | Points | Wins | Losses | Draws |
| --- | --- | --- | --- | --- |
| Maika (Future & Artist Champ) | 4 | 2 | 0 | 0 |
| Syuri (Artist Champ) | 4 | 2 | 0 | 0 |
| Utami Hayashishita (Goddess Champ) | 4 | 2 | 0 | 0 |
| Natsuko Tora | 2 | 1 | 2 | 0 |
| Momo Watanabe | 2 | 1 | 2 | 0 |
| Jungle Kyona | 2 | 1 | 2 | 0 |
| AZM (High Speed Champ) | 2 | 1 | 2 | 0 |
| Saya Iida | 0 | 0 | 2 | 0 |
Official Results (Japanese): https://wwr-stardom.com/news/20200905shinkiba/