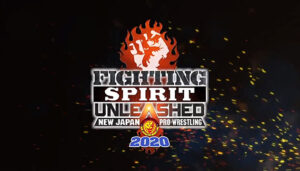 NJPW Strong
Episode 6
Fighting Spirit Unleashed
#njpwstrong
Original Air Date: September 11, 2020
Event Date: September 11, 2020 (unconfirmed)
(uploaded to NJPW World)
City: Port Hueneme, CA (unconfirmed)
Venue: Oceanview Pavilion (empty arena) (unconfirmed)
Series: Fighting Spirit Unleased 2020
Commentary (English): Kevin Kelly, Alex Koslov
Ring Announcer: Kimihiko Ozaki (remotely?), Adnan Kureishy (ringside)
Intro Video
Ring Area
Kevin Kelly and Alex Koslov welcome us to tonight's show.
Video
A brief look at some of the wrestlers taking part in NJPW Strong's Fighting Spirit Unleashed tour.
Match 1
Adrian Quest & Logan Riegal vs ACH & TJP
(referee: Sparky Ballard)
Show/Hide Results
Result: ACH pins Adrian Quest after a diving frog splash
Time: 9:23
Match Thoughts
Very good match. ACH seemed particularly focused and aggressive tonight, but Adrian Quest stood out for being highly energetic and very resilient. The team of ACH and TJP went about their business and seemed to be headed for an easy win in the first few minutes, but Quest and Riegel stuck around and gave them a very good fight. Quest really led his team, and even though he got beat up a fair amount, he definitely had a strong fighting spirit.
Match 2
Danny Limelight vs Rocky Romero
(referee: Jeremy Marcus)
Show/Hide Results
Result: Rocky Romero wins via submission with the Diablo Armbar
Time: 8:12
Match Thoughts
Very good match. This was framed as Rocky doing a bit of in-ring scouting of Limelight after being impressed with Limelight's performances on previous episodes of Strong and Lion's Break Collision. Limelight knew this of course, and he played into it by being cocky and imitating some of Rocky's movements. Rocky took Limelight's attitude with a smile, but things did get mildly heated once they really started to get into the action. This was a fast and fun match, and the connection between these two wrestlers seems to just be beginning.
Intermission
The ring is cleaned and sanitized during a brief intermission.
Video
Starting next week: Lion's Break Crown.
Match 3
Guerrillas of Destiny vs PJ Black & David Finlay
(referee: Justin Borden)
Show/Hide Results
Result: Tanga Loa pins PJ Black after Apeshit
Time: 9:24
Match Thoughts
Very good match. PJ Black and David Finaly make for a very fun team, but the Guerrillas of Destiny are a very established and decorated tag team, so this seemed like a mismatch. GOD did well throughout the entire match, and they used teamwork and sneaky tactics almost constantly to keep Finlay and Black unbalanced. Finlay and Black looked good individually, but GOD dominated this match.
Video
A look at Bullet Club dominating the New Japan Cup and the New Japan Cup in the USA with EVIL and KENTA winning the tournaments respectively. Is Bullet Club taking over the world, or can Jeff Cobb stall their momentum by beating KENTA for the right to challenge for the IWGP US Heavyweight Title?
Match 4
IWGP US Heavyweight Title Challenger Rights Holder Match
Jeff Cobb vs KENTA (US Title challenger rights holder)
(referee: Justin Borden)
Show/Hide Results
Result: KENTA wins via pinfall after Go2Sleep (after a whole lot of shenanigans with the help of Chase Owens), KENTA retains the right to challenge for the IWGP US Heavyweight Title
Time: 17:57
Match Thoughts
Very good match. Cobb came into this match with a taped knee, and KENTA targeted Cobb's knee almost immediately. Before that though, KENTA rolled out of the ring to make Cobb wait and to get him frustrated. Once KENTA decided to start attacking though, his game plan was focused and effective. Cobb's knee was a huge issue throughout the match. Cobb's power moves were less powerful because he was having trouble standing, and he couldn't move quickly enough to get out of the way of many of KENTA's attacks. KENTA dominated the match, but Cobb started to build a comeback as the match went longer. As Cobb was rising though, a bunch of shenanigans took place including the referee getting knocked out and Chase Owens coming out to support his Bullet Club teammate. Cobb pushed hard in the end, but the odds were stacked heavily against him. This was a fun, is somewhat frustrating match in that usual Bullet Club style.
Show Impressions
This was a really good show. All the matches were very entertaining, and the main event felt important.
Match of the Night
Jeff Cobb vs KENTA
I think the importance of the match and the brief history leading up to it helped put this match at the top of my list tonight.
Official Results: https://www.njpw1972.com/tornament/80190?showResult=1