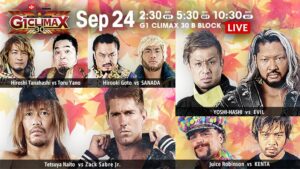 NJPW G1 Climax 30
Night 4
B Block: Round 2
#G1CLIMAX30
Event Date: September 24, 2020 (18:30 JST)
aired live on NJPW World
City: Toyohira, Sapporo, Hokkaido, Japan
Venue: Hokkaido Prefectural Sports Center (Hokkai Kitayell)
Attendance: 1,920
Series: G1 Climax 30
Theme Song: "Blazing Souls" by 9mm Parabellum Bullet
Commentary (English – recorded remotely): Kevin Kelly, Rocky Romero
Commentary (Japanese): Milano Collection AT, Miki Motoi, Haruo Murata
Ring Announcer: Kimihiko Ozaki (1 – 3), Makoto Abe (4 – 6)
Video
The opening video looks at the competitors in B Block.
Match 1
Yuya Uemura vs Yota Tsuji
(referee: Kenta Sato)
Show/Hide Results
Result: Yota Tsuji wins via submission with a Boston Crab
Time: 8:13
Match Thoughts
This was another good opener from the young lions. Tsuji used his power advantage effectively tonight, and Uemura struggled to get any sustained offense.
Match 2
G1 Climax 30 B Block Match
SANADA (0 pts) vs Hirooki Goto (0 pts) (NEVER 6-Man Champ)
(referee: Kenta Sato)
Show/Hide Results
Result: Hirooki Goto wins via pinfall after GTR
Time: 11:03
Match Thoughts
Very good match. Goto come into the match still feeling the effects of his match with KENTA. Goto's shoulder was heavily taped, and that was a big target for SANADA. SANADA even got a little help from the ring post when, early in the match, Goto missed a lariat a ringside and slammed his own arm into the post. SANADA quickly capitalized on that painful mistake. Then, back in the ring, SANADA started going for Skull End early. Maybe SANADA felt like Goto was vulnerable (which he was), but Goto pushed hard and started to escape and reverse SANADA's multiple attempts at Skull End. Goto was still struggling though, and SANADA looked like he might be on his way to his first two points this year before a strong push by Goto late in the match. This was an interesting match for both guys, and it sets them both on some difficult trajectories through the tournament.
Match 3
G1 Climax 30 B Block Match
Toru Yano (2 pts) vs Hiroshi Tanahashi (0 pts)
(referee: Marty Asami)
Show/Hide Results
Result: Toru Yano wins via pinfall with a roll-up (after a low blow while blinded by tape wrapped around his head)
Time: 7:15
Match Thoughts
This was fun. Yano tried his usual tricks again, but he was smart and adjusted some of his tactics specifically to Tanahashi. Since Tanahashi has had knee problems, Yano took the fight way up the entranceway in hopes that Tanahashi wouldn't be able to run back to the ring in time to beat a count out. Tanahashi made it, but then Tanahashi kind of tricked himself later on in the match when he tried to turn Yano's tape tactics against him. Tanahashi wrapped Yano's tape around Yano's head which blinded him, but Yano was able to continue on with the match, something Tanahashi was not at all prepared for.
Intermission
The ring is cleaned and sanitized during a brief intermission.
Match 4
G1 Climax 30 B Block Match
Juice Robinson (2 pts) vs KENTA (2 pts)
(referee: Marty Asami)
Show/Hide Results
Result: Juice Robinson wins via pinfall after Pulp Friction
Time: 17:01
Match Thoughts
Very good match. KENTA might have been overconfident heading into this match against Juice, because Juice gave him quite a fight tonight. This was a nice back and forth battle with the deceptively big Juice Robinson surprising KENTA with the strength of his fight. KENTA was more aggressive throughout the match, but Juice seemed to hit harder in most of their exchanges. KENTA wasn't able to dominate Juice like he did Goto in the previous round, and that led to a very fun match.
Match 5
G1 Climax 30 B Block Match
EVIL (0 pts) w/ Dick Togo vs YOSHI-HASHI (0 pts) (NEVER 6-Man Champ)
(referee: Red Shoes Unno)
Show/Hide Results
Result: EVIL wins via pinfall after EVIL (and a low blow)
Time: 17:21
Match Thoughts
Great match. I don't know that anyone really though YOSHI-HASHI could be the former double-champ EVIL, but YOSHI-HASHI did his best to make us all believe he could. YOSHI-HASHI was super aggressive, and his aggression started with a pre-match attack on EVIL with the staff he always carries to the ring. YOSHI-HASHI stayed on top of EVIL as the match officially started, and it took EVIL a while to really start fighting back. Dick Togo wasn't even able to help EVIL very much early in the match, but as the match went longer, EVIL and Togo started to cheat more and more. By the end of the match, even though YOSHI-HASHI was stil putting together some great strings of surprisingly effective offense, EVIL and Togo were feeling more and more dangerous. This might have been the best I've ever seen YOSHI-HASHI look in a singles match.
Match 6
G1 Climax 30 B Block Match
Zack Sabre Jr. (2 pts) (IWGP Tag Champ) vs Tetsuya Naito (2 pts) (IWGP IC & Heavyweight Champ)
(referee: Red Shoes Unno)
Show/Hide Results
Result: Tetsuya Naito wins via pinfall after Destino
Time: 28:28
Match Thoughts
Great match! ZSJ came to win tonight. ZSJ didn't allow Naito to take control of the pace of the match like he usually does, and he drew Naito into trying to wrestle and defend in a highly technical match that played out mostly on the mat throughout the first few minutes. Naito did well, but ZSJ was thinking two, three or four moves ahead. Naito got into early trouble, and he was worn down by ZSJ's constant grappling and stretching. Eventually Naito started to fight back with some substantially impactful moves (like a neckbreaker onto the floor), and that combined with a dwindling clock caused Sabre to fight from a standing position more and more. The change in attacks allowed Naito a little more freedom to do what he does best, and the match became more and more tense and the clock ticked away. With as much as both men put into this match, it would be a tough loss for either one of them, but it was a very satisfying two points for the winner.
Show Impressions
Another good show. It took until later in the night for me to really get invested and excited when compared to previous night's, but in no way did this show disappoint.
Match of the Night
Zack Sabre Jr. vs Tetsuya Naito
Naito is having the best matches of the tournament so far, and this might be the match to beat.
Standings After Night 4
A Block

Show/Hide Results
| Wrestler | Points | Wins | Losses | Draws |
| --- | --- | --- | --- | --- |
| Jay White | 4 | 2 | 0 | 0 |
| Taichi (IWGP Tag Champ) | 4 | 2 | 0 | 0 |
| Will Ospreay (RPW British Heavyweight Champ) | 4 | 2 | 0 | 0 |
| Jeff Cobb | 2 | 1 | 1 | 0 |
| Kazuchika Okada | 2 | 1 | 1 | 0 |
| Kota Ibushi | 2 | 1 | 1 | 0 |
| Minrou Suzuki (NEVER Openweight Champ) | 2 | 1 | 1 | 0 |
| Shingo Takagi | 0 | 0 | 2 | 0 |
| Tomohiro Ishii (NEVER 6-Man Champ) | 0 | 0 | 2 | 0 |
| Yujiro Takahashi | 0 | 0 | 2 | 0 |
B Block

Show/Hide Results
| Wrestler | Points | Wins | Losses | Draws |
| --- | --- | --- | --- | --- |
| Juice Robinson | 4 | 2 | 0 | 0 |
| Tetsuya Naito (IWGP IC & Heavyweight Champ) | 4 | 2 | 0 | 0 |
| Toru Yano | 4 | 2 | 0 | 0 |
| EVIL | 2 | 1 | 1 | 0 |
| Hirooki Goto (NEVER 6-Man Champ) | 2 | 1 | 1 | 0 |
| KENTA | 2 | 1 | 1 | 0 |
| Zack Sabre Jr. (IWGP Tag Champ) | 2 | 1 | 1 | 0 |
| Hiroshi Tanahashi | 0 | 0 | 2 | 0 |
| SANADA | 0 | 0 | 2 | 0 |
| YOSHI-HASHI (NEVER 6-Man Champ) | 0 | 0 | 2 | 0 |
C Block (Young Lions)

Show/Hide Results
| Young Lion | Points | Wins | Losses | Draws |
| --- | --- | --- | --- | --- |
| Yota Tsuji | 4 | 2 | 1 | 0 |
| Gabriel Kidd | 2 | 1 | 1 | 0 |
| Yuya Uemura | 2 | 1 | 2 | 0 |
Official Results (Japanese): https://www.njpw.co.jp/tornament/255779?showResult=1