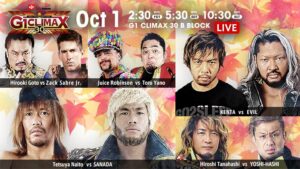 NJPW G1 Climax 30
Night 8
B Block: Round 4
#G1CLIMAX30
Event Date: October 1, 2020 (18:30 JST)
aired live on NJPW World
City: Nagaoka, Niigata, Japan
Venue: City Hall Plaza Aore Nagaoka
Attendance: 1,685
Series: G1 Climax 30
Theme Song: "Blazing Souls" by 9mm Parabellum Bullet
Commentary (English – recorded remotely): Kevin Kelly, Rocky Romero
Commentary (Japanese): Milano Collection AT, Soichi Shibata, Shigeki Kiyono
Ring Announcer: Kimihiko Ozaki (1 – 3), Makoto Abe (4 – 6)
Video
The opening video looks at the competitors in B Block.
Match 1
Gabriel Kidd vs Yota Tsuji
(referee: Kenta Sato)
Show/Hide Results
Result: Time Limit Draw
Time: 15:00
Match Thoughts
This was a very good opening match. Tsuji and Kidd both started out a bit cautiously, and they gradually worked their way up to a faster pace with bigger moves. This match had a really nice build to it. As the match went longer the pace continued to pick up, and when the clock really started to become a factor both men got a bit frantic in their attacks. This was very well done.
Match 2
G1 Climax 30 B Block Match
Toru Yano (6 pts) vs Juice Robinson (4 pts)
(referee: Kenta Sato)
Show/Hide Results
Result: Juice Robinson wins via pinfall with a counter to a roll-up
Time: 6:42
Match Thoughts
Once again, Yano bring a whole lot of fun to the show. Juice came into the match acting like he wouldn't fall for any of Yano's tricks, but of course he did. Juice yelled at Yano and got more and more angry as Yano tricked him over and over, but Juice probably should have been more angry at himself for knowing what was coming and still falling for it. Yano used many of his usual tricks in slightly different ways, but despite Juice's gullibility, Juice still fought back well.
Match 3
G1 Climax 30 B Block Match
Hirooki Goto (2 pts) (NEVER 6-Man Champ) vs Zack Sabre Jr. (2 pts) (IWGP Tag Champ)
(referee: Marty Asami)
Show/Hide Results
Result: Zack Sabre Jr. wins via pinfall with a European Clutch
Time: 3:59
Match Thoughts
This was a good match, but not because it was long or competitive. It was good because ZSJ had a plan, he executed that plan aggressively, and he looked completely dominant over a competitor who is usually tough to beat. Goto has been dealing with a shoulder injury, and ZSJ's attack on that should was immediate. Goto got very little offense, and ZSJ looked like the brilliant wrestler he is. This was an easy night for ZSJ, and the rest and momentum built from this match could serve ZSJ well going forward in the tournament. This match also sets a bleak outlook for Goto. He has a few days off before his next match, so we'll see if his shoulder is well enough to continue after the short break.
Intermission
The ring is cleaned and sanitized during a brief intermission.
Match 4
G1 Climax 30 B Block Match
YOSHI-HASHI (2 pts) (NEVER 6-Man Champ) vs Hiroshi Tanahashi (2 pts)
(referee: Marty Asami)
Show/Hide Results
Result: Hiroshi Tanahashi wins via pinfall after High Fly Flow
Time: 18:41
Match Thoughts
Very good match. YOSHI-HASHI was all over Tanahashi right from the start of this match. YOSHI-HASHI was aggressive and kept going from move to move and hold to hold, keeping Tanahashi on the mat and in pain. YOSHI-HASHI looked as good as he has in the whole tournament, but a moment of hesitation late in the match opened the door for Tanahashi. Tanahashi capitalized on the opening, and YOSHI-HASHI didn't have much of an answer once Tanahashi got rolling. Tanahashi has had a couple of matches like this in the tournament now. He gets beat up a whole lot, then he pushes back with a burst of offense towards the end. I'm not saying that's good or bad, it's just an observation, but I'll be interested to see if he keeps that up throughout the rest of the G1.
Match 5
G1 Climax 30 B Block Match
EVIL (2 pts) w/ Dick Togo vs KENTA (4 pts)
(referee: Red Shoes Unno)
Show/Hide Results
Result: EVIL wins via pinfall after EVIL
Time: 15:40
Match Thoughts
Very good match. The biggest interest here was seeing how fellow Bullet Club members KENTA and EVIL would approach this match. We haven't seen them interact since EVIL joined Bullet Club while KENTA was in the USA, so would they get along well enough to fight a fair match? Well, it's Bullet Club we're talking about, so clearly they wouldn't. EVIL snubbed KENTA when he offered the "too sweet" before the match, and KENTA tried to create some division between Togo and EVIL by repeatedly signaling to Togo to attack KENTA as if they had some sort of secret plan. EVIL wasn't buying it though, and Togo didn't fall for it either, so this ended up being essentially a handicap match for KENTA. The action was good, but the numbers were too much for KENTA as the match went on. KENTA was definitely the better fighter, but Togo (and EVIL's penchant for cheating) made the biggest difference tonight.
Match 6
G1 Climax 30 B Block Match
SANADA (0 pts) vs Tetsuya Naito (6 pts) (IWGP IC & Heavyweight Champ)
(referee: Red Shoes Unno)
Show/Hide Results
Result: SANADA wins via pinfall after a diving moonsault
Time: 27:08
Match Thoughts
Great match. With both men knowing each other so well and respecting each other so much, there was really no feeling-out process in this match. Naito and SANADA went for each other right away, and the pace rarely ever slowed down much. This was an extremely fun match filled with a lot of great counters and modifications of the moves we've seen both of them use so often. They were very evenly matched, so it's no surprise that this match went long (plus Naito has only had long matches in the G1 this year, so no surprise there either). The final sequences of the match had SANADA repeatedly applying Skull End from a ton of different situations, and it had Naito looking for multiple variations of Destino. The buildup to the finish got more and more tense as the match passed the 25 minute mark, but it didn't really feel like either man got frantic because of the clock. They both kept calm and just kept doing what they needed to do to win.
Show Impressions
Overall last night's show was probably better, but tonight's show definitely had some memorable moments (two intra-faction matches, ZSJ being supremely dominant, YOSHI-HASHI having a surprisingly strong performance, the main event, etc.). Tonight's show felt less like a payoff and more like it was setting up a lot of stories that will be paid off in the second half of the tournament. I was still entertained quite a lot tonight though.
Match of the Night
SANADA vs Tetsuya Naito
This was by far the best match of the night.
Standings After Night 8
A Block

Show/Hide Results
| Wrestler | Points | Wins | Losses | Draws |
| --- | --- | --- | --- | --- |
| Jay White | 6 | 3 | 1 | 0 |
| Kota Ibushi | 6 | 3 | 1 | 0 |
| Minrou Suzuki (NEVER Openweight Champ) | 6 | 3 | 1 | 0 |
| Taichi (IWGP Tag Champ) | 6 | 3 | 1 | 0 |
| Will Ospreay (RPW British Heavyweight Champ) | 6 | 3 | 1 | 0 |
| Kazuchika Okada | 4 | 2 | 2 | 0 |
| Jeff Cobb | 2 | 1 | 3 | 0 |
| Shingo Takagi | 2 | 1 | 3 | 0 |
| Tomohiro Ishii (NEVER 6-Man Champ) | 2 | 1 | 3 | 0 |
| Yujiro Takahashi | 0 | 0 | 4 | 0 |
B Block

Show/Hide Results
| Wrestler | Points | Wins | Losses | Draws |
| --- | --- | --- | --- | --- |
| Juice Robinson | 6 | 3 | 1 | 0 |
| Tetsuya Naito (IWGP IC & Heavyweight Champ) | 6 | 3 | 1 | 0 |
| Toru Yano | 6 | 3 | 1 | 0 |
| EVIL | 4 | 2 | 2 | 0 |
| Hiroshi Tanahashi | 4 | 2 | 2 | 0 |
| KENTA | 4 | 2 | 2 | 0 |
| Zack Sabre Jr. (IWGP Tag Champ) | 4 | 2 | 2 | 0 |
| Hirooki Goto (NEVER 6-Man Champ) | 2 | 1 | 3 | 0 |
| SANADA | 2 | 1 | 3 | 0 |
| YOSHI-HASHI (NEVER 6-Man Champ) | 2 | 1 | 3 | 0 |
C Block (Young Lions)

Show/Hide Results
| Young Lion | Points | Wins | Losses | Draws |
| --- | --- | --- | --- | --- |
| Yota Tsuji | 7 | 3 | 2 | 1 |
| Gabriel Kidd | 5 | 2 | 2 | 1 |
| Yuya Uemura | 4 | 2 | 3 | 0 |
Official Results (Japanese): https://www.njpw.co.jp/tornament/255783?showResult=1