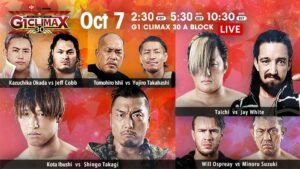 NJPW G1 Climax 30
Night 11
A Block: Round 6
#G1CLIMAX30
Event Date: October 7, 2020 (18:30 JST)
aired live on NJPW World
City: Nishi, Hiroshima, Hiroshima, Japan
Venue: Hiroshima Sun Plaza Hall
Attendance: 1,430
Series: G1 Climax 30
Theme Song: "Blazing Souls" by 9mm Parabellum Bullet
Commentary (English – recorded remotely): Kevin Kelly
Commentary (Japanese – Samurai TV): Milano Collection AT, Shigeki Kiyono
Commentary(Japanese – NJPW World): Jushin Thunder Liger
Ring Announcer: Kimihiko Ozaki (1 – 3), Makoto Abe (4 – 6)
Video
The opening video looks at the competitors in A Block.
Match 1
Gabriel Kidd vs Yota Tsuji
(referee: Kenta Sato)
Show/Hide Results
Result: Yota Tsuji wins via submission with a Boston crab
Time: 6:43
Match Thoughts
This was a good opener. Both men started quickly, but Tsuji also quickly started to take over. This ended up being a very dominant performance from Yota Tsuji and a rough night for Gabriel Kidd.
Match 2
G1 Climax 30 A Block Match
Yujiro Takahashi (0 pts) vs Tomohiro Ishii (4 pts) (NEVER 6-Man Champ)
(referee: Kenta Sato)
Show/Hide Results
Result: Tomohiro Ishii wins via pinfall after a vertical drop brainbuster
Time: 15:25
Match Thoughts
Very good match. This was better than I expected it to be, and it was better than I thought it would be even after watching the first few minutes. The match started kind of slowly with Takahashi taking control of Ishii with a pre-match attack. Takahashi's offense got the job done, but it wasn't terribly exciting. At one point Ishii reacted strongly to a slam he took, and the match started to get better from there. By the end things got pretty exciting, and a brutal headbutt from Ishii made this whole match worth watching. This ended up being pretty fun.
Match 3
G1 Climax 30 A Block Match
Jeff Cobb (4 pts) vs Kazuchika Okada (6 pts)
(referee: Marty Asami)
Show/Hide Results
Result: Kazuchika Okada wins via pinfall with a double leg cradle
Time: 11:03
Match Thoughts
Very good match. Cobb looked very good in this match. Much like his match against Ibushi, Cobb dominated large sections of the match, but he had trouble putting Okada away. Okada has been having back problems and has had tape on his lower back in his recent matches, but he had no tape tonight. It seemed clear that Okada's back was not 100% though, because after a suplex or two from Cobb, Okada was holding his back and was moving noticeably slower. Cobb continued his attack, and he grew more and more confident as the match went on. Cobb even did a Rainmaker pose and went for a Rainmaker-esque lariat at one point. Okada's offense was mostly neutralized by Cobb's size and strength, so Okada had to play a lot of defense and get clever in order to get any sort of advantage. The finish felt a bit sudden, but it was well done.
Intermission
The ring is cleaned and sanitized during a brief intermission.
Match 4
G1 Climax 30 A Block Match
Will Ospreay (6 pts) (RPW British Heavyweight Champ) vs Minoru Suzuki (6 pts) (NEVER Openweight Champ)
(referee: Marty Asami)
Show/Hide Results
Result: Will Ospreay wins via pinfall after Stormbreaker
Time: 14:26
Match Thoughts
Great match. Ospreay had to change up his style significantly in this match. Suzuki got off to a great start, and he tried to destroy Ospreay's right arm. Suzuki did a good job, because Ospreay could barely use his right arm for the rest of the match. That also meant that any offense Ospreay tried with his right arm (including the Hidden Blade) made the pain even worse. There wasn't a whole lot of flying for Ospreay either, and the few times Ospreay did try to flip or fly Suzuki was often ready with a counter. Ospreay's best weapons were his kicks, and the thing that kept him in the match was his heart. This was a very good way to show a very different side of Ospreay, and it helped build him up as an even better all-around fighter who can take a serious beating and still keep going.
Match 5
G1 Climax 30 A Block Match
Jay White (6 pts) w/ Gedo vs Taichi (6 pts) (IWGP Tag Champ)
(referee: Red Shoes Unno)
Show/Hide Results
Result: Jay White wins via pinfall after Blade Runner
Time: 15:16
Match Thoughts
Great match. This was a battle of two cheaty jerks, and it turned out to be a whole lot of fun. Both men started by trying to get some cheap and easy advantages, and White ended up being the better cheater then and throughout the rest of the match. White having Gedo at ringside definitely helped him gain the cheating edge. As the match went on, Taichi ended up being the better and stronger fighter, but White held his own face to face with Taichi. Plus, White is really smart, and he found many ways to repeatedly undercut Taichi's momentum. The pace and intensity continued to grow as the match went on, and that led to a very nice finish.
Match 6
G1 Climax 30 A Block Match
Shingo Takagi (4 pts) vs Kota Ibushi (8 pts)
(referee: Red Shoes Unno)
Show/Hide Results
Result: Shingo Takagi wins via pinfall after Last of the Dragon
Time: 21:56
Match Thoughts
Great match! This was a superb mix of quick action and really hard strikes. As the match went on, strikes became the dominant form of attack for both men, but early in the match there were a lot of super fun sequences of attempted attacks, blocks, and counters. There were ups and down in momentum for both men, and there was never any real sustained advantage throughout the match. Both men would fight, surge, fall, and surge again. One thing that stood out to me is that Ibushi was able to get the better of Takagi in a few of their striking exchanges. I tend to think of Takagi as one of the guys in NJPW who can stand up and strike with anyone, and he can, but Ibushi forced Takagi to cover up a few times. Of course Takagi also staggered Ibushi a few times throughout the match, so again, they were very evenly matched. I'd love to see this matchup again at some point.
Show Impressions
This was a good show. The block continues to stay incredibly tight. I can kind of see that's what they're doing, so looking back over the night not all the results were terribly surprising, but they were all well done. In the moment while watching the show though, I was still surprised a few times because of how the action played out in the ring. So yeah, I enjoyed tonight's show.
Match of the Night
Shingo Takagi vs Kota Ibushi
These are two of my favorite wrestlers, so this probably had to do a whole to have me not enjoy it. But even without my bias, I think it's safe to say this was a great match.
Standings After Night 11
A Block

Show/Hide Results
| Wrestler | Points | Wins | Losses | Draws |
| --- | --- | --- | --- | --- |
| Jay White | 8 | 4 | 2 | 0 |
| Kazuchika Okada | 8 | 4 | 2 | 0 |
| Kota Ibushi | 8 | 4 | 2 | 0 |
| Will Ospreay (RPW British Heavyweight Champ) | 8 | 4 | 2 | 0 |
| Minrou Suzuki (NEVER Openweight Champ) | 6 | 3 | 3 | 0 |
| Shingo Takagi | 6 | 3 | 3 | 0 |
| Taichi (IWGP Tag Champ) | 6 | 3 | 3 | 0 |
| Tomohiro Ishii (NEVER 6-Man Champ) | 6 | 3 | 3 | 0 |
| Jeff Cobb | 4 | 2 | 4 | 0 |
| Yujiro Takahashi * | 0 | 0 | 6 | 0 |
* = mathematically eliminated
B Block

Show/Hide Results
| Wrestler | Points | Wins | Losses | Draws |
| --- | --- | --- | --- | --- |
| Tetsuya Naito (IWGP IC & Heavyweight Champ) | 8 | 4 | 1 | 0 |
| EVIL | 6 | 3 | 2 | 0 |
| Hiroshi Tanahashi | 6 | 3 | 2 | 0 |
| Juice Robinson | 6 | 3 | 2 | 0 |
| Toru Yano | 6 | 3 | 2 | 0 |
| Hirooki Goto (NEVER 6-Man Champ) | 4 | 2 | 3 | 0 |
| KENTA | 4 | 2 | 3 | 0 |
| SANADA | 4 | 2 | 3 | 0 |
| Zack Sabre Jr. (IWGP Tag Champ) | 4 | 2 | 3 | 0 |
| YOSHI-HASHI (NEVER 6-Man Champ) | 2 | 1 | 4 | 0 |
C Block (Young Lions)

Show/Hide Results
| Young Lion | Points | Wins | Losses | Draws |
| --- | --- | --- | --- | --- |
| Yota Tsuji | 10 | 4 | 2 | 2 |
| Yuya Uemura | 7 | 3 | 3 | 1 |
| Gabriel Kidd | 5 | 2 | 4 | 1 |
Official Results (Japanese): https://www.njpw.co.jp/tornament/255786?showResult=1