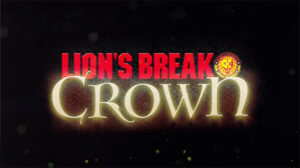 NJPW Strong
Episode 9
Lion's Break: Crown – Semifinals
#njpwstrong
Original Air Date: October 2, 2020
Event Date: ?
(uploaded to NJPW World)
City: Port Hueneme, CA (unconfirmed)
Venue: Oceanview Pavilion (empty arena) (unconfirmed)
Series: Lion's Break: Crown
Commentary (English): Kevin Kelly, Alex Koslov
Ring Announcer: Adnan Kureishy (ringside)
Intro Video
Ring Area
Kevin Kelly and Alex Koslov welcome us to the semifinals of Lion's Break: Crown.
Video
A look at the competitors in the Lion's Break: Crown tournament.
Match 1
Lion's Break: Crown Semifinal Match
Logan Riegel vs Clark Connors
(referee: Sparky Ballard)
Show/Hide Results
Result: Clark Connors wins via submission with a Boston crab
Time: 7:51
Match Thoughts
Good match. As always, Clark Connors was very aggressive in this match. Riegel looked pretty good early on, but he seemed to be feeling the effects of the first round way more than Connors was. Connors started to get on a roll after the first few minutes of the match, and Riegel couldn't do much of anything to stop Connors' attacks. This was another nice performance from Connors.
Backstage
Via video from his position at the commentary table, Kevin Kelly asks Blake Christian (who is backstage) about his health. Christian says his ribs are hurting, but he's won tournaments hurt before.
Match 2
Lion's Break: Crown Semifinal Match
Blake Christian vs Danny Limelight
(referee: Justin Borden)
Show/Hide Results
Result: Danny Limelight wins via pinfall after a small package driver
Time: 7:54
Match Thoughts
Very good match. Christian's ribs were clearly hurting and slowing him down throughout the match, but he still looked good here against Limelight. For his part though, Limelight fought confidently, and he fought well. Limelight had the best and most impactful moves throughout the match, and he kept a good pace as he worked on Christian's back. Limelight hit a particularly brutal-looking sit-out powerbomb partway throught the match that seemed to signal the end of hope for Blake Christian.
Intermission
The ring is cleaned and sanitized during a brief intermission.
Match 3
Brody King & Flip Gordon vs TJP & Karl Fredericks
(referee: Justin Borden)
Show/Hide Results
Result: Flip Gordon pins TJP after a TKO
Time: 11:06
Match Thoughts
Very good match. TJP started the match against Flip Gordon, and TJP's experience and technical prowess helped him get an early advantage for his team. Then Karl Fredericks and Brody King tagged in, and Fredericks did well to avoid some of Lee's power moves while dealing some damage to the biggest guy in the match. Fredericks did struggle with King's size, and so did TJP when he got tagged back in. King was the dominant force in this match, and his size combined with Gordon's speed made them an impressive team. Fredericks and TJP looked very good together as well, but the tag history with King and Gordon helped them mesh much better as a tandem. This was a fun match.
Match 4
Hikuleo & Chase Owens & KENTA & Jay White vs Misterioso & Rocky Romero & Jeff Cobb & David Finlay
(referee: Jeremy Marcus)
Show/Hide Results
Result: Chase Owens pins Misterioso after Gunslinger (from Hikuleo)
Time: 11:28
Match Thoughts
Very good match. One of the main story lines within this match was Jeff Cobb wanting to get his hands on KENTA again after their troubles that started back in the tournament to determine a contender for the IWGP US Title. Cobb did go on the offensive against KENTA in the match, but for the most part KENTA was able to neutralize Cobb by repeatedly going after Cobb's injured knee. Other than that rivalry, the match was pretty open with everyone fighting everyone. I think both teams worked very well as four-man units, and everyone pitched for their team throughout the match. This was an evenly fought and entertaining main event.
Show Impressions
This was a pretty good show. I'm really looking forward to the finals of the Lion's Break: Crown tournament. That match has the potential to be great. I also liked tonight's tag matches. I think the TJP/Fredericks vs King/Gordon match has the potential to build some nice rivalries (particularly TJP vs Gordon and Fredericks vs King). I also liked how the main event helped make Hikuleo look strong without requiring him to do too much in the ring. Hikuleo is pretty inexperienced when compared to everyone else he was in the ring with, and that match was a good way of hiding any weaknesses he might have while allowing him to be a difference-maker with his size and power.
Match of the Night
Brody King & Flip Gordon vs TJP & Karl Fredericks
I think this had the better in-ring story than any other match tonight. They way it flowed back and forth between the two teams drew me in the most out of all of tonight's matches.
Official Results: https://www.njpw1972.com/tornament/80718?showResult=1