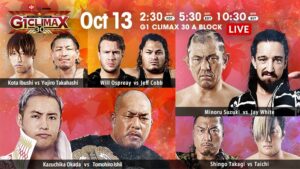 NJPW G1 Climax 30
Night 15
A Block: Round 8
#G1CLIMAX30
Event Date: October 13, 2020 (18:30 JST)
aired live on NJPW World
City: Hamamatsu, Shizuoka, Japan
Venue: Hamamatsu Arena
Attendance: 1,372
Series: G1 Climax 30
Theme Song: "Blazing Souls" by 9mm Parabellum Bullet
Commentary (English – recorded remotely): Kevin Kelly, Rocky Romero
Commentary (Japanese): Milano Collection AT, Jushin Thunder Liger, Haruo Murata
Ring Announcer: Kimihiko Ozaki (1 – 3), Makoto Abe (4 – 6)
Video
The opening video looks at the competitors in A Block.
Match 1
Gabriel Kidd vs Yuya Uemura
(referee: Kenta Sato)
Show/Hide Results
Result: Yuya Uemura wins via pinfall with a bridging double overhook suplex
Time: 8:37
Match Thoughts
This was a very good opener. Both men started a bit cautiously and tried to feel each other out through some grappling, but by the end of the match they were swinging some hard forearms at each other. Uemura was able to stall Kidd's momentum a few times by going after his arm, and that helped Uemura finish off the match in definitive fashion.
Match 2
G1 Climax 30 A Block Match
Jeff Cobb (6 pts) vs Will Ospreay (10 pts) (RPW British Heavyweight Champ)
(referee: Kenta Sato)
Show/Hide Results
Result: Jeff Cobb wins via pinfall after Tour of the Islands
Time: 12:21
Match Thoughts
Great match. Cobb was able to use his size and power to slow Ospreay down repeatedly during the match, and that kept things highly competitive. Ospreay flew and kicked quite a bit, but Ospreay's greater power since his return to NJPW didn't really play much of a factor since Cobb is so much stronger. Also, Ospreay tried to get cute and mess with Cobb a bit near the beginning of the match, and Cobb wasn't having any of that. Cobb took this match completely seriously, and he was able to counter many of Ospreay's bigger moves while generally wearing Ospreay down throughout the match.
Match 3
G1 Climax 30 A Block Match
Yujiro Takahashi (0 pts) vs Kota Ibushi (10 pts)
(referee: Marty Asami)
Show/Hide Results
Result: Kota Ibushi wins via pinfall after Kamigoye
Time: 12:28
Match Thoughts
Great match. This was easily Takahashi's best match in the tournament. Takahashi had a sense of danger about him mostly due to the fact that he had a chance to be a gigantic spoiler if he were to get his first two points tonight. Takahashi also had a lot of strong offense throughout the match, more than I thought he might get. The more offense Takahashi got, the more I felt like there could be some sort of crazy upset in this match. Takahashi tried to pull some of his dirty tricks on Ibushi, but Ibushi didn't fall for most of them, or they just didn't affect him much. The best attacks Takahashi had were straightforward, but that also left him open to attacks from Ibushi. The match built up nicely, and the final couple of minutes got a bit tense. I enjoyed it.
Intermission
The ring is cleaned and sanitized during a brief intermission.
Match 4
G1 Climax 30 A Block Match
Taichi (6 pts) (IWGP Tag Champ) vs Shingo Takagi (6 pts)
(referee: Marty Asami)
Show/Hide Results
Result: Taichi wins via pinfall after Black Mephisto
Time: 16:21
Match Thoughts
Great match. Taichi started with his usual stalling tactics and ringside shenanigans (including using the ring bell hammer like he does so often), but after a while Takagi began to draw Taichi into a straightforward strong style match. Taichi can really fight when he wants to, and Takagi brought the fight out of him. Both men started exchanging many, many strikes, and this became a battle of toughness and will. Takagi seemed to hit harder most of the time, but Taichi was pretty smart about picking the right strike or slam for the right time. Taichi did try to cheat a little here and there as the match went on, but Takagi's aggression kept the fight mostly clean. This was another really fun match from both guys.
Match 5
G1 Climax 30 A Block Match
Jay White (10 pts) w/ Gedo vs Minoru Suzuki (6 pts) (NEVER Openweight Champ)
(referee: Red Shoes Unno)
Show/Hide Results
Result: Jay White wins via pinfall after Blade Runner (and a low blow)
Time: 20:30
Match Thoughts
A great, frustrating match. Jay White attempted his shenanigans on Suzuki early in the match, but Suzuki took the fight to White. White wanted nothing to do with Suzuki face to face in the center of the ring, but after a certain point in the match he had no other choice. White took a serious beating, and he endured some vicious submission attempts. Most wrestlers might get drawn into a striking contest with Suzuki, but White is smarter than that. He's frustratingly smart. White's best attack was to go after Suzuki's leg to try to cut him down, and he did that repeatedly. White's other best attack was Gedo distracting Suzuki and the referee from ringside. Despite rarely getting fooled by White directly, Suzuki really had no choice but to pay attention to Gedo at times, and that cost him. The finish was frustrating, but it was very well done.
Match 6
G1 Climax 30 A Block Match
Tomohiro Ishii (6 pts) (NEVER 6-Man Champ) vs Kazuchika Okada (10 pts)
(referee: Red Shoes Unno)
Show/Hide Results
Result: Kazuchika Okada wins via Referee Stoppage with the Money Clip
Time: 26:13
Match Thoughts
Great match. Despite both men being members of Chaos, neither one of them held back in this match. Ishii was more aggressive earlier in the match, and he laid into Okada with some vicious and at time illegal strikes and chops. Okada had to absorb a lot of punishment early and often, and he had to find a way to start dealing some punishment back. Okada's pace was more methodical than he might usually be, but that's likely just because Ishii was aggressive to the point where Okada could only get in some shots between Ishii's attacks. As the match went on it became clear that Okada's attacks were starting to build up, but Ishii has a way of not reacting to pain or fatigue until after he's unleashed a retaliatory barrage. Late in the match, Okada started going for the Money Clip after his double leg cradle and Rainmaker didn't get the job done. Okada had trouble getting the Money Clip around Ishii's think neck, but he kept working on it which led to an exciting finish.
Show Impressions
This was a really good show. This late in the tournament it's easy to have the matches involving the block leaders get tense and exciting, but this show also had great matches from guys that have already been eliminated.
Match of the Night
Tomohiro Ishii vs Kazuchika Okada
This was one of those nights where the matches more or less got better as the night went on. The first tournament match of the night was great, and each successive match got incrementally more exciting for me. So naturally the main event would be the best match, though I'd happily watch any match on this show again.
Standings After Night 15
A Block

Show/Hide Results
| Wrestler | Points | Wins | Losses | Draws |
| --- | --- | --- | --- | --- |
| Jay White | 12 | 6 | 2 | 0 |
| Kazuchika Okada | 12 | 6 | 2 | 0 |
| Kota Ibushi | 12 | 6 | 2 | 0 |
| Will Ospreay (RPW British Heavyweight Champ) | 10 | 5 | 3 | 0 |
| Jeff Cobb * | 8 | 4 | 4 | 0 |
| Taichi * (IWGP Tag Champ) | 8 | 4 | 4 | 0 |
| Minrou Suzuki *(NEVER Openweight Champ) | 6 | 3 | 5 | 0 |
| Shingo Takagi * | 6 | 3 | 5 | 0 |
| Tomohiro Ishii *(NEVER 6-Man Champ) | 6 | 3 | 5 | 0 |
| Yujiro Takahashi * | 0 | 0 | 8 | 0 |
* = numerically eliminated
B Block

Show/Hide Results
| Wrestler | Points | Wins | Losses | Draws |
| --- | --- | --- | --- | --- |
| EVIL | 10 | 5 | 2 | 0 |
| Tetsuya Naito (IWGP IC & Heavyweight Champ) | 10 | 5 | 2 | 0 |
| Hirooki Goto (NEVER 6-Man Champ) | 8 | 4 | 3 | 0 |
| SANADA | 8 | 4 | 3 | 0 |
| Zack Sabre Jr. (IWGP Tag Champ) | 8 | 4 | 3 | 0 |
| Hiroshi Tanahashi | 6 | 3 | 4 | 0 |
| Juice Robinson | 6 | 3 | 4 | 0 |
| KENTA | 6 | 3 | 4 | 0 |
| Toru Yano | 6 | 3 | 4 | 0 |
| YOSHI-HASHI * (NEVER 6-Man Champ) | 2 | 1 | 6 | 0 |
* = numerically eliminated
C Block (Young Lions)

Show/Hide Results
| Young Lion | Points | Wins | Losses | Draws |
| --- | --- | --- | --- | --- |
| Yuya Uemura | 11 | 5 | 4 | 1 |
| Yota Tsuji | 10 | 4 | 4 | 2 |
| Gabriel Kidd | 9 | 4 | 5 | 1 |
Official Results (Japanese): https://www.njpw.co.jp/tornament/255790?showResult=1