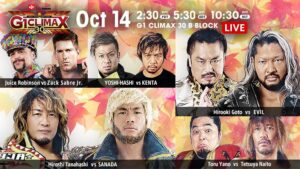 NJPW G1 Climax 30
Night 16
B Block: Round 8
#G1CLIMAX30
Event Date: October 14, 2020 (18:30 JST)
aired live on NJPW World
City: Naka, Yokohama, Kanagawa, Japan
Venue: Yokohama Budokan
Attendance: 1,498
Series: G1 Climax 30
Theme Song: "Blazing Souls" by 9mm Parabellum Bullet
Commentary (English – recorded remotely): Kevin Kelly
Commentary (Japanese): Milano Collection AT, Jushin Thunder Liger, Milano Collection AT
Ring Announcer: Kimihiko Ozaki (1 – 3), Makoto Abe (4 – 6)
Video
The opening video looks at the competitors in B Block.
Match 1
Yuya Uemura vs Yota Tsuji
(referee: Kenta Sato)
Show/Hide Results
Result: Yota Tsuji wins via submission with a Boston crab
Time: 7:56
Match Thoughts
This was a good opener. Uemura got off to a good start by concentrating on Tsuji's arm, but Tsuji turned things around when he started using his power. That led to a nicely done and definitive finish.
Match 2
G1 Climax 30 B Block Match
YOSHI-HASHI (2 pts) (NEVER 6-Man Champ) vs KENTA (6 pts)
(referee: Kenta Sato)
Show/Hide Results
Result: KENTA wins via submission with Game Over
Time: 17:39
Match Thoughts
Good match. It took a while to get going, but once KENTA and YOSHI-HASHI started exchanging strikes late in the match, the excitement picked up. KENTA kept looking for Game Over towards the end of the match while YOSHI-HASHI had a more all-around attack with his butterfly lock, Karma, and his kubagaroshi. KENTA always seemed to be more in control, especially when it came to striking, and that played out more or less as expected during the final few sequences. YOSHI-HASHI looked pretty good, but KENTA looked better tonight.
Match 3
G1 Climax 30 B Block Match
Juice Robinson (6 pts) vs Zack Sabre Jr. (8 pts) (IWGP Tag Champ)
(referee: Marty Asami)
Show/Hide Results
Result: Zack Sabre Jr. wins via pinfall with a European Clutch
Time: 14:30
Match Thoughts
Great match. Juice came into the match ready for a fight, but I don't think he was prepared for ZSJ's relentless technical style. ZSJ was all over Juice, at times literally climbing around Juice's body while applying a hold to any limb he could grab. ZSJ's attacks most often focused on Juice's left arm which served to negate one of Juice's strongest weapons, the Left Hand of God. Juice was on the defensive throughout most of the match, but he started to break out of holds and hit some moves just through the sheer brute force of his superior strength and size. When Juice started to get on a roll though, ZSJ showed incredible patience and cunning by baiting Juice into specific scenarios that ZSJ was able to take full advantage of. I felt bad for Juice at times throughout the match because I really like the guy, but it's always a pleasure to watch ZSJ pick someone apart like he did tonight.
Intermission
The ring is cleaned and sanitized during a brief intermission.
Match 4
G1 Climax 30 B Block Match
Toru Yano (6 pts) vs Tetsuya Naito (10 pts) (IWGP IC & Heavyweight Champ)
(referee: Marty Asami)
Show/Hide Results
Result: Tetsuya Naito wins via pinfall with a jackknife cover (and a low blow)
Time: 8:04
Match Thoughts
This was super fun. I love how Yano's matches (specifically his methods of cheating) keep building on each other in each consecutive match in the tournament. Tonight his biggest attempt to win involved a variation of what he tried to do to Zack Sabre Jr. earlier in the tournament when he taped ZSJ's wrist to a chair through a barricade. For Naito's part, he tried to control the pace and tone of the match way before the opening bell ever rang. Naito took even longer than usual to get to the ring and remove his entrance gear, and he rarely seemed bothered by Yano's antics. Naito tried to fight Yano at his own style of match, and he had some pretty good success with it. This match also got very tense because Yano can beat anyone, and a loss for Naito tonight would would make his chances of winning the block incredibly small.
Match 5
G1 Climax 30 B Block Match
EVIL (10 pts) w/ Dick Togo vs Hirooki Goto (8 pts) (NEVER 6-Man Champ)
(referee: Red Shoes Unno)
Show/Hide Results
Result: EVIL wins via pinfall after EVIL
Time: 15:33
Match Thoughts
Great match. Goto's shoulder was, of course, still a huge issue for him in this match. Even with his injury though, Goto was able to fight EVIL pretty evenly throughout the match. Goto was also proactive about Togo's inevitable influence and interference, and Goto was able to avoid many of the two-sided attacks that have worked so well for EVIL throughout the tournament. The final few minutes were quite good, and it had Goto shutting down all of Bullet Club's cheating which forced EVIL to actually fight. The final sequence leading directly into the finish was a lot of fun, and it left me feeling good about the match (regardless of the outcome).
Match 6
G1 Climax 30 B Block Match
SANADA (8 pts) vs Hiroshi Tanahashi (6 pts)
(referee: Red Shoes Unno)
Show/Hide Results
Result: SANADA wins via pinfall after a diving moonsault
Time: 28:25
Match Thoughts
Even with SANADA four points behind the block leaders and Tanahashi already eliminated, there was still a lot on the line in this match. A win for SANADA meant he still had a chance of winning the block, and since he has EVIL (one of the block leaders) on the final night, he would win via tiebreakers if he, EVIL, and Naito all tied as 12 points. A loss for Naito tonight meant immediate elimination though. For Tanahashi, it was more about pride and confidence. A loss tonight meant it would be impossible for Tanahashi to finish above 50% in the tournament, and he'd be tied for next-to-last in the block. With so much on the line, the match got pretty tense.
The action was great, and a lot of it focused around both men attacking each other's knees. Tanahashi's knees are a constant target for everyone, but Tanahashi was the first to really go after lower limbs in this match. Tanahashi started working on SANADA's knees fairly early in the match in hopes of setting up his Texas cloverleaf later on. SANADA was hobbled early, but he pushed through the pain and started attacking Tanahashi's knees in turn. SANADA's focus wasn't so much about setting up Tanahashi for a leg submission though, it was more about just picking the biggest and easiest target to slow Tanahashi down. As usual, SANADA started looking for Skull End late in the match, and he used that as a set up for his diving moonsault. Tanahashi knew what to look out for though, and that kept the match highly competitive all the way until the finish. This was one of the longer matches in this year's G1, and I really enjoyed every second of it.
Show Impressions
The show had its ups and downs, but I think it was more up than down. Juice vs ZSJ, Yano vs Naito, and the main event were all very entertaining, and they were all very important heading into the final round.
Match of the Night
SANADA vs Hiroshi Tanahashi
This was another one of those matches where no matter what the outcome was (barring a draw which would have been annoying and pointless), I knew I was going to be happy/sad. I think I was happier with the outcome as it happened rather than having it go the other way though. It set up what has the potential to be a very exciting finale of B Block in a few days.
Standings After Night 16
A Block

Show/Hide Results
| Wrestler | Points | Wins | Losses | Draws |
| --- | --- | --- | --- | --- |
| Jay White | 12 | 6 | 2 | 0 |
| Kazuchika Okada | 12 | 6 | 2 | 0 |
| Kota Ibushi | 12 | 6 | 2 | 0 |
| Will Ospreay (RPW British Heavyweight Champ) | 10 | 5 | 3 | 0 |
| Jeff Cobb * | 8 | 4 | 4 | 0 |
| Taichi * (IWGP Tag Champ) | 8 | 4 | 4 | 0 |
| Minrou Suzuki *(NEVER Openweight Champ) | 6 | 3 | 5 | 0 |
| Shingo Takagi * | 6 | 3 | 5 | 0 |
| Tomohiro Ishii *(NEVER 6-Man Champ) | 6 | 3 | 5 | 0 |
| Yujiro Takahashi * | 0 | 0 | 8 | 0 |
* = numerically eliminated
B Block

Show/Hide Results
| Wrestler | Points | Wins | Losses | Draws |
| --- | --- | --- | --- | --- |
| EVIL | 12 | 6 | 2 | 0 |
| Tetsuya Naito (IWGP IC & Heavyweight Champ) | 12 | 6 | 2 | 0 |
| SANADA | 10 | 5 | 3 | 0 |
| Zack Sabre Jr. (IWGP Tag Champ) | 10 | 5 | 3 | 0 |
| Hirooki Goto * (NEVER 6-Man Champ) | 8 | 4 | 4 | 0 |
| KENTA * | 8 | 4 | 4 | 0 |
| Hiroshi Tanahashi * | 6 | 3 | 5 | 0 |
| Juice Robinson * | 6 | 3 | 5 | 0 |
| Toru Yano * | 6 | 3 | 5 | 0 |
| YOSHI-HASHI * (NEVER 6-Man Champ) | 2 | 1 | 7 | 0 |
* = numerically eliminated
C Block (Young Lions)

Show/Hide Results
| Young Lion | Points | Wins | Losses | Draws |
| --- | --- | --- | --- | --- |
| Yota Tsuji | 12 | 5 | 4 | 2 |
| Yuya Uemura | 11 | 5 | 5 | 1 |
| Gabriel Kidd | 9 | 4 | 5 | 1 |
Official Results (Japanese): https://www.njpw.co.jp/tornament/255791?showResult=1