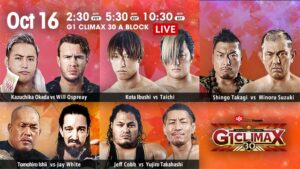 NJPW G1 Climax 30
Night 17
A Block: Round 9
#G1CLIMAX30
Event Date: October 16, 2020 (18:30 JST)
aired live on NJPW World
City: Yokoami, Sumida, Tokyo, Japan
Venue: Ryogoku Sumo Hall
Attendance: 2,863
Series: G1 Climax 30
Theme Song: "Blazing Souls" by 9mm Parabellum Bullet
Commentary (English – live remotely): Kevin Kelly, Rocky Romero, Chris Charlton
Commentary (Japanese): Milano Collection AT, Katsuhiko Kanazawa, Kazuki Kusanagi (1, 2), Yuichi Tabata (3, 5), Hiroki Mikami (4, 6)
Ring Announcer: Kimihiko Ozaki (1 – 3), Makoto Abe (4 – 6)
Video
The opening video looks at the G1 Climax 30 journeys of of all ten men in A Block heading into their final block matches tonight.
Match 1
Gabriel Kidd vs Yota Tsuji
(referee: Kenta Sato)
Show/Hide Results
Result: Yota Tsuji wins via submission with a Boston crab
Time: 6:52
Match Thoughts
This was a very good opener. If you're following along with the unofficial C Block competition, then Gabriel needed a win tonight and tomorrow night to win overall. Yota Tsuji just needed a win tonight to win the whole thing, and tomorrow's match (between Kidd and Uemura) would just be for a runner up. Maybe Tsuji was aware of that, because he started this match with speed and aggression. Tsuji overwhelmed Kidd early in the match, and even though Kidd did slow Tsuji down a bit in the middle of the match, Tsuji surged forward again later on. Tsuji was dominant tonight, and Kidd just wasn't able to contain Tsuji's power.
Match 2
G1 Climax 30 A Block Match
Yujiro Takahashi (0 pts) vs Jeff Cobb (8 pts)
(referee: Kenta Sato)
Show/Hide Results
Result: Yujiro Takahashi wins via pinfall after Pimp Juice
Time: 10:30
Match Thoughts
Very good match. This was by far Yujiro Takahashi's best match in the tournament (though it wasn't even close to Jeff Cobb's best). Coming with zero points made Takahashi feel dangerous, not because I thought that he should really be able to beat Cobb, but because I didn't really think anyone would leave the G1 without at least a single win. I wanted Cobb to win and make it to 10 points though, so that made the match tense for me as Takahashi started putting together some decent offense late in the match. Both men looked good tonight (and they seemed to gel better as the match went on), and Takahashi finally figured out what his fellow Bullet Club members already know: cheating with weapons is very helpful for your chances of winning.
Match 3
G1 Climax 30 A Block Match
Shingo Takagi (6 pts) vs Minoru Suzuki (6 pts) (NEVER Openweight Champ)
(referee: Marty Asami)
Show/Hide Results
Result: Shingo Takagi wins via pinfall after Last of the Dragon
Time: 12:29
Match Thoughts
Great match. Shingo and Suzuki started hitting each other right as the opening bell sounded. They exchanged a lot of strikes (of course), but Suzuki also started targeting Shingo's arm early in the match. With some creative use of the ropes to aid his efforts, Suzuki hurt Shingo's right arm to the point where it was visibly causing him pain throughout the match. Shingo would still throw strikes, but each one hurt his arm more and more. Suzuki also started going for his sleeper hold (presumably as a setup for his Gotch style piledriver), and the combination of an injured arm and repeated sleeper attempts severely hampered Shingo's offense. Shingo had to just swing as hard as he could whenever he could and hope some of his punches, forearms, and lariats would connect just right on Suzuki. This was a very fun match.
Intermission
The ring is cleaned and sanitized during a brief intermission.
Match 4
G1 Climax 30 A Block Match
Will Ospreay (10 pts) (RPW British Heavyweight Champ) vs Kazuchika Okada (12 pts)
(referee: Marty Asami)
Show/Hide Results
Result: Will Ospreay wins via pinfall after Stormbreaker (and an iron claw slam from Great-O-Kharn with a distraction from Bea Priestley)
Time: 17:04
Match Thoughts
Great match. This being a Chaos intra-faction match meant that both men knew each other extremely well, and that meant this match was filled with a whole bunch of great counter wrestling. Ospreay and Okada were after each other right at the bell, and they both wanted to get an early advantage. Ospreay focused mainly on speed and flying in his attacks, while Okada played good defense and went for a more all-around approach. Okada has multiple ways of beating people, and it felt like he was kind of hiding his ultimate goal for what he wanted to use to defeat Ospreay. That helped keep Ospreay somewhat off-guard, and it helped to make the match even more tense as time passed and the action picked up. There were some shenanigans involved in the finish which could be a bad thing depending on your point of view, but it was all well done. The end of this match was absolutely memorable and important regardless of how you feel about how it went down.
Match 5
G1 Climax 30 A Block Match
Taichi (8 pts) (IWGP Tag Champ) vs Kota Ibushi (12 pts)
(referee: Red Shoes Unno)
Show/Hide Results
Result: Kota Ibushi wins via pinfall after Kamigoye
Time: 17:12
Match Thoughts
This was a crazy match. It wasn't crazy because of any of Taichi's usual shenanigans or because of Ibushi's fast-paced offense it was crazy because the match consisted almost entirely of just kicks. Specifically, it was a match of kick after kick after kick to each man's thigh. Over and over. Ibushi challenged Taichi to fight him face to face in the center of the ring right when the match started, and that's just what Taichi did. They exchanged kicks, they staggered each other, then they exchanged more kicks. Taichi went for a suplex at one point in the match, but Ibushi countered it and yelled at Taichi for more kicks. So they kicked. Both men eventually settled on kicking the left thigh of their opponent, and they kept doing that until they could barely stand. This was a test of toughness and of will, and it was baffling and amazing to watch. Neither man is going to be walking well for a while, and with Ibushi still in competition for the top of the block, one has to question how wise it was to have a match like this. Regardless of the wisdom of the match within the context of the tournament, it's definitely a match that will be remembered.
Match 6
G1 Climax 30 A Block Match
Jay White (12 pts) w/ Gedo vs Tomohiro Ishii (6 pts) (NEVER 6-Man Champ)
(referee: Red Shoes Unno)
Show/Hide Results
Result: Tomohiro Ishii wins via pinfall after a vertical drop brainbuster
Time: 24:35
Match Thoughts
Great match. A win for White meant he'd tie Ibushi in points, but since White beat Ibushi in the tournament already, that meant White would win the block in a tie breaker. Ishii was already out of competition, but a win over one of the block leaders is always a big deal. With all of that in mind, and with as dangerous as White can be, this became a very tense and exciting match.
White is one of the smartest and dirtiest wrestlers in NJPW, and he relentlessly targeted Ishii's taped knee. It was clear that Ishii's knee was bothering him very early in the match, and White's attacks exacerbated the problem to the point where Ishii had a hard time walking at times. A hurt knee also meant that Ishii's best weapons (his strikes) wouldn't be at full strength. White had a great game plan with his attacks to the knee, and as always, Gedo was there for the save when Ishii started to gain momentum. What White probably didn't expect was for Ishii to start targeting White's knees partway through the match. Ishii started dishing back some of the knee attacks White was doing, and that caught White by surprise. White got desperate, and Gedo got even more blatant than usual with his distractions and attempted attacks. But Ishii's attacks might have been too late, and too much damage might have already been done, that made the final few minutes of the match more and more tense with every strike, slam, and near fall. This was a great way to end A Block action, and it was a great way to highlight Ishii even though he didn't have a chance of winning the block regardless of the outcome of this match.
Show Impressions
This was a great final night of A Block competition. There were multiple big moments, and once again Jay White made things incredibly tense. I am very happy with the winner of the block, though I wonder how much he'll be able to recover for the final match in just two days.
Match of the Night
Jay White vs Tomohiro Ishii
White and Ishii were able to use the tension built around the points battle between White and Ibushi to great effect. Plus, White's plan of attack was very smart, and it forced Ishii into doing things in this match we never see him do. After being one of the smartest guys in the tournament, it was a ton of fun to see White get outsmarted by a guy who almost always just uses brute force to overcome obstacles.
Standings After Night 17
A Block

Show/Hide Results
| Wrestler | Points | Wins | Losses | Draws |
| --- | --- | --- | --- | --- |
| Kota Ibushi - Winner | 14 | 7 | 2 | 0 |
| Will Ospreay * (RPW British Heavyweight Champ) | 12 | 6 | 3 | 0 |
| Jay White * | 12 | 6 | 3 | 0 |
| Kazuchika Okada * | 12 | 6 | 3 | 0 |
| Taichi * (IWGP Tag Champ) | 8 | 4 | 5 | 0 |
| Tomohiro Ishii *(NEVER 6-Man Champ) | 8 | 4 | 5 | 0 |
| Jeff Cobb * | 8 | 4 | 5 | 0 |
| Shingo Takagi * | 8 | 4 | 5 | 0 |
| Minrou Suzuki *(NEVER Openweight Champ) | 6 | 3 | 6 | 0 |
| Yujiro Takahashi * | 2 | 1 | 8 | 0 |
* = eliminated
B Block

Show/Hide Results
| Wrestler | Points | Wins | Losses | Draws |
| --- | --- | --- | --- | --- |
| EVIL | 12 | 6 | 2 | 0 |
| Tetsuya Naito (IWGP IC & Heavyweight Champ) | 12 | 6 | 2 | 0 |
| SANADA | 10 | 5 | 3 | 0 |
| Zack Sabre Jr. (IWGP Tag Champ) | 10 | 5 | 3 | 0 |
| Hirooki Goto * (NEVER 6-Man Champ) | 8 | 4 | 4 | 0 |
| KENTA * | 8 | 4 | 4 | 0 |
| Hiroshi Tanahashi * | 6 | 3 | 5 | 0 |
| Juice Robinson * | 6 | 3 | 5 | 0 |
| Toru Yano * | 6 | 3 | 5 | 0 |
| YOSHI-HASHI * (NEVER 6-Man Champ) | 2 | 1 | 7 | 0 |
* = eliminated
C Block (Young Lions)

Show/Hide Results
| Young Lion | Points | Wins | Losses | Draws |
| --- | --- | --- | --- | --- |
| Yota Tsuji - Winner | 14 | 6 | 4 | 2 |
| Yuya Uemura * | 11 | 5 | 5 | 1 |
| Gabriel Kidd * | 9 | 4 | 6 | 1 |
Official Results (Japanese): https://www.njpw.co.jp/tornament/255792?showResult=1