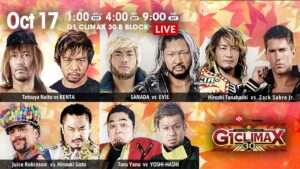 NJPW G1 Climax 30
Night 18
B Block: Round 9
#G1CLIMAX30
Event Date: October 17, 2020 (0 JST)
aired live on NJPW World
City: Yokoami, Sumida, Tokyo, Japan
Venue: Ryogoku Sumo Hall
Attendance: 2,917
Series: G1 Climax 30
Theme Song: "Blazing Souls" by 9mm Parabellum Bullet
Commentary (English – live remotely): Kevin Kelly, Rocky Romero, Chris Charlton
Commentary (Japanese): Milano Collection AT, Kazuo Yamazaki, Hiroki Mikami (1, 4), Shunpei Terakawa (2, 6), Yohei Onishi (3, 5), Hiromu Takahashi (2 – 6)
Ring Announcer: Kimihiko Ozaki (1 – 3), Makoto Abe (4 – 6)
Video
The opening video looks at the journeys of of all ten men in B Block heading into their final block matches tonight.
Match 1
Gabriel Kidd vs Yuya Uemura
(referee: Kenta Sato)
Show/Hide Results
Result: Gabriel Kidd wins via pinfall after a double underhook suplex
Time: 8:16
Match Thoughts
Gabriel Kidd seemed to take his loss to Yota Tsuji last night pretty hard, but he came into tonight's match with a strong game plan. Kidd used his technical skills to keep Uemura close and to work on Uemura's back and shoulders as a setup for his double underhook suplex. Kidd also unleashed some strikes throughout the match, and he seemed to be in control most of the time. Uemura struggled to gain any traction in the match even though he fought well.
Match 2
G1 Climax 30 B Block Match
YOSHI-HASHI (2 pts) (NEVER 6-Man Champ) vs Toru Yano (6 pts)
(referee: Kenta Sato)
Show/Hide Results
Result: YOSHI-HASHI wins via pinfall with a roll-up
Time: 6:10
Match Thoughts
As usual, this was a fun Yano match. YOSHI-HASHI attempted to beat Yano at his own game by taping Yano's arm to YOSHI-HASHI's bo staff through the barricade, but Yano was able to survive that trick and continue the match. After that, the match became a battle to see who could hit a low blow first. This wasn't my favorite match from either guy in the tournament, but it was still light and fun.
Match 3
G1 Climax 30 B Block Match
Hirooki Goto (8 pts) (NEVER 6-Man Champ) vs Juice Robinson (6 pts)
(referee: Marty Asami)
Show/Hide Results
Result: Juice Robinson wins via pinfall after Pulp Friction
Time: 12:07
Match Thoughts
Very good match. Juice was extremely disappointed after his last loss in the tournament meant he couldn't make it to ten points this year, but he came into tonight's match with his spirits up. Goto's shoulder, once again, continued to be a problem tonight. Even though Goto tried not to show it, his should did affect him in this power versus power match with Juice. Juice kept looking for his signature punches, and once he started hitting a few, Goto started to slow down. This was a solid match, but I think the best part was really just seeing Juice his energized and flamboyant self after being so frustrated in some of the most recent events.
Intermission
The ring is cleaned and sanitized during a brief intermission.
Match 4
G1 Climax 30 B Block Match
Hiroshi Tanahashi (6 pts) vs Zack Sabre Jr. (10 pts) (IWGP Tag Champ)
(referee: Marty Asami)
Show/Hide Results
Result: Hiroshi Tanahashi wins via pinfall with a roll-up counter to a cross armbreaker
Time: 12:01
Match Thoughts
Great match. Tanahashi and ZSJ have fought each other a lot over the past few years, and they know each other well. That meant Tanahashi was able to anticipate some of ZSJ's methods, and The Ace was able to have a lot of good counters ready when the time came. ZSJ is one of the best counter wrestlers in the world though, so even though Tanahashi was as prepared as he could have been, ZSJ still looked better on the mat. The match did spend a lot of time on the mat, so ZSJ had more control throughout the match. ZSJ started to get into trouble when both men were standing and moving around the ring, but ZSJ was wise enough to take the fight back down to the mat before Tanahashi could do too much damage. Tanahashi had to look for great counters as his only real shot of winning this match, and it was a lot of fun to watch.
Match 5
G1 Climax 30 B Block Match
KENTA (8 pts) vs Tetsuya Naito (12 pts) (IWGP IC & Heavyweight Champ)
(referee: Red Shoes Unno)
Show/Hide Results
Result: KENTA wins via pinfall with an inside cradle
Time: 21:06
Match Thoughts
Great match. With instant elimination if he lost this match, and with winning the block only possible with a win here and a SANADA win in the main event, Tetsuya Naito looked very serious as he headed to the ring tonight. KENTA didn't have anything more to lose since he was already out of competition, but he had a ton to gain if he could beat the double champ and spoil (almost) everyone's night. So even though Naito did tell KENTA to be a bit more tranquilo near the beginning of the match, KENTA really did seem like he was more relaxed throughout a large part of this match. This was a good fight that built up very well. There was a moment fairly early in the match where KENTA smashed his US Title contract briefcase into Naito's head, and that changed the tone of the match. KENTA really started to take over, but as he often does, Naito surged late in the match in an effort to build up to his biggest moves. KENTA remained mostly calm though, and he was looking for openings in Naito's offense. This might have been KENTA's best match in the tournament, and I think it was absolutely his most important.
Match 6
G1 Climax 30 B Block Match
EVIL (12 pts) w/ Dick Togo vs SANADA (10 pts)
(referee: Red Shoes Unno)
Show/Hide Results
Result: SANADA wins via pinfall with an O'Connor Roll
Time: 27:01
Match Thoughts
Great match. With Naito eliminated by KENTA in the previous match, SANADA vs EVIL would decide the winner of B Block. SANADA needed nothing less than a victory over EVIL to win overall, but EVIL could win the block with anything else (victory, draw, double DQ, etc.). With both guys knowing each other so well and with SANADA having a habit of fighting long matches in the G1, the tension in the match was high to begin with. The fight itself was very entertaining. SANADA was varied in his attacks and smart in his approach, and EVIL worked well to supplement his already formidable offense with the help of Dick Togo. One thing (or rather, on person) that EVIL and Togo didn't count on was that Hiromu Takahashi was doing guest commentary at ringside. LIJ members haven't often interfered in their stablemates matches out of respect, but EVIL repeatedly mocking Hiromu early in the match probably stirred up the already erratic Hiromu Takahashi. Even so, Togo had to get extremely involved in the match before Hiromu would finally step in to try to even the odds. The intensity in the match picked up more and more, especially after the fight passed the twenty minute mark, and it all led to a finish with lots of action, lots of chaos, and more than a few heart-stopping near falls. This was a superb way to end block action of this year's G1.
Show Impressions
I enjoyed this show quite a lot. Of course it was disappointing seeing Naito lose almost right at the end, but having KENTA beat him was probably a good choice for long-term rivalries. Also, it set up a scenario where I I could fully support SANADA in the main event and have instant gratification with however the final match of the night ended up.
Match of the Night
EVIL vs SANADA
SANADA got off to a not-so-great start in the tournament, but much like Jay White did last year, he pushed hard in his later matches and came away with huge victories. Is it finally time for SANADA to reach the next level? I think he's been ready for a long time, but it looks like NJPW might finally be thinking the same thing.
Standings After Night 18
A Block

Show/Hide Results
| Wrestler | Points | Wins | Losses | Draws |
| --- | --- | --- | --- | --- |
| Kota Ibushi - Winner | 14 | 7 | 2 | 0 |
| Will Ospreay * (RPW British Heavyweight Champ) | 12 | 6 | 3 | 0 |
| Jay White * | 12 | 6 | 3 | 0 |
| Kazuchika Okada * | 12 | 6 | 3 | 0 |
| Taichi * (IWGP Tag Champ) | 8 | 4 | 5 | 0 |
| Tomohiro Ishii *(NEVER 6-Man Champ) | 8 | 4 | 5 | 0 |
| Jeff Cobb * | 8 | 4 | 5 | 0 |
| Shingo Takagi * | 8 | 4 | 5 | 0 |
| Minrou Suzuki *(NEVER Openweight Champ) | 6 | 3 | 6 | 0 |
| Yujiro Takahashi * | 2 | 1 | 8 | 0 |
* = eliminated
B Block

Show/Hide Results
| Wrestler | Points | Wins | Losses | Draws |
| --- | --- | --- | --- | --- |
| SANADA - Winner (tie-breaker wins over EVIL and Naito) | 12 | 6 | 3 | 0 |
| EVIL * | 12 | 6 | 3 | 0 |
| Tetsuya Naito *(IWGP IC & Heavyweight Champ) | 12 | 6 | 3 | 0 |
| KENTA * | 10 | 5 | 4 | 0 |
| Zack Sabre Jr. * (IWGP Tag Champ) | 10 | 5 | 4 | 0 |
| Hirooki Goto * (NEVER 6-Man Champ) | 8 | 4 | 5 | 0 |
| Hiroshi Tanahashi * | 8 | 4 | 5 | 0 |
| Juice Robinson * | 8 | 4 | 5 | 0 |
| Toru Yano * | 6 | 3 | 6 | 0 |
| YOSHI-HASHI * (NEVER 6-Man Champ) | 4 | 2 | 7 | 0 |
* = eliminated
C Block (Young Lions)

Show/Hide Results
| Young Lion | Points | Wins | Losses | Draws |
| --- | --- | --- | --- | --- |
| Yota Tsuji - Winner | 14 | 6 | 4 | 2 |
| Gabriel Kidd * | 11 | 5 | 6 | 1 |
| Yuya Uemura * | 11 | 5 | 6 | 1 |
Official Results (Japanese): https://www.njpw.co.jp/tornament/255793?showResult=1