NJPW World Tag League 2020 & Best of the Super Jr. 27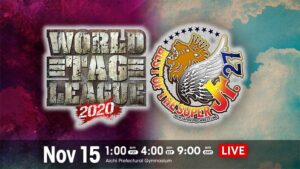 Round 1
#njwtl #njbosj
Event Date: November 15, 2020 (18:00 JST)
(aired live on NJPW World)
City: Naka, Nagoya, Aichi, Japan
Venue: Aichi Prefectural Gymnasium (Dolphin's Arena)
Attendance: 2,558
Tour: World Tag League 2020 & Best of the Super Jr. 27
Commentary (Japanese): MIlano Collection AT, Jushin Thunder Liger, Shigeki Kiyono
Ring Announcer: Kimihiko Ozaki (1 – 5), Makoto Abe (6 – 10)
Video
We are introduced to this year's combo tour of World Tag League and the Best of the Super Jr. tournament.
Match 1
World Tag League Block Match
Chase Owens & Bad Luck Fale (0 pts) vs Toru Yano (KOPW 2020 Provisional Champ) & Tomohiro Ishii (NEVER 6-Man Champ) (0pts)
(referee: Kenta Sato)
Show/Hide Results
Result: Toru Yano pins Bad Luck Fale after getting Chase Owens to splash Fale and then jumping on the pile
Time: 5:35
Match Thoughts
This was a fun way to start the tournament. Owens and Fale seemed a bit rusty working as a team, and the team of Yano and Ishii was able to take advantage of that. With Ishii's power and Yano's trickery, the Chaos team was able to befuddle the Bullet Club team throughout a lot of the match. The finish was a bit silly and a lot of fun, but Yano paid for it with a post-match attack from Fale and Owens.
Match 2
Best of the Super Jr. 27 Block Match
Yuya Uemura (0 pts) vs Master Wato (0 pts) w/ Hiroyoshi Tenzan
(referee: Kenta Sato)
Show/Hide Results
Result: Master Wato wins via pinfall after TTD
Time: 4:14
Match Thoughts
This was a fine match. I really enjoyed seeing Uemura go right after Wato as soon as the bell rang. Wato seemed to be caught by surprise, and that allowed Uemura to keep his advantage throughout most of this short match. Wato figured Uemura out after a while and hit a few big moves to put the young lion down, but this was a strong showing from Uemura (the competitor most likely to get zero points in the tournament).
Match 3
World Tag League Block Match
Jeff Cobb & Great-O-Khan (0) vs Toa Henare & Hiroshi Tanahashi (0)
(referee: Kenta Sato)
Show/Hide Results
Result: Jeff Cobb pins Toa Henare after Tour of the Islands
Time: 2:28
Match Thoughts
This was extremely short, and its main purpose was to reveal the fact that Jeff Cobb has joined The Empire. Cobb did well in the G1 this year, but a change of attitude might be helpful in getting him a firm spot in the upper levels of the roster. He also adds a lot of credibility and danger to The Empire. As for this match, Khan and Cobb dominated. Khan was able to eliminate Tanahashi from the match for a short while, and that was all the time Khan and Cobb needed to double-team finish off Henare. This was a powerful statement for The Empire, but we'll see how they fare as the tournament goes on.
Ring Area
After the match, Great-O-Khan pulls Tanahashi into the ring and puts him in a knee bar. Young lions rush in to stop Khan, but Cobb fights them all off. Khan then grabs a chair and smashes Tanahashi in his knee.
Match 4
Best of the Super Jr. 27 Block Match
Douki (0) vs Robbie Eagles (0)
(referee: Kenta Sato)
Show/Hide Results
Result: Robbie Eagles wins via submission with the Ron Miller Special
Time: 10:35
Match Thoughts
Very good match. Eagles kept the pace high throughout most of this match. He had a solid game plan, and he targeted Douki's leg with most of his offense. Douki was looking to hurt Eagles much like he did in their Best of the Super Jr. 26 match last year, but Eagles was able to mostly stay away from Douki's dirty tricks. By the end of the match, Eagles was kicking Douki at will, and Douki had no answer for Eagles' attack on his knee. This was an impressive start for Robbie Eagles.
Match 5
World Tag League Block Match
YOSHI-HASHI (NEVER 6-Man Champ) & Hirooki Goto (NEVER 6-Man Champ) (0) vs Zack Sabre Jr. & Taichi (IWGP Tag Champs) (0)
(referee: Marty Asami)
Show/Hide Results
Result: Zack Sabre Jr. pins YOSHI-HASHI with a sunset flip
Time: 10:29
Match Thoughts
Very good match. Taichi and ZSJ started the match well, but Goto and YOSHI-HASHI managed to isolate and double-team both Taichi and ZSJ in sequence. The tag champs looked like they were in serious trouble to start the tournament, but ZSJ was able to use his technical skills within the considerable chaos of this match to give his team an edge. This was was fun.
Intermission
The ring is cleaned and sanitized during a brief intermission.
Match 6
Best of the Super Jr. 27 Block Match
BUSHI (0) vs SHO (0)
(referee: Marty Asami)
Show/Hide Results
Result: SHO wins via pinfall after Shock Arrow
Time: 10:20
Match Thoughts
Very good match. SHO is strong and aggressive, so BUSHI had to use his speed and some counters to try to get a win over him. I like SHO a lot, and I think I might be pulling for him in this year's tournament. I think he stands a good chance of winning, and this match showed why. BUSHI hit SHO with a lot, but SHO pushed through and was able to use his strength to dominate large parts of the match. This was a good start for SHO.
Match 7
World Tag League Block Match
Yujiro Takahashi & EVIL (0) w/ Dick Togo vs SANADA & Shingo Takagi (NEVER Openweight Champ) (0)
(referee: Marty Asami)
Show/Hide Results
Result: EVIL pins SANADA after EVIL
Time: 12:20
Match Thoughts
Very good match. Bullet Club got the first attack as they often do (with a pre-match ambush), and LIJ had a hard time coming back from that. SANADA ended up getting isolated and double-teamed for a very long time, and the addition of Dick Togo causing distractions made things even worse. There was tension surrounding whether or not Shingo might be able to get back into the match after being taken out partway through, but tonight wasn't LIJ's night. It wasn't the ring announcers night either. Makoto Abe was slammed into twice as SANADA was sent hard into the barricade twice within the span of a minute or two. Abe was thrown backward and dumped over twice in what turned out to be a rough night for him as well.
Match 8
Best of the Super Jr. 27 Block Match
El Desperado (0) (IWGP Jr. Tag Champ) vs Ryusuke Taguchi (0)
(referee: Red Shoes Unno)
Show/Hide Results
Result: Ryusuke Taguchi wins via pinfall with a roll-up
Time: 12:35
Match Thoughts
Very good match, and very fun. El Desperado was maybe a bit too confident heading into the ring with Taguchi. Taguchi likes to have fun and be silly, but he can also wrestle. If you're not paying enough attention to what he's doing, he can catch you with some surprisingly effective offense, and that's just what happened to El Desperado tonight. There was definitely some silliness going on here, but if I didn't know better, I'd think Taguchi was just doing that to lull El Despardo into a false sense of security.
Match 9
World Tag League Block Match
Guerrillas of Destiny (0) w/ Jado vs David Finlay & Juice Robinson (0)
(referee: Red Shoes Unno)
Show/Hide Results
Result: Juice Robinson pins Tama Tonga after the Doomsday Device
Time: 16:42
Match Thoughts
Great match! Finlay and Juice started strong, but GOD were able to isolate Finlay for a very long time. By the time Juice was able to get back into the fight, Finlay was beat up to the point where he couldn't help his partner. That led to Juice getting isolated and beaten up for a long time. GOD had a good game plan, and they executed it well. What they didn't count on was Juice's resiliency and the chaos Finlay brought to the match when he was rested enough to rejoin the fray. Finlay and Juice together were a lot to handle, and GOD seemed to be thrown off. The finish came quick once FinJuice were back at full strength. This was a very nice way to end the first round of block competition in the World Tag League.
Match 10
Best of the Super Jr. 27 Block Match
Hiromu Takahashi (0) vs Taiji Ishimori (0) (IWGP Jr. Heavyweight Champ)
(referee: Red Shoes Unno)
Show/Hide Results
Result: Hiromu Takahashi wins via pinfall after Time Bomb
Time: 20:06
Match Thoughts
Great match! Both men did their best to get a strong start in the tournament, and regardless of the result, I think they both achieved that goal. Of course one of them lost, but they both looked very good throughout the match. Both men hit their opponent with some devastating moves throughout the match, but Ishimori was really the first to get a clear advantage. Partway through the match, Ishimori hit Takahashi with a vicious piledriver on the apron. Takahashi took a long time to recover, and it felt like that might be the beginning of the end. Takahashi has an abnormal ability to continue to fight despite taking tremendous amounts of punishment, and he did that here tonight. Takahashi slowly made his way back into the match with some very nice counters. And those counters opened Ishimori up to taking a rapid series of some of Takahashi's most brutal attacks. It was a good finish to a great match.
Show Impressions
This was a fun show. I've gotten used to seeing only six matches on NJPW shows since the return from the pandemic hiatus, so having ten matches tonight felt quite a bit different. More matches meant that some of those matches would be significantly shorter than what we've gotten used to, and those matches were all kept to the front of the show. The shorter matches allowed some storytelling and table setting for the rest of the tournament, so I thought it worked out well.
I believe the format after tonight will be to alternate tournaments on each consecutive night, though they may change that up at times. I'm fine either way, because even though tonight's show was longer than usual, I thought it flowed very well. There was no real down time, and the matches were all interesting in their own ways. I don't know if I'm ready to jump into another marathon session of tournament viewing so close after the G1, but I know I'll enjoy what I see.
Match of the Night
FinJuice vs GOD / Hiromu Takahashi vs Taiji Ishimori
This is a combo show, so I feel it's fair that I pick one match from each tournament as my favorite of the night. The matches got better as the night went along, so naturally these final two matches would be the best. They were significantly more exciting than the rest of the show though, so tonight's pick was incredibly easy.
Standings After Round 1
World Tag League 2020

Show/Hide Results
| Team | Points | Wins | Losses | Draws |
| --- | --- | --- | --- | --- |
| EVIL & Yujiro Takahashi | 2 | 1 | 0 | 0 |
| Great-O-Khan & Jeff Cobb | 2 | 1 | 0 | 0 |
| Juice Robinson & David Finlay | 2 | 1 | 0 | 0 |
| Taichi & Zack Sabre Jr. | 2 | 1 | 0 | 0 |
| Tomohiro Ishii & Toru Yano | 2 | 1 | 0 | 0 |
| Bad Luck Fale & Chase Owens | 0 | 0 | 1 | 0 |
| Guerrillas of Destiny | 0 | 0 | 1 | 0 |
| Hirooki Goto & YOSHI-HASHI | 0 | 0 | 1 | 0 |
| Hiroshi Tanahashi & Toa Henare | 0 | 0 | 1 | 0 |
| Shingo Takagi & SANADA | 0 | 0 | 1 | 0 |
Best of the Super Jr. 27

Show/Hide Results
| Wrestler | Points | Wins | Losses | Draws |
| --- | --- | --- | --- | --- |
| Hiromu Takahashi | 2 | 1 | 0 | 0 |
| Master Wato | 2 | 1 | 0 | 0 |
| Robbie Eagles | 2 | 1 | 0 | 0 |
| Ryusuke Taguchi | 2 | 1 | 0 | 0 |
| SHO | 2 | 1 | 0 | 0 |
| BUSHI | 0 | 0 | 1 | 0 |
| Douki | 0 | 0 | 1 | 0 |
| El Desperado (Jr. Tag Champ) | 0 | 0 | 1 | 0 |
| Taiji Ishimori (Jr. Heavyweight Champ) | 0 | 0 | 1 | 0 |
| Yuya Uemura | 0 | 0 | 1 | 0 |
Official Results (Japanese): https://www.njpw.co.jp/tornament/263241?showResult=1