NJPW World Tag League 2020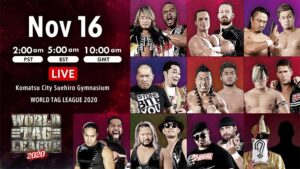 Round 2
#njwtl
Event Date: November 16, 2020 (19:00 JST)
aired live on NJPW World
City: Komatsu, Ishikawa, Japan
Venue: Komatsu City Suehiro Gymnasium (Yoshitsune Arena)
Attendance: 1,433
Tour: World Tag League 2020 & Best of the Super Jr. 27
Commentary (Japanese): Milano Collection AT, Jushin Thunder Liger, Shigeki Kiyono
Ring Announcer: Kimihiko Ozaki (1 – 3), Makoto Abe (4 – 6)
Video
A look at the ten tag teams entered in this year's World Tag League.
Match 1
Gabriel Kidd vs Yota Tsuji
(referee: Kenta Sato)
Show/Hide Results
Result: Yota Tsuji wins via submission with a Boston crab
Time: 7:36
Match Thoughts
Good match. Kidd was extremely aggressive, possibly due to the fact that Tsuji had the best record out of the three young lions on the G1 Climax tour. But Kidd is always aggressive, so maybe he just wanted a good start to this tour. Whatever the reason, Kidd looked very good against Tsuji. Tsuji also looked good though, and this match allowed him to show of some of his agility and his ability to fight back from behind.
Match 2
World Tag League 2020 Block Match
Chase Owens & Bad Luck Fale (0 pts) vs Guerrillas of Destiny (0 pts) w/ Jado
(referee: Kenta Sato)
Show/Hide Results
Result: Tama Tonga submits Chase Owens with a scorpion deathlock
Time: 10:07
Match Thoughts
Very good match. All five of these members of Bullet Club gave a "too Sweet" salute together before the match, but Chase Owens was a little annoyed when the Guerrillas of Desinty and Jado did their own too sweet afterwards. Owens was even more annoyed when Tama Tonga dropkicked him when Owens wasn't looking right at the start of the match. Owens seemed to think Bullet Club might play fair within the match, but Tama Tonga and Tanga Loa had no interest in that. Owens got isolated for a long time, and he had to fight like an underdog to eventually get a tag to Bad Luck Fale. Fale reset the match to a certain degree by taking on both members of GOD, but with Owens still recovering, Fale began to wear down. Owens had a second wind, but he had taken a lot of damage earlier that GOD capitalized on. This was a fun match, and it was a good rebound match for GOD's unfortunate start to the tournament last night.
Match 3
World Tag League 2020 Block Match
Jeff Cobb & Great-O-Khan (2 pts) vs YOSHI-HASHI & Hirooki Goto (0 pts) (NEVER 6-Man Champs)
(referee: Marty Asami)
Show/Hide Results
Result: Hirooki Goto pins Great-O-Khan with a crucifix hold
Time: 13:41
Match Thoughts
Very good match. It was nice to see The Empire (Cobb and Great-O-Khan) wrestle a full match after their practical squash performance last night. Cobb and Khan have a methodical pace to how they work as a team. They tend to approach situations slowly and used a few high-impact moves to dominate the ring. They're also good at cutting off and isolating their opponents. At least, they were good at that tonight. YOSHI-HASHI got isolated for a long time in this match, and he never really figured out how to deal with either of his opponents. It took Goto's help for the Chaos team to really get any sort of offense. Goto looked very good though, and his experience advantage over Great-O-Khan was a deciding factor in the finish. I like that this match kept The Empire as a strong force, but it showed that they might have some weaknesses in their approach and in the fact that they're a new faction with little experience as a team.
Intermission
The ring is cleaned and sanitized during a brief intermission.
Match 4
World Tag League 2020 Block Match
Yujiro Takahashi & EVIL (2 pts) w/ Dick Togo vs David Finlay & Juice Robinson (2 pts)
(referee: Marty Asami)
Show/Hide Results
Result: EVIL pins David Finlay after EVIL (and a low blow)
Time: 12:11
Match Thoughts
Very good match. FinJuice looked good to start, but Bullet Club's chaotic, cheating ways managed to isolate David Finlay for a good part of the match. Finlay fought back and finally got a tag to Juice, and that opened the match up. Juice dominated for a while, but chaos creeped back into the match. Whenever the match goes off the rails, Bullet Club tend to have the advantage. Not only are they more proficient cheaters, but they have a man advantage with Dick Togo wandering around ringside. Cheating and distractions abounded, and even though FinJuice were the better fighters and the better team, Bullet Club was always dangerous. EVIL carried his team through this match, and he was involved in the finish, a finish which has become annoyingly common whenever EVIL is around.
EVIL also seems to be starting a weird feud with ring announcer Makoto Abe. Last night he ran SANADA into the barricade in front of where Abe was sitting, sending Abe crashing hard to the floor both times. You could maybe excuse that as an unfortunate mistake, but tonight there was no mistake. At one point early in the match EVIL took David Finlay halfway around ringside just so he would be in position to slam him into the barricade in front of Abe. Abe went down hard once again. I'm not sure what the point of that is other than just to be a huge jerk. I mean, I suppose that probably is the point, but it does distract the referee quite a lot. Togo was able to completely remove the turnbuckle pad in Bullet Club's corner while the referee was checking on Abe, so that's probably part of the reason he did it. Plus, yeah, EVIL is a huge jerk.
Match 5
World Tag League 2020 Block Match
Toru Yano (KOPW 2020 Provisional Champ) & Tomohiro Ishii (NEVER 6-Man Champ) (2 pts) vs SANADA & Shingo Takagi (NEVER Openweight Champ) (2 pts)
(referee: Red Shoes Unno)
Show/Hide Results
Result: SANADA pins Toru Yano with a bridging O'Connor roll
Time: 12:24
Match Thoughts
Very good match. Most of the focus seemed to be on SANADA versus Yano, and that was a lot of fun. Shingo and Ishii got involved and fought each other for a while, but they fell into more supporting roles as the match went on. With multiple people around, Yano found it difficult to get his tricks to work, but he sure did try. I think for Ishii and Yano to be successful Ishii is either going to have to take the lead or he's going to have to be in full support of Yano's tactics. Right now it feels like they're both kind of doing their own things a lot of the time, and that allows great tandems (like Shingo and SANADA) to use teamwork to dominate the match. Tonight, SANADA stood out by out-thinking and outworking Yano with some strong support from Shingo.
Match 6
World Tag League 2020 Block Match
Toa Henare & Hiroshi Tanahashi (0 pts) vs Zack Sabre Jr. & Taichi (IWGP Tag Champs) (2 pts)
(referee: Red Shoes Unno)
Show/Hide Results
Result: Taichi pins Toa Henare after Zack Mephisto
Time: 19:37
Match Thoughts
Very good match. Tanahashi and Henare had a better match tonight than they had last night, but going up against the tag champs is a tough draw for round two. Plus, Dangerous Tekkers know how to take Tanahashi out of a match after their lengthy rivalry with Golden Ace over the past few months, and that's just what they did. Taichi and ZSJ attacked Tanahashi's knees early in the match, and that had Tanahashi struggling to get any sort of offense. Henare had to take the bulk of his team's work, and even though that did allow Henare to step up and show what he brings to the team, it also meant he was at an extreme disadvantage. Henare looked good, but the teamwork of Dangerous Tekkers was too much for him. The tag champs look good in the tournament so far, and this was a fun match.
Show Impressions
I enjoyed this show. I think last night's match between FinJuice and GOD is still the best so far in the tournament, but all of tonight's matches were fun. I also appreciate that since there were only six matches instead of ten like last night, all of tonight's matches had more time to develop. So overall, Round 2 was probably better than Round 1.
Match of the Night
Toa Henare & Hiroshi Tanahashi vs Dangerous Tekkers
The LIJ/Chaos match was also really good, but I think the main event was better overall.
Standings After Round 2
World Tag League 2020

Show/Hide Results
| Team | Points | Wins | Losses | Draws |
| --- | --- | --- | --- | --- |
| EVIL & Yujiro Takahashi | 4 | 2 | 0 | 0 |
| Taichi & Zack Sabre Jr. | 4 | 2 | 0 | 0 |
| Shingo Takagi & SANADA | 2 | 1 | 1 | 0 |
| Tomohiro Ishii & Toru Yano | 2 | 1 | 1 | 0 |
| Hirooki Goto & YOSHI-HASHI | 2 | 1 | 1 | 0 |
| Juice Robinson & David Finlay | 2 | 1 | 1 | 0 |
| Great-O-Khan & Jeff Cobb | 2 | 1 | 1 | 0 |
| Guerrillas of Destiny | 2 | 1 | 1 | 0 |
| Bad Luck Fale & Chase Owens | 0 | 0 | 2 | 0 |
| Hiroshi Tanahashi & Toa Henare | 0 | 0 | 2 | 0 |
Official Results (Japanese): https://www.njpw.co.jp/tornament/263242?showResult=1