NJPW Strong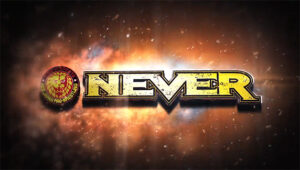 Episode 12
NEVER Night 2
#njpwstrong
Original Air Date: October 23, 2020
Event Date: ?
(uploaded to NJPW World)
City: Port Hueneme, CA (unconfirmed)
Venue: Oceanview Pavilion (empty arena) (unconfirmed)
Series: NEVER
Commentary (English): Kevin Kelly, Alex Koslov
Ring Announcer: Adnan Kureishy (ringside)
Intro Video
Ring Area
Kevin Kelly and Alex Koslov welcome us tonight's show.
Match 1
Clark Connors vs Fred Rosser
(referee: Sparky Ballard)
Show/Hide Results
Result: Fred Rosser wins via pinfall after Gutcheck (pop-up double knee gutbuster)
Time: 6:00
Match Thoughts
Good match. Clark Connors has always been very aggressive, and coming off his win of the Lion's Break: Crown tournament made it feel like he might have a real chance against the much bigger Fred Rosser. Connors started Strong and even had Rosser leave the ring to regroup early in the match. Rosser was able to weather Connors' attacks though, and once Rosser was able to string together a nice series of his own moves, Connors struggled to maintain his momentum. This was a nice fight.
Match 2
Karl Fredericks vs ACH
(referee: Justin Borden)
Show/Hide Results
Result: Karl Fredericks wins via pinfall after Manifest Destiny (implant DDT)
Time: 6:22
Match Thoughts
Very good match. It looked like business as usual for ACH when the match started, but by the end of the match Fredericks was countering a lot of ACH's moves with some smart wrestling. I think by the time ACH realized that Fredericks was going to be more difficult to defeat than he thought, Fredericks was already solidly in control of the match. This felt like an important step forward for Fredericks.
Intermission
The ring is cleaned and sanitized during a brief intermission.
Match 3
Guerrillas of Destiny vs Brody King & Flip Gordon
(referee: Justin Borden)
Show/Hide Results
Result: Tama Tonga pins Flip Gordon after Gun Stun
Time: 7:39
Match Thoughts
Very good match. Brody King was the most dominant person in the match. Every time King was in the ring he dominated, and it took both members of GOD to deal with him. Flip Gordon had a much more difficult time maintaining any sort of offense. Tama Tonga and Tanga Loa were able to isolate Gordon which severely hurt his effectiveness. GOD smartly focused on keeping Gordon in the ring, and their teamwork made it somewhat easy for them to manipulate Gordon and King to their advantage.
Match 4
Rocky Romero vs Jay White
(referee: Jeremy Marcus)
Show/Hide Results
Result: Jay White wins via pinfall after Blade Runner
Time: 14:12
Match Thoughts
Great match. Rocky started quickly and had White on the defensive, but White was able to slow the match down and gain a bit of control. White let Rocky hang around too long though. Rocky was able to regroup and build up his offense over the middle portion of the match. Rocky didn't let White go to his usual tricks of laying out in the ring or escaping to ringside, and Rocky kept his attacks aggressive. White was on the defensive again late in the match, and that led to a very exciting final few minutes.
Show Impressions
This was a fun show. I really enjoy how NJPW Strong keeps smarlty building up guys (like Fredericks) while keeping other guys looking strong (like White & GOD) in matches that build up their opponents (like Brody King and Rocky Romero).
Match of the Night
Rocky Romero vs Jay White
Before te match I didn't think Rocky would win, but I was fully buying that he might win as the match went on.
Official Results: https://www.njpw1972.com/tornament/82494?showResult=1