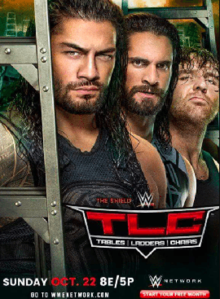 WWE TLC: Tables, Ladders & Chairs
#WWETLC
Original Air Date: October 22, 2017
Event Date: October 22, 2017
aired live on the WWE Network
City: Minneapolis, MN
Venue: Target Center
Commentary: Michael Cole, Corey Graves, Booker T
205 Live Commentary: Nigel McGuinness, Vic Joseph
Spanish Commentary: Carlos Cabrera, Marcelo Rodriguez
German Commentary: Calvin Knie, Tim Haber, Carsten Schaefer
Portuguese Commentary: Marco Alfaro, Roberto Figueroa
Russian Commentary: Moti Margolin, Zhan Pomerantsev
Japanese Commentary: Shun Yamaguchi, Funaki
Hindi Commentary: Obaid Kadwani, Shez Sardar
French Commentary: Ray Rougeau, Jean Brassard
Mandarin Commentary: Meng Ai, Sean Deng
Ring Announcer: Mike Rome
Brand: RAW
Theme Song: "Legendary" by Welshly Arms
<< Read the Recap & Review for the TLC: Tables, Ladders & Chairs 2017 Kickoff show. <<
Match 1
Emma vs Asuka
(referee: Shawn Bennett)
Show/Hide Results
Result: Asuka wins via submission with the Asuka Lock
Time: 9:31
Match Thoughts
Very good match, and a good RAW debut for Asuka. Emma looked good and brought a nice fight which served to make Asuka look even better. This was far from a squash, but it was still an emphatic victory. I like how they did this, and hopefully they'll use this as a springboard to continue Asuka's momentum from NXT.
Backstage
The Miz, Sheamus, and Cesaro discuss Kurt Angle. Sheamus and Cesaro aren't worried, but Miz is still angry about Angle stealing the spotlight. He feels that Angle should be punished for that. Braun Strowman doesn't need a pep talk, he just needs everyone to stay out of his way. Kane does whatever he wants, and he wants to hurt all of his opponents tonight.
Ring Area
From the stage, Elias starts to play a song. Jason Jordan throws some vegetables at him.
** I think this was supposed to be funny. **
Match 2
The Brian Kendrick & Gentleman Jack Gallagher vs Cedric Alexander & Rich Swann
(referee: John Cone)
Show/Hide Results
Result: Cedric Alexander pins Brian Kendrick after a Lumbar Check
Time: 7:56
Match Thoughts
Very good match, it started off extremely fast with Alexander providing much of the energy. After a fast-paced opening segment, Kendrick and Gallagher started to methodically take over. This built up to another fast-paced finish with some nice big moves. It was a straightforward match, but it was quite entertaining.
Video
Buildup for the Women's Title match.
Backstage
Charly Caruso welcomes Alexa Bliss. Bliss talks about idolizing Mickie James when she was a kid, but says Mickie's best days are long behind her.
Match 3
RAW Women's Title Match
Mickie James vs Alexa Bliss (RAW Women's Champ)
(referee: Darrick Moore)
Show/Hide Results
Result: Alexa Bliss wins via pinfall after a DDT and retains the title
Time: 11:32
Match Thoughts
Good match. I liked the competitiveness of this one. There were moments where they both seemed evenly matched, hitting multiple strikes against each other at the same time. I liked how the match progressed, though the finish was a little iffy with a slight referee distraction.
Ring Area
Charly Caruso enters the ring and asks Mickie about the match. Mickie says she would've liked a different result, but this won't be her final title shot in her career.
Backstage
Rollins and Ambrose hand Angle a Shield vest. Angle is happy.
** I hope Angle doesn't wear it in the actual match though. I don't like that Rollins and Ambrose are wearing them again either. They're silly and pointless. They're also kind of distracting to me. **
Ring Area
Elias is on the stage once again and once again attempts to sing a song. Again, Jason Jordan throws stuff.
Video
Buildup for the Cruiserweight Title match.
Match 4
Cruiserweight Title Match
Enzo Amore vs Kalisto (Cruiserweight Champ)
(referee: Shawn Bennett)
Show/Hide Results
Result: Enzo Amore wins via pinfall after Eat Defeat and becomes a two-time Cruiserweight Champ
Time: 8:51
Match Thoughts
Pretty good match. I was hoping for maybe a little more from this, but it was fine. Kalisto didn't fly as much as I expected, but maybe they're saving up for another title match. It does feel like they must be building up to something, because it would feel a little strange for this feud to end like this.
Ring Area
Charly Caruso enters the ring and congratulates Enzo. Enzo thanks himself for his win and leaves the ring.
Match 5
AJ Styles vs Finn Balor
(referee: Chad Patton)
Show/Hide Results
Result: Finn Balor wins via pinfall after Coup de Grace
Time: 18:16
Match Thoughts
Great match! Great pace. Great build. Both guys pulled out moves they hadn't done in a while. This match was a treat and is sure to be one they'll revisit again after a sufficient buildup.
Ring Area
Elias is back, and this time he's standing in the center of the ring. He starts to play a song but is once again interrupted by Jason Jordan, this time by his entrance music as he makes his way to the ring for a match.
Match 6
Elias vs Jason Jordan
(referee: Rod Zapata)
Show/Hide Results
Result: Jason Jordan wins via pinfall with a small package
Time: 8:41
Match Thoughts
This was fine. Not great, but maybe a little better than I expected. I liked the finish. It adds a little intrigue to the developing story.
Video
Clips of Angle for his return to a WWE ring.
Backstage
The Miz has a surprise for his team: a trip to the dump after they beat Angle, Ambrose, and Rollins.
Match 7
Three on Five Handicap TLC Match
The Miz (IC Champ) & Sheamus & Cesaro & Kane & Braun Strowman vs Seth Rollins & Dean Ambrose (RAW Tag Champs) & Kurt Angle
(referee: John Cone; outside referees: Rod Zapata, Chad Patton)
Show/Hide Results
Result: 35:33
Time: Kurt Angle pins The Miz after a triple-team powerbomb
Match Thoughts
This was kind of a mess, but I think that was expected. It could have been shorter, and I think that would have kept my interest more. It's not like it wasn't fun to watch at times, but it was all over the place and didn't have much of a clear storyline from beginning to end. Still, it was fun to see Angle in the ring, and it seemed clear that he was having a great time, so for that, I liked it. But it did meander too much and there was too much downtime.
Show Impressions
This show started strong with the two women's matches and the cruiserweight tag match, but it declined from there. The obvious exception was the Balor vs Styles match which was great. I think the main event was too messy to be super-satisfying or entertaining. Not a great show, but it had a few really good moments and at least one must-watch match.
Match of the Night
AJ Styles vs Finn Balor
Easily the best match of the night. By far.