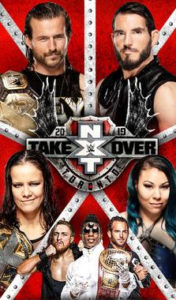 NXT TakeOver: Toronto
NXT Episode 520
#NXTTakeOver
Original Air Date: August 10, 2019
Event Date: August 10, 2019 (aired live)
City: Toronto, Ontario, Canada
Venue: Scotiabank Arena
Attendance: 13,735
Commentary: Mauro Ranallo, Nigel McGuinness, Beth Phoenix
Commentary (Spanish): Carlos Cabrera, Marcelo Rodriguez
Ring Announcer: Alicia Taylor
Theme Song: "Unsainted" by Slipknot
Ring Area
The show opens by showing us the live crowd watching the intro video set to Slipknot's
Match 1
NXT Tag Team Title Match
Street Profits (NXT Tag Champs) vs Kyle O'Reilly & Bobby Fish
(referee: Drake Wuertz)
Show/Hide Results
Result: Montez Ford pins Kyle O'Reilly after a frog splash
Time: 16:57
Match Thoughts
Great match! As usual, the tag title match started TakeOver with an exciting, hard-hitting, fast-paced match. The match did take a little while to get going. The start wasn't bad or slow, but it did feature more of a feeling out process than a lot of these opening tag matches do. Later in the match, Ford was flying, O'Reilly was striking, Dawkins was overpowering, and Fish was being the best tag partner a guy could have. This was a ton of fun. I kind of wanted both teams to win, so I was happy with the finish. It was very well done.
Backstage
Johnny Gargano pats a ladder as he prepares for his match later in the night.
Ring Area
Ricochet is in the crowd.
Video
A look at the grudge match between Io Shirai and Candice LeRae.
Match 2
Io Shirai vs Candice LeRae
(referee: Jessika Carr)
Show/Hide Results
Result: Io Shirai wins via KO with a Koji clutch
Time: 15:01
Match Thoughts
Great match! Io Shirai's new attitude has come with new ring gear and a newfound aggression. The match started with LeRae brawling with Shirai before the bell, but once the opening bell rang, Shirai started trying to hurt Candice. Shirai attempted a powerbomb from the apron to the floor, but she settled on a suplex onto the commentary table. LeRae made it back into the ring, but once there Shirai punished LeRae and increasingly went after LeRae's neck. LeRae came back with some good and brutal offense of her own, and as the match neared the finish, it really could have gone either way. Shirai was mostly dominant, but LeRae put together some very close near falls that felt like they could have ended the match. I loved this match.
Backstage
Shayna Baszler warms up for her match.
Ring Area
Before the show can proceed to the next match, Matt Riddle comes out from the crowd and enters the ring. Riddle calls Killian Dain down to the ring for a fight. Dain comes in through the crowd, but Riddle runs out of the ring to meet him. The two men brawl, and Dain gets an advantage. Referees come out to stop the fight, so Dain walks away.
Riddle chases Dain up the ramp and hits a pair of knee strikes. Security pulls Riddle off of Dain, so Riddle beats up the security guards. Dain uses that distraction to attack Riddle. Riddle manages to get on Dain's back and tries to put Dain to sleep. Dain can't get Riddle off, so Dain runs off the side of the stage and drives himself, Riddle, and an unlucky security guard through two tables. Dain then gets up and walks away.
Ring Area
Austin Theory is in the crowd.
Video
A look at the North American Title triple threat match.
Match 3
NXT North American Title Triple Threat Match
Velveteen Dream (NA Champ) vs Roderick Strong vs Pete Dunne
(referee: Darryl Sharma)
Show/Hide Results
Result: Velveteen Dream pins Pete Dunne after Roderick Strong hits Dunne with End of Heartache
Time: 17:26
Match Thoughts
Great match! Roderick Strong was the most aggressive right from the start, and he guided much of the match with his numerous, vicious attacks on both of his opponents. Dunne and Dream worked together for a while early in the match to slow Strong down, and that opened the match up so it was more even from that point on. Everyone looked great. Dunne and Strong continued where they left off from their match a couple of weeks ago. They were striking and slamming each other extremely hard throughout the match. Dream was more careful than either of his opponents, and he picked his spots as the match went on. Dream did get caught up in some fantastic sequences featuring all three men, and and the match closed in on the finish, each man was hitting their biggest moves in an attempt to pin someone before the third man could break it up.
Backstage
Adam Cole prepares for his title defense.
Video
A look at Mia Yim and Shayna Baszler lading up to their title match.
Match 4
NXT Women's Title Match
Mia Yim vs Shayna Baszler (NXT Women's Champ)
(referee: Drake Wuertz)
Show/Hide Results
Result: Shayna Baszler wins via submission with a modified triangle hold
Time: 14:36
Match Thoughts
Pretty good match. I think the crowd was tired after so many exciting and relentlessly action-packed matches, so they were fairly quiet for most of this match. That's not necessarily a bad thing, but the quiet crowd combined with a slow start to the match itself set an underwhelming mood. The first part of the match did feel a bit strange. Mia Yim kept doing very minor illegal things while Baszler calmly looked for a simple hold to start the action. Baszler would go in for a lockup, but Yim would grab her ear or pull her hair or something. I understand that they were trying to show Yim bringing a "street" style to the match, but what she was doing just seemed annoying to Shayna rather than beneficial for herself.
I would rather have seen Yim use her power to start strong with a dominant brawling style while adding the nose-grabbing and whatnot as added insults to get Baszler pissed. That could possibly have drawn Baszler out of her own disciplined style and given Yim an edge. As the match was though, Yim just seemed like she didn't take Baszler seriously and didn't have a good game plan. Yim also seemed out of her depth as the match went on. The last few minutes of the match were pretty good, but that time was mostly dominated by Baslzer. Maybe they can try this match again later with better buildup and a better focus on how these two women could match up in the ring. Unfortunately, this match felt like a missed opportunity.
Ring Area
Walter is in the crowd. So is Tyler Bate.
Match 5
2 Out of 3 Falls NXT Title Match
Johnny Gargano vs Adam Cole (NXT Champ)
(referee: Eddie Orengo)
Show/Hide Results
Result: Adam Cole wins 2 falls to 1
Fall 1 (no stipulation): Adam Cole wins via DQ after Gargano hits him with a chair (20:48)
Fall 2 (street fight): Johnny Gargano wins via submission with Gargano Escape (7:58)
Fall 3 (cage with weapons, no escape): Adam Cole wins via pinfall after both men fall from the top of the cage (17:50)
Time: 51:00 (2 rest periods)
Match Thoughts
Great match. Once again Gargano and Cole delivered great action in the most high-profile match of the night. This was another 2 out of 3 falls match, but this time Cole and Gargano each got to pick a stipulation for a fall. The stipulation for the third fall, if needed, would be chosen by William Regal. I think their choices all made sense, though I wonder why Regal would choose the most dangerous stipulation for two of the top guys on the roster.
Gargano and Cole both went into the match with a game plan. One man's game plan worked better than the other, but as with most matches of this type, the match eventually turned into a contest of who can get the biggest and best move first (or last depending on how you look at it). I think Gargano and Cole both used their character's motivations well in how the match progressed. Gargano was intent on not just beating Cole, but beating him up and hurting him. That worked for him at times and backfired at others. Most of all, Gargano's mindset made all the furniture and weapon manipulation towards the end of the match make sense for him even if it was agonizing watching him go for another weapon or huge set piece even when he probably should have stayed on top of Cole. Cole's mindset turned into "survive by any means necessary."
This was a fun match, though I probably enjoyed some of their previous encounters a but more. Even so, it was a great match and a fantastic way to end the show.
Show Impressions
This was a super fun TakeOver. Except for the Women's Title match, every match was great. I think the Io Shirai versus Candice LeRae match was the biggest joy in that it exceeded my already lofty expectations. I think this TakeOver more or less meets the high bar set by the past few TakeOvers.
Match of the Night
Johnny Gargano vs Adam Cole
While I might have had the most fun with Shirai versus LeRae, I'd have a hard time not picking the main event as the best match of the night. Both men put a lot into this match. It was close to an hour long, but it didn't feel like it was even close to being too long.
Official Results: https://www.wwe.com/shows/wwenxt/nxt-takeover-toronto-2019/article/nxt-takeover-toronto-2019-results