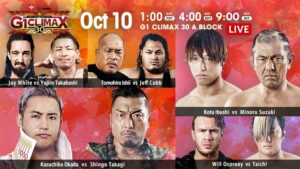 NJPW G1 Climax 30
Night 13
A Block: Round 7
#G1CLIMAX30
Event Date: October 10, 2020 (17:00 JST)
aired live on NJPW World
City: Naniwa, Osaka, Osaka, Japan
Venue: Osaka Prefectural Gymnasium (EDION Arena Osaka)
Attendance: 2,369
Series: G1 Climax 30
Theme Song: "Blazing Souls" by 9mm Parabellum Bullet
Commentary (English – recorded remotely):
Commentary (Japanese): Milano Collection AT, Miki Motoi, Haruo Murata
Ring Announcer: Kimihiko Ozaki (1 – 3), Makoto Abe (4 – 6)
Video
The opening video looks at the competitors in A Block.
Match 1
Yuya Uemura vs Yota Tsuji
(referee: Kenta Sato)
Show/Hide Results
Result: Yuya Uemura wins via pinfall with a bridging double overhook suplex
Time: 9:03
Match Thoughts
This was a very good opener. Tsuji and Uemura were both very aggressive. Tsuji began to string together some of his power moves, but Uemura exploded with some of his quick offense later in the match. This was a nice, fairly quick match to start the night.
Match 2
G1 Climax 30 A Block Match
Jeff Cobb (4 pts) vs Tomohiro Ishii (6 pts) (NEVER 6-Man Champ)
(referee: Kenta Sato)
Show/Hide Results
Result: Jeff Cobb wins via pinfall after Tour of the Islands
Time: 14:57
Match Thoughts
Great match! Both men were ready for a war, and they immediately started slamming into each other right at the opening bell. The pace was kept high throughout the match, and both men were throwing strikes and hitting slams in rapid succession. This was an incredibly fun match, and it was possibly both men's best so far in this year's tournament.
Match 3
G1 Climax 30 A Block Match
Yujiro Takahashi (0 pts) vs Jay White (8 pts) w/ Gedo
(referee: Marty Asami)
Show/Hide Results
Result: Jay White wins via pinfall after Blade Runner
Time: 3:40
Match Thoughts
Very good match. Jay White didn't expect a match tonight, and he didn't even come to the ring in his gear. White was basically wearing street clothes, and he fully expected Takahashi to just lay down for him. Takahashi did start out by laying down in the center of the ring, but whether he had a plan to trick White or he just decided in the moment he couldn't go through with just letting White pin him, Takahashi got up and tried to pin White. The match wasn't long, but with Takahashi at zero points and White being so easy to hate, Takahashi ended up being a sympathetic underdog in this short and fun match.
Intermission
The ring is cleaned and sanitized during a brief intermission.
Match 4
G1 Climax 30 A Block Match
Taichi (6 pts) (IWGP Tag Champ) vs Will Ospreay (8 pts) (RPW British Heavyweight Champ)
(referee: Marty Asami)
Show/Hide Results
Result: Will Ospreay wins via pinfall after Stormbreaker
Time: 16:26
Match Thoughts
Great match. Taichi cheated a bit in the early part of the match (using the ting bell hammer, one of his favorite weapons), but for the most part this was a fair fight (mostly) in the ring. The pace was kept high by both guys as the kicked, countered and flew through this match. Though their styles are quite different, Ospreay and Taichi were still evenly matched, and either guy could have won this. That helped keep the tension high as the moves got bigger towards the end of the match.
Match 5
G1 Climax 30 A Block Match
Minoru Suzuki (6 pts) (NEVER Openweight Champ) vs Kota Ibushi (8 pts)
(referee: Red Shoes Unno)
Show/Hide Results
Result: Kota Ibushi wins via pinfall after Kamigoye
Time: 16:58
Match Thoughts
Suzuki and Ibushi just beat each other up for seventeen minutes, and it was great. Suzuki loved every second of the beatings he was giving and taking, and Ibushi went into his zone where he gets hyper aggressive and doesn't seem to feel much pain (though he'll still go down to Suzuki's ridiculous strikes). This was a very well-earned two points for the winner.
Match 6
G1 Climax 30 A Block Match
Shingo Takagi (6 pts) vs Kazuchika Okada (8 pts)
(referee: Red Shoes Unno)
Show/Hide Results
Result: Kazuchika Okada wins via Referee Stoppage with the Money Clip
Time: 27:45
Match Thoughts
Great match! This match built up and up, and as it did, Shingo Takagi kept piling on more and more damage on Okada. After a while, Takagi was in complete control and utterly dominating the Rainmaker. Takagi even pulled off his own Rainmaker and did the Rainmaker pose while Okada was in a heap on the mat. Okada has already displayed his resilience and his ability to change his approach to a match depending on his opponent and his situation, and and tonight was another great example of that. Okada looked for a surprise pin attempt which has won him a couple matches in this year's G1, but when that didn't work he started looking for the Money Clip. Takagi would not stop fighting though, and as the clock became a factor, the excitement in this match built up considerably. This match is a contender for one of the top matches in the tournament for me.
Show Impressions
This was a good show. The match got better as the night went along, and the variety of styles on display kept things very interesting throughout the night.
Match of the Night
Shingo Takagi vs Kazuchika Okada
Takagi's points might not reflect it, but he's been one of the consistently best performers in this year's G1 Climax.
Standings After Night 13
A Block

Show/Hide Results
| Wrestler | Points | Wins | Losses | Draws |
| --- | --- | --- | --- | --- |
| Jay White | 10 | 5 | 2 | 0 |
| Kazuchika Okada | 10 | 5 | 2 | 0 |
| Kota Ibushi | 10 | 5 | 2 | 0 |
| Will Ospreay (RPW British Heavyweight Champ) | 10 | 5 | 2 | 0 |
| Jeff Cobb | 6 | 3 | 4 | 0 |
| Minrou Suzuki (NEVER Openweight Champ) | 6 | 3 | 4 | 0 |
| Shingo Takagi | 6 | 3 | 4 | 0 |
| Taichi (IWGP Tag Champ) | 6 | 3 | 4 | 0 |
| Tomohiro Ishii (NEVER 6-Man Champ) | 6 | 3 | 4 | 0 |
| Yujiro Takahashi * | 0 | 0 | 7 | 0 |
* = numerically eliminated
B Block

Show/Hide Results
| Wrestler | Points | Wins | Losses | Draws |
| --- | --- | --- | --- | --- |
| Tetsuya Naito (IWGP IC & Heavyweight Champ) | 10 | 5 | 1 | 0 |
| EVIL | 8 | 4 | 2 | 0 |
| Hirooki Goto (NEVER 6-Man Champ) | 6 | 3 | 3 | 0 |
| Hiroshi Tanahashi | 6 | 3 | 3 | 0 |
| Juice Robinson | 6 | 3 | 3 | 0 |
| SANADA | 6 | 3 | 3 | 0 |
| Toru Yano | 6 | 3 | 3 | 0 |
| Zack Sabre Jr. (IWGP Tag Champ) | 6 | 3 | 3 | 0 |
| KENTA | 4 | 2 | 4 | 0 |
| YOSHI-HASHI * (NEVER 6-Man Champ) | 2 | 1 | 5 | 0 |
* = numerically eliminated
C Block (Young Lions)

Show/Hide Results
| Young Lion | Points | Wins | Losses | Draws |
| --- | --- | --- | --- | --- |
| Yota Tsuji | 10 | 4 | 3 | 2 |
| Yuya Uemura | 9 | 4 | 4 | 1 |
| Gabriel Kidd | 7 | 3 | 4 | 1 |
Official Results (Japanese): https://www.njpw.co.jp/tornament/255788?showResult=1