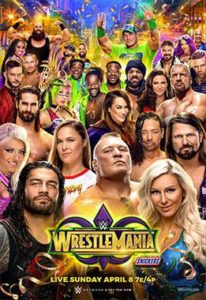 WWE WrestleMania 34
#WrestleMania
Original Air Date: April 8, 2018
Event Date: April 8, 2018
aired live on the WWE Network
City: New Orleans, LA
Venue: Mercedes-Benz Superdome
Attendance: 78,133
Commentary (SmackDown): Tom Phillips, Byron Saxton, Corey Graves (2, 3, 5, 7, 9)
Commentary (RAW): Michael Cole, Corey Graves, Jonathan Coachman (1, 4, 6, 8, 10, 11)
Spanish Commentary (ringside): Carlos Cabrera, Marcelo Rodriguez
German Commentary (ringside): Calvin Knie, Tim Haber, Carsten Shaefer
Portuguese Commentary: Marco Alfaro, Roberto Figueroa
Russian Commentary: Moti Margolin, Zhan Pomerantsev
Japanese Commentary: Shun Yamaguchi, Funaki
Hindi Commentary: Fahad Sheikh, Sandeep Iyer
French Commentary: Christophe Agius, Philippe Chereau
Italian Commentary: Luca Franchini, Michele Posa
Mandarin Commentary: Meng Ai, Sean Deng
Ring Announcer (SmackDown): Greg Hamilton (2, 3, 5, 7, 9)
Ring Announcer (RAW): Jojo (1, 4, 6, 8, 10, 11)
Brand: RAW, SmackDown
Theme Song: "Celebrate" by Kid Rock
<< Read the Recap & Review for the WrestleMania 34 Kickoff show. <<
Ring Area
Jojo introduces Chloe x Halle to a chorus of "who?" from the crowd. Chloe x Halle sing "America the Beautiful."
Video
New Orleans is a place like no other. Tonight, the good times will roll again. Welcome to the global celebration that is WrestleMania.
Match 1
Triple Threat Intercontinental Title Match
Seth Rollins vs The Miz (IC Champ) w/ Bo Dallas, Curtis Axel vs Finn Balor
(referee: Darrick Moore)
Show/Hide Results
Result: Seth Rollins pins The Miz after a curb stomp and becomes the new IC Champ
Time: 15:30
Match Thoughts
Great match. The pace was high in this one right from the start. I really enjoyed the interactions between everyone. All three men stayed active for the entire match, so it never turned into an extended sequence of one-on-one action. That made the match feel like it could at at almost any moment after a while. There weren't any tricks or shenanigans either. This was a great effort by all three guys.
Video
Buildup for Charlotte versus Asuka.
Match 2
SmackDown Women's Title Match
Asuka vs Charlotte Flair (SD Women's Champ)
(referee: Jason Ayers)
Show/Hide Results
Result: Charlotte wins via submission and retains her title
Time: 13:05
Match Thoughts
Great match! This match felt like an important moment for both women, and it undoubtedly will be when this match is looked back on. This built up incredibly well with spots of excitement scattered throughout and increasingly intense battle of wills. By the end of the match, the victory felt earned even though it seemed impossible for either woman to lose before the match started.
Ring Area
After the match, Asuka approaches Charlotte. Asuka says that Charlotte was ready for Asuka. With both women clearly emotional, they embrace before holding up each other's hand.
As Charlotte is walking up the ramp, referee Dan Engler runs down to ringside. He has something to say to John Cena. After hearing what the ref said, Cena jumps up out of his seat and runs up the ramp to the backstage area.
Match 3
Fatal Four Way US Title Match
Bobby Roode vs Rusev w/ Aiden English vs Jinder Mahal w/ Sunil Singh vs Randy Orton (US Champ)
(referee: Ryan Tran)
Show/Hide Results
Result: Jinder Mahal pins Rusev after The Khallas and becomes the new US Champ
Time: 8:14
Match Thoughts
Pretty good match. The action was about what I expected in a Fatal Four Way like this. Everyone had a few moments to shine, but no one really stood out. The finish was a little annoying to me. It wasn't original in any way and felt like a cheap shot to certain fans.
Video
Buildup for the mixed tag match.
Match 4
Mixed Tag Match
Triple H & Stephanie McMahon vs Kurt Angle & Ronda Rousey
(referee: Drake Wuertz)
Show/Hide Results
Result: Ronda Rousey forces Stephanie McMahon to submit to a cross-armbreaker
Time: 20:38
Match Thoughts
Great match! This exceeded my expectations. Rousey looked fantastic, and the amount of story crammed into this match made it very compelling. It was more about a very clear narrative than actual competition, but it made for a very fun and memorable WrestleMania match. Stephanie was great at being extremely annoying and infuriating which made it all the more satisfying when Rousey finally got her hands on her. Another moment that made me smile (among others) was when Rousey fought back against Triple Ha and got him up on her shoulders with seemingly not very much effort.
Match 5
Triple Threat SmackDown Tag Team Title Match
New Day (Big E & Kofi Kingston w/ Xavier Woods) vs The Usos (SD Tag Champs) vs The Bludgeon Brothers
(referee: Danilo Anfibio)
Show/Hide Results
Result: Harper pins Kofi Kingston after a diving sit-out powerbomb
Time: 5:56
Match Thoughts
Pretty good match. It was a very dominant performance from the Bludgeon Brothers which was the entire point of the match. This wasn't about a back and forth battle, it was about how powerful, destructive, and unstoppable the Bludgeon Brothers are. That means this wasn't the best match these three teams could have, but it worked well for what it intended to do. The match was chaotic right from the start, and the Bludgeon Brothers thrived in that chaos. If New Day and The Usos could work together, they could probably have a compelling shot at defeating Harper and Rowan, but without a plan it felt like they never had a chance.
Video
There's a lot of stuff coming to the WWE Network.
Ring Area
John Cena heads to the ring, and he's ready for a match. Referee Ryan Tran runs down to the ring and tells Cena something. Cena isn't happy. Cena leaves the ring, but as he heads up the ramp the lights go out.
After a few seconds, Elias appears on the stage. Elias saunters down to the ring and wonders if everyone was expecting someone else. Elias says that someone else doesn't have the talent that Elias does. Elias enters the ring and tells Cena to take a seat. So Cena takes a seat at ringside while Elias sings. After Cena has heard enough, he runs back into the ring and attacks Elias. Cena hits Elias with an AA, but he is still frustrated. Cena's music starts to play, so Cena leaves the ring once again. Suddenly, Cena's music stops and the lights go out again.
A hat and coat appear in the ring and smoke starts to come up from the ramp and stage. A bell tolls, and The Undertaker emerges.
Match 6
John Cena vs The Undertaker
(referee: Dan Engler)
Show/Hide Results
Result: The Undertaker wins via pinfall after a Tombstone Piledriver
Time: 2:48
Match Thoughts
This wasn't a match so much as it was a greatest hits exhibition for The Undertaker. Cena had no offense and no chance. Undertaker hit a bunch of his signature moves and then it was quickly over. This was more about the moment than the match. Seeing The Undertaker back and winning was nice. I think this was good in that it sets The Undertaker's WrestleMania matches back on a positive note after the less than stellar outings Undertaker has had in previous years. This was a nod to the fans, John Cena being very much included in that group.
Video
A look at this year's WWE Hall of Fame induction ceremony.
Ring Area
Jojo introduces the WWE Hall of Fame Class of 2018: Jeff Jarrett, Mark Henry, Hillbilly Jim, Ivory, Jarrius "JJ" Robertson, The Dudley Boyz, and Goldberg. (Kid Rock did not show up.)
Video
Buildup for the tag match featuring Daniel Bryan's return to the ring.
Match 7
Shane McMahon & Daniel Bryan vs Sami Zayn & Kevin Owens
(referee: Charles Robinson; stipulation: If Owens and Zayn win, they will be re-hired to SmackDown Live.)
Show/Hide Results
Result: Daniel Bryan forces Sami Zayn to submit to the Yes Lock
Time: 15:24
Match Thoughts
Good match. Seeing Daniel Bryan release his frustration by beating up on Zayn and Owens (mostly on Zayn) was a lot of fun. It felt cathartic for a lot of reasons, and that's a lot of what this match was about. It wasn't so much about putting on a competitive match, it was about revenge and comeuppance.
The match was essentially fought in two distinct sections. Owens and Zayn attacked McMahon and Bryan before the match, putting Bryan down by powerbombing him on the apron. This forced McMahon to fight on his own. McMahon held his own like he usually does, but he also took a ton of punishment (like he usually does). When things got dire Daniel Bryan returned and took over. Bryan fought the second half of the match, dominating Zayn with pure energy. It was fun to see and definitely made for a memorable WrestleMania moment.
Ring Area
After the match, Daniel Bryan celebrates and kisses his wife Brie Bella who has been sitting at ringside.
Video
Buildup for the RAW Women's Title Match.
Match 8
RAW Women's Title Match
Nia Jax vs Alexa Bliss (RAW Women's Champ) w/ Mickie James
(referee: Shawn Bennett)
Show/Hide Results
Result: Nia Jax wins via pinfall after a second-rope diving Samoan drop and becomes the new RAW Women's Champ
Time: 9:02
Match Thoughts
Good match. I've already mentioned catharsis during this show, and this match easily fits into that category. This felt like a release not just for Nia Jax's character and people who are made fun of and manipulated, this was a huge moment for Nia Jax. Jax has always seemed like she was struggling to find her spot and hit her stride in WWE. She's been in big matches, but she usually loses when it counts. This was validation for her, it seemed like she felt that when the match was over.
The action was good. Nia Jax has gotten better, but I think she can still do a lot more. This feud has been emotionally charged (even if it didn't always make a ton of sense), and that definitely helped the match in terms of fan investment. Alexa Bliss was great here, selling the fear, anger, and arrogance all at the right times. It wasn't necessarily a mat classic, but once again, it was a good WrestleMania moment.
Video
Buildup for the dream match, AJ Styles versus Shinsuke Nakamura.
Ring Area
Nita Strauss plays Shinsuke Nakamura to the ring as he prepares to battle AJ Styles for the WWE Title.
Match 9
WWE Title Match
Shinsuke Nakamura vs AJ Styles (WWE Champ)
(referee: Mike Chioda)
Show/Hide Results
Result: AJ Styles wins via pinfall after a Styles Clash and retains his title
Time: 20:21
Match Thoughts
Very good match. I'm not sure that it lived up to the hype and expectations, but it was very good nonetheless. It felt a bit more methodical than I expected, and it never reached any kind of sustained and increasing amount of tension that one might expect from a match like this. Both men did great, it just felt like it could have been a lot more. That's one of the drawback s of high expectations, they're extremely difficult to meet. Having seen both this match and their IWGP IC Title match at Wrestle Kingdom 10, I think their match in NEw Japan was more exciting. That doesn't mean this one was bad though. It certainly wasn't. It just like like a beginning more than an end to a feud. Perhaps they held back so they would have somewhere to go in their next match.
Ring Area
After the match, Styles helps Nakamura get to his feet. The two men hug, and Nakamura gets on one knee to hand the WWE Title to Styles. While on one knee, Nakamura hits Styles with a gigantic low blow. Nakamura then kicks and stomps Styles repeatedly until Styles falls out of the ring. While out on the floor, Nakamura hits Styles with Kinshasa.
Video
Saudi Arabia invites the world to The Greatest Royal Rumble.
Ring Area
Cesaro and Sheamus come out to the stage riding a party boat (or something). They are accompanied by a bunch of people in costumes, most with gigantic heads.
Braun Strowman comes out next, scaring away the costumed party people. Seeing the unattended party boat, Strowman decides to break it. He puses the boat of the stage before heading to the ring. Once in the ring, Jojo announces the match, but she stops because Strowman has no partner.
Strowman takes the mic. He knows everyone wants to know who his partner is. That's why he waited until tonight to tell everyone. His partner isn't in the locker room, his partner is in the crowd. He turns to the crowd and asks everyone who wants to be his tag partner. Strowman looks around a little before venturing out into the crowd. Eventually he picks a kid and takes him back to the ring.
Match 10
RAW Tag Team Title Match
Cesaro & Sheamus (RAW Tag Champ) vs Braun Strowman & Nicholas
(referee: John Cone)
Show/Hide Results
Result: Braun Strowman pins Cesaro after a powerslam, Strowman & Nicholas become the new RAW Tag Champs
Time: 3:57
Match Thoughts
This was goofy. It was a silly handicap match that I'm sure a lot of people enjoyed, but I feel like WrestleMania might not be the best place for something like this. Whatever.
Video
WrestleMania is headed back to New York next year.
Video
Buildup for the Universal Title Match
Match 11
Universal Title Match
Roman Reigns vs Brock Lesnar (Universal Champ) w/ Paul Heyman
(referee: Chad Patton)
Show/Hide Results
Result: Brock Lesnar wins via pinfall after an F5 and retains the title
Time: 15:52
Match Thoughts
Not a good main event. This had a lot of things working against it. First, almost no one in the crowd cared about the match. Few of the reactions heard from the crowd were actually about what was happening in the match. Second, Lesnar repeatedly hitting his finisher didn't have the impact I think they were hoping for because they weren't built up to. It didn't make Reigns seem like he was pushing past his limits as much as it just seemed to maked the F5 less important than it should be. It became unvelievable after a while.
I think Reigns and Lesnar did what they could, but they weren't going to impress the crowd. This was a pretty typical Lesnar match where big moves happened right from the start and there was no real flow to them. It was just a beating until it stopped. They tried to build drama with Reigns being busted open, but we've even seen that before so it didn't feel as important.
Video
Highlights from tonight's (very long) show.
Show Impressions
Like a lot of recent WrestleManias, this was long and felt like it was long. The pacing of the show wasn't the best. Most of the better matches were packed up front while the "moment" matches were later in the night.
That said, there was a lot to enjoy. There were some very good and great matches, and there were more than a few very satisfying moments. It's just unfortunate that the show ended the way it did.
Match of the Night
Charlotte vs Asuka
As far as the best combination of pure wrestling and big moments, this match had the best balance. The action was great and the stakes felt extremely high for both women. Regardless of who won it was going to be a heart-breaker, but either way it was a great match. When you can be happy with the match despite wanting a different outcome, that is a mark of a great match.