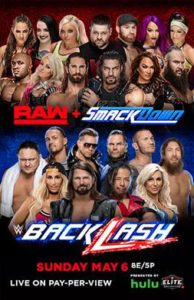 WWE Backlash
#WWEBacklash
Original Air Date: May 6, 2018
Event Date: May 6, 2018
aired live on the WWE Network
City: Newark, NJ
Venue: Prudential Center
Commentary: Tom Phillips, Byron Saxton, Corey Graves (3 – 6)
Commentary: Michael Cole, Corey Graves, Jonathan Coachman (1, 2, 7, 8)
Spanish Commentary (ringside): Carlos Cabrera, Marcelo Rodriguez
German Commentary (ringside): Calvin Knie, Tim Haber, Carsten Schaefer
Portuguese Commentary: Marco Alfaro, Roberto Figueroa
Russian Commentary: Moti Margolin, Zhan Pomerantsev
Japanese Commentary: Shun Yamaguchi, Funaki
Hindi Commentary: Obaid Kadwani, Shez Sardar
French Commentary: Ray Rougeau, Jean Brassard
Mandarin Commentary: Meng Ai, Sean Deng
Ring Announcer: Greg Hamilton (3 – 6)
Ring Announcer: Jojo (1, 2, 7, 8)
Brand: Co-Branded
Theme Song: "Champion" by Barnes Courtney
<< Read the Recap & Review for the Backlash Kickoff show. <<
Match 1
Intercontinental Title Match
The Miz vs Seth Rollins (IC Champ)
(referee: Chad Patton)
Show/Hide Results
Result: Seth Rollins wins via pinfall after a curb stomp
Time: 20:31
Match Thoughts
Great match! Wow. This one got better as it went along. On a show with Styles versus Nakamura, Rollins and Miz made a convincing effort to try to steal the show. I legitimately thought the match was over multiple times before it actually ended, and I would have been satisfied with those endings. This was great, and it continues Rollins' effort to make the Intercontinental Title THE title on RAW. It already is the top title on RAW in my opinion.
Video
Buildup for Jax vs Bliss.
Match 2
RAW Women's Title Match
Alexa Bliss vs Nia Jax (RAW Women's Champ)
(referee: Rod Zapata)
Show/Hide Results
Result: Nia Jax wins via pinfall after a Samoan Drop
Time: 10:18
Match Thoughts
Good match. Alexa Bliss mounted a convincing and mostly believable offense throughout most of this match. Jax seemed like she was a few steps behind the whole time, but that played into the match and put over the fact that Bliss was very much prepared for this match. It got a little strange at one point when they seemed to be figuring out how to switch positions in the corner, but other than that I really enjoyed this. I think the finish could have been a bit more emphatic, but that's nitpicking.
Ring Area
In the ring, Renee Young asks Nia Jax what this match means to her. Jax says the match means everything. It's for everyone has been or is being bullied. You're not alone, and it's okay to be different. "In the end, a bully always gets their ass kicked."
Backstage
Dasha Fuentes welcomes Samoa Joe. Joe thinks that Reigns has lost his confidence, speed, power, and determination. Most importantly, Reigns will lose to Joe tonight. Tonight, Reigns will feel pain.
Match 3
US Title Match
Randy Orton vs Jeff Hardy (US Champ)
(referee: Ryan Tran)
Show/Hide Results
Result: Jeff Hardy wins via pinfall after a Swanton Bomb
Time: 11:49
Match Thoughts
Pretty good match. Orton was methodical to the point of not seeming to care very much, but he still went through the motions and hit some pretty good moves here and there. Hardy seemed to be more active and took more punishment. The finish felt a little sudden and slightly surprising, but it worked alright.
Ring Area
Elias is in the ring. Elias is good friends with Bruce Springsteen, and Springsteen regrets one thing: being from New Jersey. Elias has a song for Bruce, but New Day interrupts before he can sing it.
New Day would like to know if Elias would like to "jam out" with New Day (Kofi has cymbals, Big E has a bass drum, and Woods has Francesca II). Elias says he's a solo act, but New Day plays anyway. Elias stops them. Maybe one day they can open for Elias, but not tonight. Elias asks for the lights to go back down. When they do, Aiden English appears on the stage.
English sings about today, because today is Rusev Day. Rusev comes out. He calls Elias "bootleg Bob Dylan," and he calls New Day "The Booty Boys." Elias wants the lights to dim again. They do. No Way Jose comes out next.
Jose brings the conga line down to the ring. Included in the line are Titus O'Neil, Apollo Crews, Dana Brooke, and Breezango. Elias has Jose's music cut off. Elias is pissed. He has the lights dipped once again. Bobby Roode appears in the ring and hits Elias with a Glorious DDT. Everyone (except for Rusev, Aiden English, and Elias) joins the conga line and heads up the ramp.
Video
Buildup for Daniel Bryan versus Big Cass.
Match 4
Daniel Bryan vs Big Cass
(referee: Danilo Anfibio)
Show/Hide Results
Result: Daniel Bryan wins via submission with the Yes Lock
Time: 7:43
Match Thoughts
Pretty good match. Big Cass never really seemed to have a chance. He got some offense in the middle of the match, but he was constantly taking too much time and gloating. With that going on, there was never a question that Bryan was going to win. Still, I liked most of the match and particularly liked how the finish played out. That said, Cass' actions all played into the match and will probably play into future matches between these two. It makes me feel that this thing between Cass and Bryan isn't over.
Ring Area
Cass attacks Bryan from behind after the match. Cass pushes Bryan over the ropes and slams him on the floor. Back in the ring, Cass hits Bryan with a big boot. Then he gloats some more.
Video
Buildup for the SmackDown Women's Title match.
Match 5
SmackDown Women's Title Match
Charlotte Flair vs Carmella (SD Women's Champ)
(referee: Ryan Tran)
Show/Hide Results
Result: Carmella wins via pinfall with a prawn hold after a kick to the knee
Time: 10:01
Match Thoughts
Pretty good match. It definitely took a while to get going. Even the commentators seemed to zone out at a point during the match. I think this was good for Carmella though. It came somewhat at the expense of Charlotte, but I think this is will actually be good for Charlotte in the long-run. I think it will be interesting to break Charlotte down a bit so that she can build herself back up. I liked the final few minutes of the match, and the finish worked for the story they're building. Carmella is going to be as obnoxious as ever, and that will be great.
Video
Buildup for Styles versus Nakamura.
Match 6
No Disqualification WWE Title Match
Shinsuke Nakamura vs AJ Styles (WWE Champ)
(referee: Jason Ayers)
Show/Hide Results
Result: the match ends in a Draw when neither man can answer the in-ring ten count
Time: 21:07
Match Thoughts
Great match up until the end. It got increasingly brutal, and most of the brutality can from harder strikes and some violent looking moves. A chair came into play at one point and was put to good use for a very memorable moment, and the no DQ stipulation was utilized in good ways. They didn't overuse the stipulation, but it did play directly into the finish. I was hoping this would have been a decisive match, but it looks like they're going to keep building this for a while longer. I think that can work. It certainly makes it look very difficult to take the title from Styles, but it also feels like a bit of a letdown in the moment while watching. Hopefully the payoff will be fantastic. It certainly can be.
Match 7
Braun Strowman & Bobby Lashley vs Sami Zayn & Kevin Owens
(referee: Darrick Moore)
Show/Hide Results
Result: Bobby Lashley pins Kevin Owens after a stalling suplex
Time: 8:40
Match Thoughts
Pretty good match. The story was all about the dysfunctional team of Owens and Zayn. Strowman and Lashley were just gigantic props to support that story. The stuff between Owens and Zayn was entertaining, but the rest was just about what you'd expect. Lashley started for his team and did well until Owens and Zayn teamed up, then Strowman dominated after tagging in.
Ring Area
After the match both Owens and Zayn get a powerslam from Strowman.
Video
Buildup for Reigns versus Joe.
Match 8
Samoa Joe vs Roman Reigns
(referee: John Cone)
Show/Hide Results
Result: Roman Reigns wins via pinfall after a spear
Time: 18:04
Match Thoughts
This was okay. It started better than it ended. Joe attacked Reigns before the bell and beat Reigns all around the ring. Once the match started, Joe had the majority of the offense throughout. He looked good, especially when he repeatedly went for the Coquina Clutch. The match did slow down considerably partway into it, which makes sense for Reigns being able to hang around in the match, but it took a lot of the excitement out of it. The finish felt like it came a little out of nowhere, something The Coach even commented on.
Show Impressions
There were definitely some good things on this show, but overall I thought it was just alright. Some of the matches were underwelming, but I expected those to be like that going in. I think Nakamura and Styles should have ended the show despite the unsatisfying finish. It was a better match than the main event, and it was for the WWE Title. I also felt like this show felt a lot like a normal TV episode, only longer and with more time spent wrestling.
Match of the Night
IC Title Match
I'm still waiting for Nakamura and Styles to steal the show, but the choice to build up to a huge match later is making these matches leading up to it less satisfying than they could be (though still very good). Seth Rollins doesn't seem to have that problem though. The opening match tonight was great.